The NSW Government has adopted a set of nationally consistent principles for the definition of a close contact and isolation periods for COVID positive cases, and remove mandatory PCR testing requirements for international arrivals.
The decision comes amid record confirmed COVID case numbers, NSW recorded over 22,500 cases.
Though less than 24 hours after South Australia signed off on the new definition of a close COVID-19 contact, the state's Chief Public Health Officer says those rules won't apply in SA.
The more assertively isolated state of Western Australia recorded just 5 cases today. It is unsure if they will adopt the nationally agreed protocols. The state maintains a strict border exclusion program to the rest of the country.
The Central Coast reported 715 official cases today, January 1, 2021, up from 597 the day before continuing a sharply growing case number trend that started in mid December.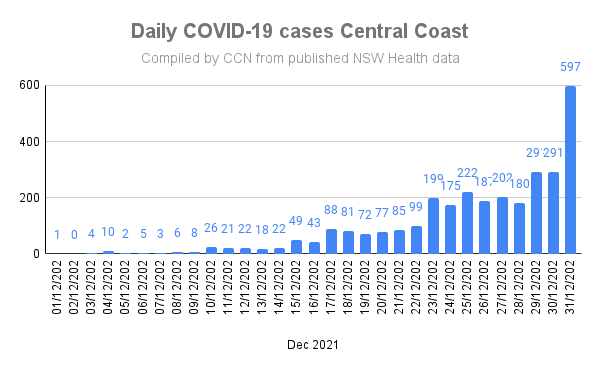 Hospitalisation and ICU cases on the Central Coast are currently not available.
Following yesterday's National Cabinet the NSW Government will immediately implement the arrangements for COVID cases and contacts:
| | |
| --- | --- |
| Positive COVID-19 case | 7 days isolation commencing on the day of testing. Unless otherwise advised a person may leave isolation after 7 days without formal notification or a further test. People in this category must take precautions (mask etc) and avoid high risk settings, such as hospitals and aged care for a further 3 days. |
| Close contacts Defined as: A household contact, or where more than four hours of exposure has occurred in a residential setting; and Contacts in a setting where Health has determined there to be a high level of transmission.  | 7 days isolation from the day of exposure, and obtain a PCR test as soon as possible. High risk settings, such as hospitals and aged care should be avoided for a further 7 days. A rapid antigen test (RAT) is required at Day 6 and, if positive, must be followed by a PCR test. |
| All other contacts | Monitor for symptoms and if symptoms develop, undertake a PCR test. |
| If you have symptoms | Obtain a PCR test if you have symptoms at any time. |
Effective immediately testing requirements for international travellers will also be revised. All fully vaccinated international travellers and flight crew arriving in NSW will be required to undertake a Rapid Antigen Test on days one and six after arrival.
Symptomatic arrivals will be required to get a PCR as soon as possible and isolate until negative result is received. If the PCR test is positive, the arrival must treat themselves as a positive case.
Under existing arrangements, all international travellers and flight crew are also required to produce a negative pre-departure test, within three days of boarding their flight.
Unvaccinated arrivals will continue to be quarantined (capped at 210 per week) and require PCR testing.
Guidelines will be developed recommending international arrivals not attend at an aged care, health care, disability care or correctional facility for 7 days after arrival.
Primary information sources: Office of NSW Premier Dominic Perrottet January 1, 2021, NSW Health media releases. Health WA website.