An analysis of a sample of charges imposed by Central Coast Council over four years on small business operators has shown what appears to be an absence of consistency and fairness in how fees are applied from one year to the next.
The analysis, conducted by a long-time council watcher, has homed in on charges for outdoor eating areas, the hire of Gosford Wharf and charges for surf schools and stand-up paddle board schools.
The results show some charges have increased by 19 per cent, some are 10 per cent, some have had no increases mooted for next year.
The application fee for outdoor dining or street vending was $368 per application for the 2019-20 financial year.
It was reduced to $365 per application in 2020-21 but then, in the current 2021-22 financial year it went up to $382, an increase of around five per cent on the previous year.
According to Central Coast Council's draft fees and charges, which are currently on exhibition until January 21, the application fee for street dining or vending will go up to $390 in 2022-23 – an increase of around two per cent.
In addition to the application fee, restaurants and cafes wishing to give their patrons the healthy option of outdoor dining will have to pay Council $2.50 per square metre of footpath hired per week in 2022-23.
This fee was $1.85 per square metre per week in 2019-20.
It went up by three per cent to $1.90 per square metre per week in 2020-21.
The charge was then hiked by 10 per cent in the current financial year and is proposed to increase by another 19 per cent for 2022-23.
Over the same period the weekly hire for a mooring at Gosford Wharf has shuffled around from $45 back to $40 and is proposed to increase to $51 for the 2022-23 financial year.
Airport usage fees for commercial Warnervale-based Aircraft being used as part of a business are up by 10 per cent while non-commercial fees would increase by less than two per cent.
If you run a surf school or stand-up paddle board company, however, it appears Council is looking upon you kindly.
For surf schools, depending on whether you are a category one, category two or elite operator, temporary hire of your patch on the beach will cost between $1,900 and $3,400 in the 2021-22 financial year.
The good news is that, although it has increased by between 2.5 and three per cent year on year, there will be no increase in the 2022-23 year if the draft operational plan is carried.
The same is true for stand-up paddle board operators.
These fees have been on exhibition over Christmas and the closing date for comments is January 21.
At the time of going to press, Administrator Rik Hart's email auto reply said he was on leave until January 27.
At the final Council meeting in 2021 Hart said it was necessary to exhibit a raft of documents, including fees and charges over the Christmas period so Council could meet the deadline to apply for a seven-year extension of its three-year Special Rate Variation.
Check out the proposed increases in council fees here: https://www.yourvoiceourcoast.com/sites/default/files/2021-12/draft_fees_and_charges_2022-23.pdf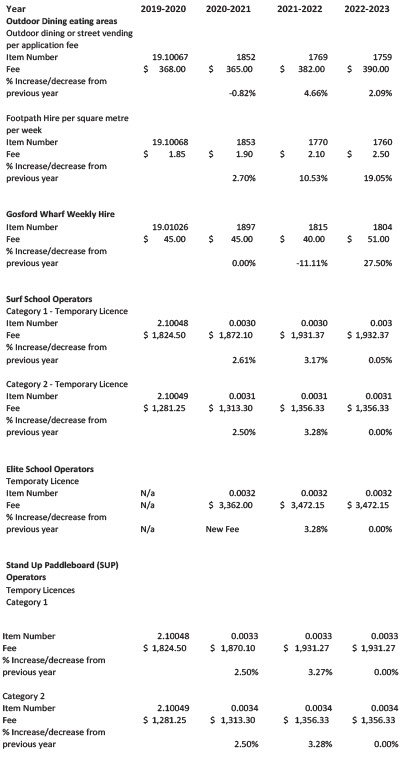 Council does not show the comparison with this year's fees but you can find them here:
https://cdn.centralcoast.nsw.gov.au/sites/default/files/Council/Operational_Documents/Fees_and_Charges_2021-22_0.pdf
Merilyn Vale