Author: Richard Osman –
Publisher: Penguin –
Special offer this week – a two for one review!
I purchased these books as a pair (looks like a third one will be coming out as well).
The Thursday Murder Club meets, oddly enough, each Thursday, in the jigsaw room of the Coopers Chase, "Britain's First Luxury Retirement Village".
The club's founding members were Elizabeth, a former spy, Penny, a former inspector with the Kent police, Ron, a former unionist with tattoos and Ibrahim, a psychiatrist from Egypt.
Penny is now in Willow nursing home in a coma.
Joyce, a former nurse, who likes to check men out, is recruited to the club.
They meet each week pour over old police photos, while pouring glasses of wine, to try to solve cold cases, but now a crime has happened in their backyard.
Ian Ventham plans to build units on the site of the old convent and cemetery, near Coopers Chase.
As protestors were blocking the entrance from construction vehicles, a scuffle ensued, and Ian is killed.
The club uses their talents to try to help the police solve the case.
When I say police, I mean Donna and Chris.
Donna came to the retirement home to teach the residents about safety.
Chris is a middle-aged curmudgeon who lives alone and eats too much crap.
Donna and Chris are trying to solve the murder of Ian's companion, Tony Curran.
Could the two be linked?
In The Man Who Died Twice, Elizabeth gets a letter from her ex-husband, Douglas who is ten years her junior and is still in the spy business.
Seems he has gotten himself in a bit of bother when he was caught on camera stealing $20m worth of diamonds from a home he was planting bugs in.
He has reached out to Elizabeth after all these years, they meet, and he gives her clues as to where the diamonds may be located.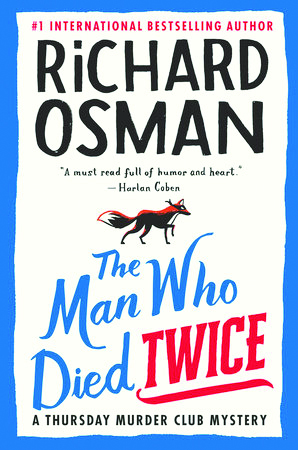 Soon after Elizabeth finds Douglas and Poppy, his handler, both dead.
But identifying the bodies is difficult because the shots happened in the face.
Are they really dead?
Can Elizabeth solve the case?
Meanwhile, Ibrahim gets mugged, which leaves him with extensive injuries.
He loses his confidence.
The club will get their revenge – to hurt one of them is to hurt all of them.
If you have ever watched Pointless on television, the one from England not the one from Australia, you will be familiar with Richard Osman.
He has a dry wit which comes out in these books.
The writing is easy and breezy and can be read in a couple of sessions.
I did prefer The Man Who Died Twice over The Thursday Murder Club, but that may be because I was more familiar with the characters.
Apparently, Steven Spielberg has bought the film rights, and once I read that I could clearly see Helen Mirren as Elizabeth and Judy Dench as the coy, but horny Joyce.
Good reading.