NSW Health is today reporting the death of a woman in her 70s from the Central Coast who died at Wyong Hospital. She was a resident of the Hakea Grove Aged Care facility, where she acquired her infection.
She was not vaccinated and had underlying health conditions.
NSW Health expresses its sincere condolences to her loved ones.
This was the second local COVID related death in the last fortnight, a woman in her 90s died at Wyong hospital last week, she was in her 90s and fully vaccinated.
Meanwhile official local daily COVID case numbers continue to grow. CCN's daily case tracker shows clearly how the latest wave has spread locally over the month of December.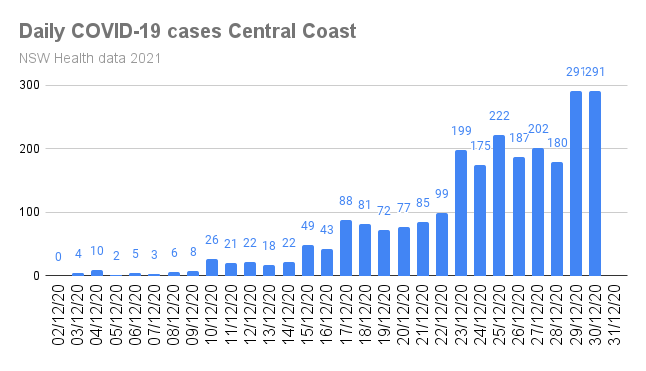 Today's daily case numbers were 291, though it is widely accepted that the actual case numbers are higher, due to testing queues and stress on PCR test providers.

There were 12,226 daily cases in the state today according to NSW Health published data today, Wednesday December 30.
746 people are in hospital in NSW, 63 are in intensive care and 24 require ventilation.
It is unclear how many people are in hospital and intensive care in the region's two hospitals as reporting systems have not as yet been established with the media.
Primary information source NSW Health Media Release, Dec 30, 2021.