The Wagstaffe to Killcare Community Association (WTKCA) held a garden party on November 7 to help commemorate community leader and passionate local activist, Fay Gunther, who passed away in June.
Members were invited to share their memories of Fay and enjoy an afternoon of camaraderie, fine food and champagne (Fay's favourite tipple) to celebrate the outstanding and un-stinting contribution Fay made to the community over many years.
WTKCA member, Robyn Warbuton, said the party was a "wonderful way to bring people together to share their memories.
"Many people came to do just that, bringing a plate of delicious food with them," Warbuton said.
"The organising committee did a great job – thank you.
"Fay loved blue and white, so they were the colours used to decorate the hall and Fay would have been very proud to see how lovely it looked.
"The renovation of Wagstaffe Hall may have been Fay's greatest achievement but it was not her only one.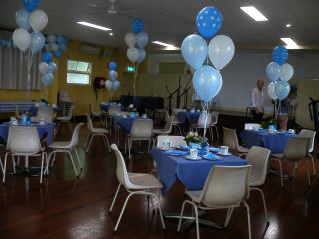 "She worked tirelessly to protect our area from unwanted development – maintaining character was her priority and she appeared several times at the Land and Environment Court to do just that.
"She had a wonderful way with voice and pen, and we benefited.
"It has been Fay's way with words that has resulted in the association being the benefactor of quite a few grants.
"Fay was successful with grants for the hall renovation, the improved tennis court at Turo Park, the path to the disabled toilet and having the hall ceiling replaced.
"Fay also helped Walsingham Pre-School successfully apply for a grant to help with the building of the new Pretty Beach Community Pre-School.
"She also led the way, banner-making and brandishing, to attend more than one protest."
Warbuton said Fay helped launch the first Trash and Treasure sale in 1998 to raise funds for the restoration of the Wagstaffe Hall.
"It was Fay's idea and was such a success it became an institution and served both donors and buyers very well.
Fay managed each event with aplomb," she said.
"Her management of the Breakfast by the Bay side of things on Australia Day was equally momentous.
"We have Fay to thank for the name for our newsletter Talking Turkey and the inclusion of the turkey on the Association's logo.
"Fay was fond of turkeys. A few of us dressed as 'turkeys' for the Year 2000 Parade.
"We will remember Fay!"
Source:
Newsletter, Nov 28
Wagstaffe to Killcare Community Association