The ancient tradition of bringing evergreen plants into our living areas in December was a way to celebrate life continuing during the winter months.
This carried on throughout different beliefs until it coincided with the Christian Christmas observances.
As the world became smaller with the advent of faster communication, shipping and evolving growing methods we have seen a blended version of this tradition across the world with plants that symbolise the time of Christmas.
This week we will explore ways you can bring Christmas Cheer into your gardens and homes with plants.
Christmas Trees
In the 16th Century in Germany people would bring in entire evergreen trees and decorate them to become 'Paradise Trees' for Christmas Eve.
This was symbolic of the tree from the Garden of Eden in Christianity.
Queen Victoria and her German husband, Prince Albert, raised the popularity of the Christmas tree in the UK after a newspaper illustration of them with their children around the palace 'Christmas Tree' inspired the people of the time.
From there, the modern-day Christmas tree as we know it was born and spread across the world.
So, what about growing your own Christmas Tree here on the Coast? Australian native trees that will give you the Christmas look but will be far better suited to the environment here and fit in with the wildlife locals includes the magnificent, and large, Norfolk Pine (Araucaria heterophylla).
Woolly Bush (Adenanthos sericeus) is perfect for small gardens growing to about 5m and with bonus vivid orange-pink flowers in spring and early summer this will delight both you and your local pollinators.
If you have a dinosaur lover or botanical history buff in your family, then try our Wollemi Pine (Wollemia nobilis) as your garden Christmas Tree.
One of the rarest and oldest trees on Earth, it will grow comfortably indoors and in sheltered spots in the garden.
How to Look after a Cut Tree
Firstly, look for a tree with pliable green needles and the least number of brown needles.
Give it a good shake and if a few needles fall off, that's ok, but lots means it's on the way to the compost heap too soon! Once home, cut the end of the trunk off to ensure the free uptake of water.
Cut off at least a few centimetres to reveal a fresh surface.
The best practice is to use a tree stand as this enables the base of the trunk to sit slightly off the bottom and will leave the cut surface free to drink.
For every 3cm diameter of trunk you will need at least a litre of water in your stand so for a bigger tree, place your stand in a larger container.
Check water level every day and top up as needed.
Keep the Christmas tree away from heat sources.
Compost your tree either in your own garden, mulch up or take to your local green waste disposal centre.
Poinsettias
A native of Mexico, the poinsettia is a very interesting plant.
Firstly, they are not vivid red flowers that you are observing at all but the red 'bracts' of the plant, modified leaves that surround the true flowers.
Look closely and you will see that within this ring of festive red, tiny cream-coloured flowers that are the true blooms nestle within.
Poinsettia flower and display their colourful bracts, not only in red but pinks, oranges, creams, and whites, in the winter.
To supply the market in our Australian Summer Christmas, they are grown in cold rooms where winter is emulated.
Light is limited and they are kept cool.
After Christmas, you can plant your potted poinsettia out into the garden and while you won't be enjoying their famous display next Christmas, you will have a 'Christmas in July' display.
Tip prune in late summer to encourage flowering and be warned they have a poisonous sap so protect yourself when handling and particularly pruning.
They also may not be suitable around young children and pets as they are toxic.
Australian Christmas Bush
Here on the Central Coast and across our state, NSW Christmas Bush (Ceratopetalum gummiferum) is our Aussie festive native.
People in colonial times simply looked to flowers that reminded them of the key symbolism of the European Christmas of their birth places.
Christmas bush, with its bright red flowers in tiny bell shapes and its appearance at the 'right time' would of more than fit the bill.
Similar in ways to the poinsettia, the flowers are not the part of the plant that endear us to it.
The flowers are small creamy-coloured blossoms that fall away in spring to leave sepals that turn a gorgeous red by late December.
Find a full sun spot to plant your Christmas Bush and feed during spring with a native-specific fertiliser only.
This is advised to increase the number of blossoms which will lead to a showier festive display.
When harvesting your Christmas bush, never remove more than a third of the plant and cut branches at an angle with sharp secateurs.
Remove all foliage that will sit below the waterline in your vase, change water every second day and snip drying bottom of stems as required.
Other Christmas Bush varieties include Victorian Christmas Bush (Prostanthera lasianthos) and South Australian Christmas Bush, also known as Tasmanian Christmas Bush (Bursaria spinosa), both of which will grow in Coast gardens.
Gardening Book Review: Everlastings by Bex Partridge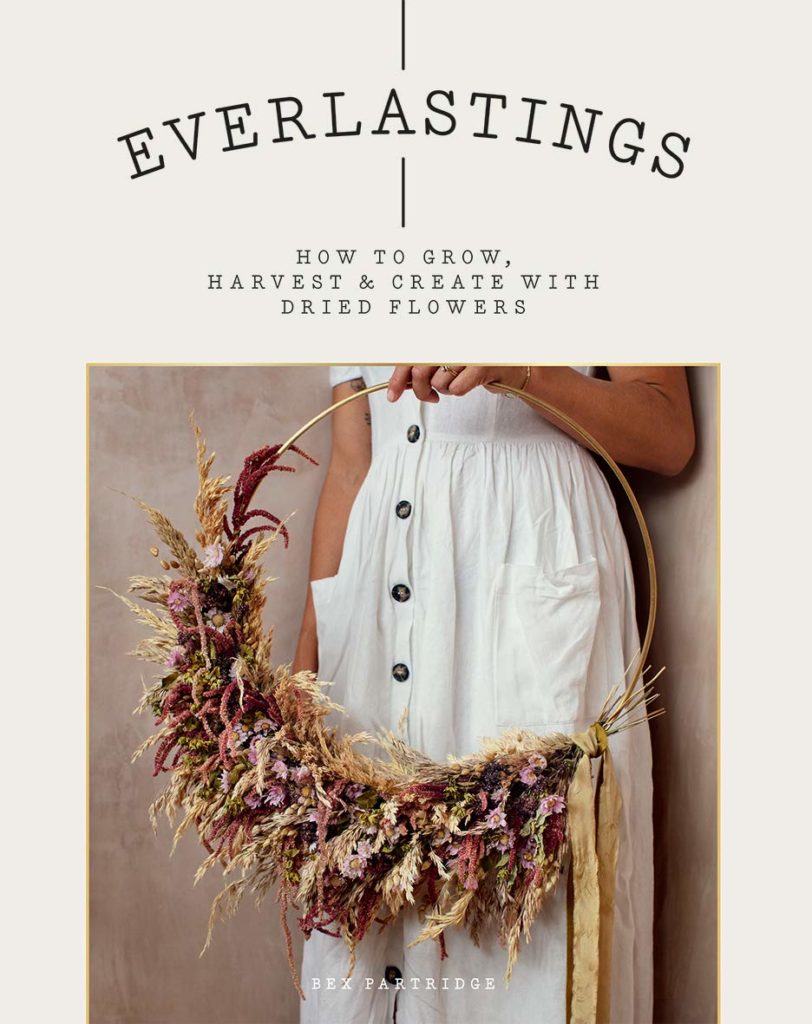 Hardy Grant, London, 2020, ISBN: 9781784883393
My copy is sprinkled with crushed leaves and peppered with my own little notes as I adore it.
This is one of the best modern titles on the art of drying and using flowers and foliage with extensive harvesting and drying notes along with brilliant inspirations and twenty easy to follow tutorials.
There are lists of flowers and foliage with best harvest times along with advice on the best drying methods for each.
Within the tutorials, I love the floral crowns, hair clips and dome jar which would make a delightful and unusual gift.
The popular floral hoops and botanical chandeliers are included along with lots of hints and tips to ensure longevity of your designs.
Everlastings is suitable for absolute beginners through to advanced crafters and floral designers.
It would be a great addition in a gardener's library to inspire additional ways to use the flowers and foliage they grow.
GARDENING GUIDE FOR COAST GARDENERS THIS WEEK
The sapsuckers are out and about.
Make a note to treat your plants during the nymph stage in winter but now, hit with a strong jet from a hose, pick off by hand and drown in a bucket of soapy water.
You can plant the following now: Culinary herbs, beans, beetroot, broccoli, brussels sprouts, cabbages, cape gooseberry, capsicum, carrot, cauliflower, celery, chicory, chilli, choko, cress, cucumber, eggplant, endive, kohlrabi, leek, lettuce, marrow, melons, mustard, okra, parsnip, pumpkin, radish, rhubarb, rocket, salsify, silverbeet, spring onion, sweetcorn, squash, tomato, ageratum, alyssum, amaranths, aster, begonia, California poppy, celosia, cockscomb, coleus, cosmos, cyclamen, dahlia (seed), gazania, gerbera, marigold, nasturtium, petunia, phlox, portulaca, rudbeckia, salvia, snapdragon, sunflower, torenia, verbena, vinca, Viscaria, waratah, zinnia.
YOU & YOUR GARDEN: Retirement Village Gardening Club
Now settled into Wood Glen Retirement Village, Erina after leaving her native England, Jill found that gardening was something she needed to almost re-learn.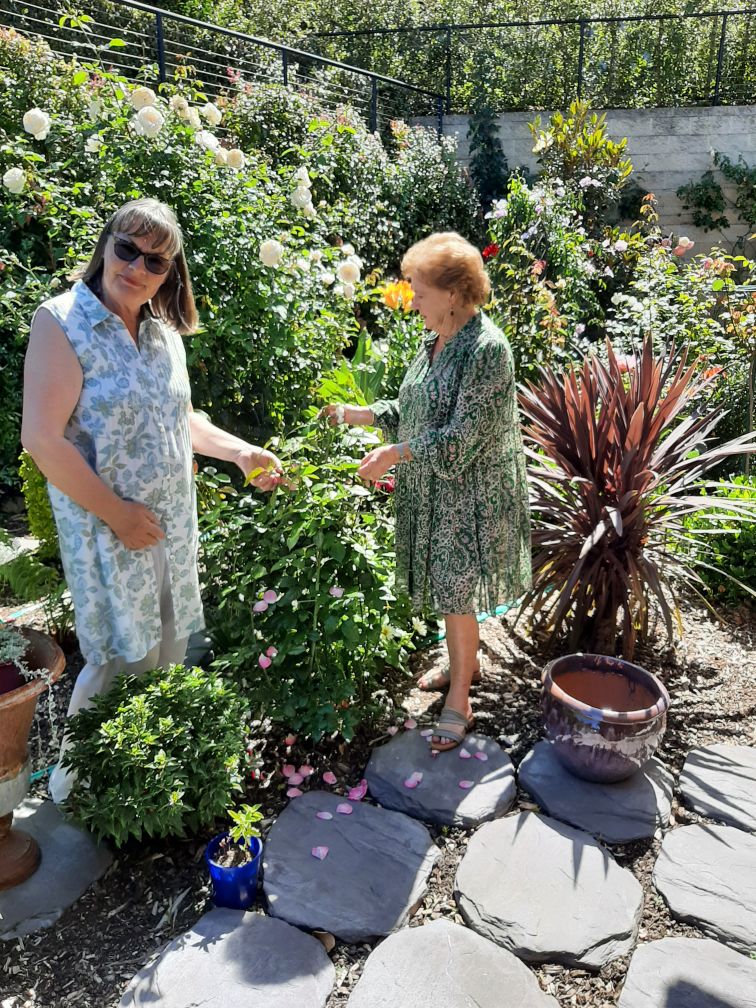 Although entranced by the way her beloved roses and lavender seemed to flourish here, creating, and maintaining a garden was more than a little different in her Australian garden bordering the Central Coast bushland.
To help in her endeavour, Jill has created 'Green Thumbs', a gardening social club that meets monthly for the residents of Wood Glen.
They swap cuttings, seeds and advice over a cuppa and a few laughs.
I was invited to come along to this month's get together and was greeted by a bunch of plant passionate people of all levels of gardening skills.
While answering questions for The Green Thumbs about their gardens, I also heard about their club and exciting future.
"We welcome anyone to Green Thumbs, you don't have to be an experienced gardener, maybe you just want to care for a few potted plants.
It's just another lovely way to help share the knowledge while getting together." Jill said.
While focusing up to now on their own gardens, The Green Thumbs are now creating a Community Garden for residents with a focus on edible plants.
This area will provide another avenue to meet, to share healthy outdoor activities as well as create an opportunity for those with grander gardening dreams to keep growing.
A Retirement Village Gardening Club just takes someone to step up and host.
Like the Green Thumbs you could meet in an outdoor shelter or in inclement weather, at a central meeting room.
Ask people to bring along cuttings to share and as always, you will find the conversation flows easily when those interested in gardening get together.
Next Week: Gifts from and for the Garden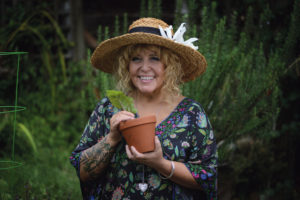 Cheralyn Darcey is a gardening author, community garden coordinator and along with Pete Little, hosts 'At Home with The Gardening Gang' 8 – 10am live every Saturday on CoastFM963.
She is also co-host of @MostlyAboutPlants a weekly botanical history & gardening podcast with Vicki White.
Send your gardening questions, events, and news to: gardeningcentralcoast@gmail.com