It's going to be a long-wet summer due to La Niña moving in on us.
For gardeners it means an adjustment to the way you have been planning, planting, and maintaining your patch of paradise.
We were under its spell last summer so this should not be anything new unless you are a just starting out on your gardening journey.
The good news is that the science bunch at the Bureau of Meteorology inform us that this time around, La Niña is going to have a gentler effect on us.
A natural weather occurrence, La Niña happens when there is a shift in weather patterns and ocean temperatures in the Pacific Ocean around the equator.
The waters cool down and clouds, with their rain, head on over to us in Australia.
While this event usually only happens once every now and then, it can occur in back-to-back years as it has this summer.
In general, La Niña brings with her more rain, colder average daytime temperatures and warmer nights so let's explore what difference it will make to your garden and what can you do about it.
La Niña Action Plan
All this moisture at a warmer part of the year is an open invitation to the dreaded moulds and mildews.
If planting now, build up mounds to pop each new plant into and raised garden beds whether container type or just completely mounded up areas will be best.
This helps with soil drainage and can assist to increase air flow in some situations.
Talking of air flow, now is not the time to plant too closely, in fact give all your new botanical friends a bit of room between each to help keep the air flowing around them.
Mulch will retain water for any hot spells that may arise, but now more than ever, you must ensure that mulches are kept away from trunks and stems, at least a good handspan or more depending on the size of your plant.
You will need to go out into your garden every day as water will start pooling and this will also mean faster plant growth.
You need to keep an eye on things more closely.
Trim and prune the lower leaves and branches of plants and remove some of the laterals to also open that breathing space for your plants.
Empty water-filled vessels, remove dead and dying foliage, fruits and flowers and inspect for signs of disease especially fungal issues.
Spray zucchini, melons, pumpkins, squashes, and cucumbers every week if powdery mildew appears with either a mixture of half milk and half water or 2 cups or water with ½ teaspoon of bicarbonate of soda mixed into it.
Never use in full sun, make sure all areas of the plant are covered and repeat after rain.
While having potted plants bunched together can be a positive move to create a microenvironment with a higher humidity, you may find that they too will fare better now with some space between them.
The additional water will also cause the nutrients in the soil in the garden or in outdoor pot plants to become diluted and to run off all together so additional feeding will be required.
Slow-release pelletised fertilisers are a good solution at this time as they will give you a longer period of effectiveness over liquid or even solid preparations.
Make sure that your compost heap is not getting too wet.
You can cover and you can also fix a compost that has become too wet but turning and adding in additional dry ingredients such as cardboard, straws, sawdust and chipped gardened prunings.
Along with all the water La Niña brings with it an increase in cloud cover so when planting adjust your plans for maximum possible sun areas for plants that require it.
Move potted plants to areas that will catch more sun if needed, don't rely on what is usual for them.
With the decrease in sun and heat due to cloud cover you may notice a decrease in produce, but don't be alarmed, that's just nature and next year things should return to normal for you.
One benefit is that you may be able to plant a little out of 'normal' season this year with an early autumn planting but just like our daily weather forecasts, things can change.
Watch your own area, take note of the temperature each day to work out patterns but in the end, we all know that a few harsh late hot summer days can ruin the best of intentions.
My advice is to plant indoors (greenhouses and stands) so you can easily move them to friendlier areas if needed.
One last note, these conditions bring out a lot of creepy crawlies.
Funnel Webs and snakes to name just two.
Always wear gloves and closed footwear and shake out boots and gardening shoes before putting them on.
Gardening Book Review: The Good Life, How to Grow a Better World by Hannah Moloney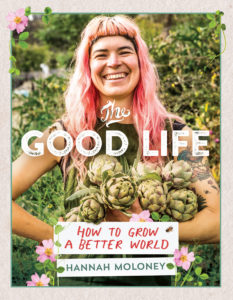 Affirm, 2021 ISBN: 9781922419385
I'm going right out on a limb here and being honest.
I saw this book and was hesitant.
Yes, I heard the hype, but it seemed a bit in the fad-wagon, and I need a big dose of substance along with inspiration in my gardening books.
Then a friend happened to have a copy when they visited me last week and yes, I've now ordered my own.
Hannah shares her life, the good life, with infectious joy and in a way that will inspire you to look at what you already have around you and to make the best of it.
This energy is one of practical positivity with a focus on actions that will bear out a better world for us all.
A much-needed example of the simple steps we can all take towards self-reliance, self-care, and community involvement.
Sprinkled with recipes (yoghurt, breads, garden helpers), tips, examples, tutorials (DIY water tanks!) and all those flashes of gorgeous Tasmanian vistas through the garden as the backdrop to her good life, I think this is one of the best sustainable gardening books for the rest of us.
Also, you make me want to have pink hair again Hannah.
This book would make another great Christmas gift.
GARDENING GUIDE FOR COAST GARDENERS THIS WEEK
Time to plant flowering potted roses and get that potted colour in for Christmas.
Just a few things you could plant this week include any and just about all culinary herbs, Asian greens, asparagus, globe and globe artichoke, beans, beetroot, broccoli, cabbages, cape gooseberry, capsicum, carrot, celeriac, celery, chicory, chilli, choko, cucumber, eggplant, fennel, ginger, horseradish, kale, kohlrabi, leek, lettuce, marrow, mustard greens, okra, parsnip, potato, pumpkin, radish, rocket, salsify, silverbeet, spring onion, sweetcorn, squash, sweet potato, taro, tomato, turnip, warrigal greens, sunflower, aster, bedding begonia, calendula, California poppy, carnation, celosia, chrysanthemum, coleus, cosmos, dahlia, dianthus, everlasting daisy, gaillardia, gazania, gerbera, honesty, inpatients, kangaroo paw, marigold, nasturtium, phlox, portulaca, salvia, snapdragon, waratah, zinnia.
You and Your Garden: Toukley Leeches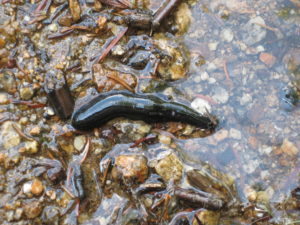 Q. Dear Cheralyn,
We have lived in Toukley for four years now and have noticed leeches in our backyard.
This is new as we have not noticed them before.
Why is it happening and what can we do about it?
Dianne, Toukley
A. Hi Dianne, although a natural part of our environment, they are not nice to find in your garden, I agree.
Not all leeches are blood suckers, some find plants a far tastier alternative.
Some are aquatic and others are land dwellers, but I can see you have an abundance of blood suckers that need to be shown the door so here are a few tips you could try.
While not good for all your plants (do a patch test), spraying lemon juice or a diluted solution of lemon juice and water has proven to be helpful at keeping them at bay.
Sprinkling salt in an area they are traversing will help as well but like lemon juice, it can negatively affect the plants in your garden.
Simple preventative measures are to provide better drainage in your garden and don't let water accumulate in plant dishes and containers.
Empty and clean water features regularly and if they are not home to aquatic life, a slosh of white vinegar can help to deter them.
I love this old method for drawing them out.
Get the freshest liver you can from the local butcher.
Place it on a plate in the area of concern, once it's full of leeches, place in an airtight container and dispose of it.
Bunches of love,
Cheralyn
Next Week: Merry Christmas Trees, Bushes & Flowers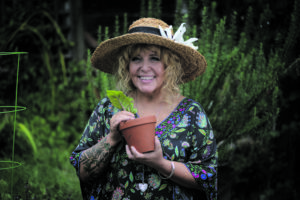 Cheralyn Darcey is a gardening author, community garden coordinator and along with Pete Little, hosts 'At Home with The Gardening Gang' 8 – 10am live every Saturday on CoastFM963.
She is also co-host of @MostlyAboutPlants a weekly botanical history & gardening podcast with Vicki White.
Send your gardening questions, events, and news to: gardeningcentralcoast@gmail.com