A local art teacher has helped bring watercolour to the Woy Woy Waterfront with the launch of a new picnic-based painting session last Saturday.
Owner and teacher of The Paper Garden, Brooklyn Arnot, held her first outdoor 'Watercolour Picnic' on the banks of Brisbane Water on November 6.
Arnot said around seven people attended and "everyone had a lovely time.
"We live in a really divided world at the moment, but the watercolour picnic on Saturday was able to bring people together from varying cultural backgrounds and stages of life," Arnot said.
"During the art class we all learnt so much from each other … we talked about business, our cultural heritages, mythologies and of course art!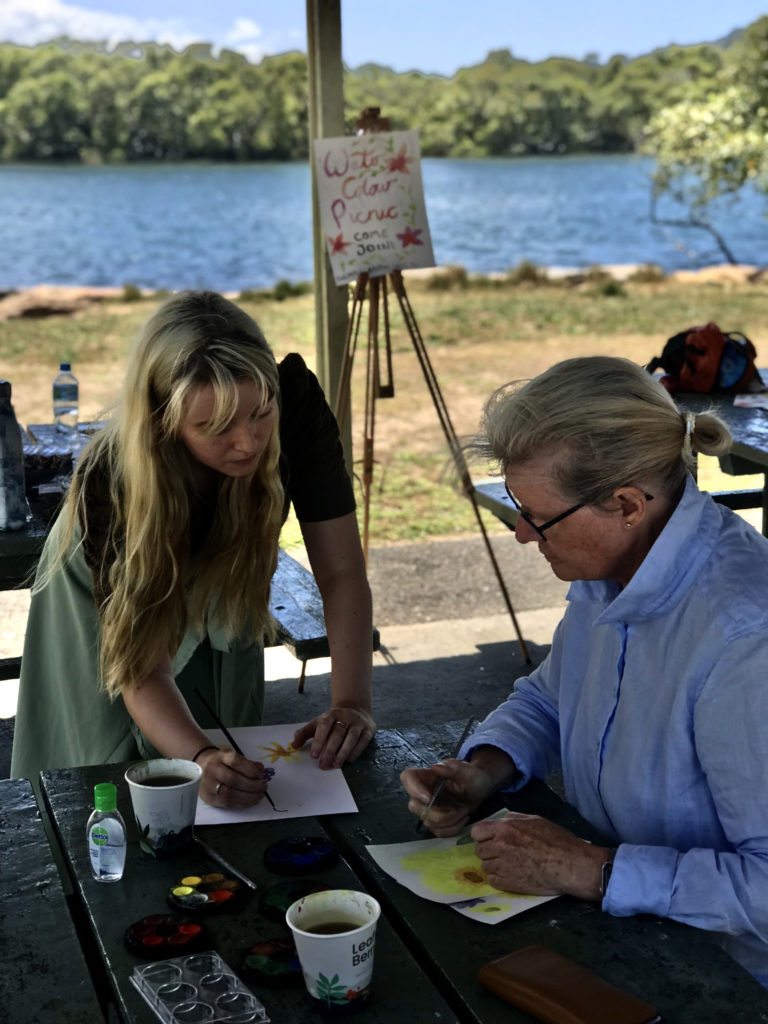 "The weather was beautiful – I haven't done one outside before – but it made for such beautiful scenery.
"During the picnic, we learnt the 'wet on wet' technique and used it to paint abstract flowers.
"The fun thing about wet-on-wet painting is the watercolour paint starts painting all by itself once you get the right ratio of water to paint on your brush.
"The abstract sunflowers, pansies, poppies and carnations popped against the serene backdrop of Woy Woy Waterfront.
"One of the really fun parts of the afternoon was when we ran out of water because more people had turned up than I expected.
"We were able to be resourceful and take a small cup of water from the river and use that to paint with.
"I think it's really beautiful to incorporate elements of the Central Coast's beautiful natural environment into the artworks we were creating."
She said both the picnics and the paintings help bring a sense of community to locals.
"The concept of watercolour picnics came about when I was walking along the Peninsula and was enchanted by the way the water, trees and sky all came together to create something beautiful," Arnot said.
"I saw dozens of tables and chairs scattered around the walk from Gosford to Woy Woy, and as an art teacher, thought they would be a great way to create accessible art classes.
"Art and creativity is all about breaking down the boundaries of 'what should be,' and asking ourselves, 'what can be?'.
"Watercolour picnics work really well because watercolour is an easily transportable medium …there's almost no set up needed.
"Brushes don't need to be washed afterwards, there is no need for easels, and with a few pointers it's so easy to paint something you may never know you could have painted.
"One of the great things about watercolours is the sense of peace it can bring you as you paint.
"Since it is such an expressive medium, it takes away the need for perfectionism, so you can really relax and go with the flow."
Just before going to publication, Arnot said she was contacted by Central Coast Council who said she was unable to host the weekly sessions due to permit and insurance restrictions.
She said she was very disappointed but said she understood Council's reasons.
CCN contacted Council for comment but did not receive a response in time for publication.
Maisy Rae