With the next Federal election due within the next seven months, Labor candidate for the seat of Robertson, Gordon Reid, has started calling in the big guns to support his campaign.
A combined House of Representatives and half-Senate election must be held by May 21, 2022, with the seat of Robertson one of the biggest marginal seats.
Political pundit Antony Green lists Robertson as the 10th most marginal seat of the 76 held by the Liberal-National Coalition Government and the Liberals hold it by a 4.2 per cent margin.
Sitting member, Lucy Wicks, has held the seat since 2013, being returned in 2016 by a slim 1 per cent margin, which she increased in the 2019 election to 4.2 per cent, after a electoral boundary .
On November 3, he was joined by Shadow Minister for Housing and Homelessness, Jason Clare, to discuss the ongoing housing affordability crisis on the Central Coast (see separate story) and on November 5, Labor Leader Anthony Albanese joined Reid at Avoca Beach to tackle environmental policy.
Top of the agenda was the refusal so far of Resources Minister Keith Pitt to cancel the PEP 11 permit for off-shore drilling, despite assurances from Prime Minister Scott Morrison that the Government opposes its continuation.
"It's time for the Resources Minister to come clean about why it's taking him so long to rule on (PEP 11)," Albanese said.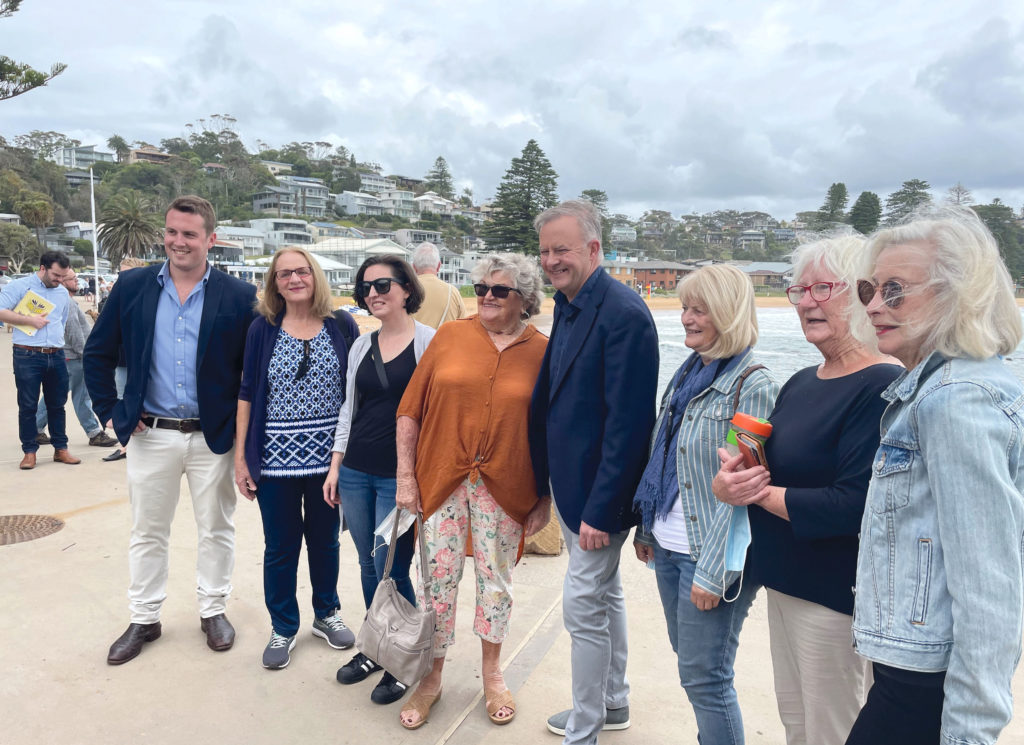 The Labor Leader said when questioned in parliament on October 21 on when he would officially put a stop to PEP 11, Pitt said he was still considering the application for renewal of the licence, which expired in February, and was "taking advice" from the regulator.
"In Senate Estimates last week, the National Offshore Petroleum Titles Administrator (NOPTA) revealed they had provided advice in April 2020 and were now waiting on the Minister to make a decision," Albanese said.
Albanese said a Labor Government would put a stop to PEP 11 "unequivocally, full stop".
He said PEP 11 was just one example of a government which "never does the right thing on the environment" as he called for a "coherent plan" for delivering the Government's recently released "non policy" of achieving zero net emissions by 2050.
"They grudgingly got to an agreement just days before the Glasgow summit (United Nations Climate Change Conference, also known as COP26), but there is still no modelling," he said, as he accused Minister Pitt and Deputy Prime Minister Barnaby Joyce of being "climate deniers" who "don't understand the science".
Albanese said the reaction of other countries to the Prime Minister's announcement was reflected as the PM gave "an empty speech to an empty room" at the summit.
"Labor is also committed to net zero emissions by 2050 but the difference is we will be announcing positive moves in that direction in coming weeks," Albanese said.
He said these would include an electricity fix to ensure renewable energy can connect to the grid, making community batteries more accessible and lowering tax on electric vehicles.
"As we open up, we need to make sure the right things are in place using modelling on what could happen next with COVID," he said.
Albanese said Labor would expand hospital funding, extend services on Medicare and address the regions' struggle to attract GPs.
"Across the country we are seeing hospitals under stress and we need to supply more GPs to stop people going to the Emergency Departments (EDs)," he said.
The Labor Leader couldn't resist a swipe at the PM over his handling of the cancelled submarine deal with France following the signing of the AUKUS pact between Australia, the United Kingdom and the United States, announced on September 15, under which the US and the UK will help Australia to acquire nuclear-powered submarines.
He said the PM should have been "more fair dinkum" in his dealings with France over the situation and criticised his leaking of private texts from French President Emmanuel Macron to the press.
"There doesn't need to be a world leaders' code of ethics to know that was not the right thing to do.
"Even (US President) Joe Biden said he wasn't properly informed on what had occurred between Australia and France."
Albanese said he would like to see an election as soon as December 11, but thought it more likely it would be called early next year.
Terry Collins