And so begins our lead up to the festive season – accompanied by the rising hope that real-life festivity might be on the cards this year instead of merely online celebrations.
Given the widespread impact on small businesses during the ongoing lockdowns, I've decided to spend the next few weeks sharing local inspiration for gift ideas. This week, I thought we'd focus specifically on playful experiences to be had around the coast that could offer your loved ones an uplifting break from what has been a challenging year.
"You can discover more about a person in an hour of play than a year of conversation."—Plato.
Play nourishes all aspects of our mental, physical and social wellbeing, leaving us feeling invigorated and alive. In the aftermath of lockdown, with the extreme social isolation faced by so many, experiences that reconnect us through play are more important than ever.
Acroyoga Retreat, 16th-19th December
ACROLife specialise in offering extremely playful experiences that create genuine personal and community connections. Never heard of Acroyoga? It's a combination of partner exercises, partner balances and Thai massage.
ACROLife is a unique system developed by Central Coast local Zoe Braithwaite that involves acrobatics, yoga, personal development, goal setting and team building. It's an inspiring new take on fitness where both mind and body are challenged to create personal change and improvement.
Participants find their edge by pushing beyond their comfort zone and breaking through personal obstacles and the sophisticated partner and group conditioning drills allow people to physically develop and master skills more rapidly than training alone. Life skills like trust and perseverance are woven through the physical challenges.
Zoe is a certified Acroyoga international teacher, partner acro performer, massage therapist and yoga teacher of 25 years and has been running Acroyoga events and retreats on the Central Coast for the last 10 year
The ACROlife getaway retreat offers an opportunity to begin 2022 with a strong body and fresh mindset. Hosted in a spectacular part of the mid-north coast, the retreat offers three days of Acroyoga, dance, yoga, Thai massage and healing.
It's a co-creative experience, suitable for beginners and more experienced participants, with the option of flying solo or bringing a partner. A team of 5 facilitators including Zoe Braithwaite, Mathieu C, Justin Wolfheart, Simon Borg-Olivier and Cassie Diane will support participants to achieve feats they previously considered impossible.
"It was the most fun weekend we have had for more than a year. And it was the best Acroyoga teaching I have ever received over the last 35 years of working with partner based balancing exercises – thanks again Zoe" (Simon Borg-Olivier)
For more info and to purchase tickets, contact Zoe. acrolife.com.au/getaways/

InRhythm drumming & mindfulness programs
Central Coast local, Tim Orgias is the Director of InRhythm and his passionate interest in the healing power of rhythm, group drumming and meditation spans over 20 years. This along with his extensive research into the therapeutic benefits of meditative drumming has seen InRhythm enjoy success within a broad range of service areas in the field of Health & Wellness.
Within the drumming programs, participants learn a series of very accessible rhythms that lock together to create an incredible synergy between the group. Once this is achieved, the experience is opened up to encourage a spontaneous creative flow. Whilst the process is light-hearted and incredibly fun – it's also powerfully therapeutic.
The therapeutic effects of 'drumming meditation'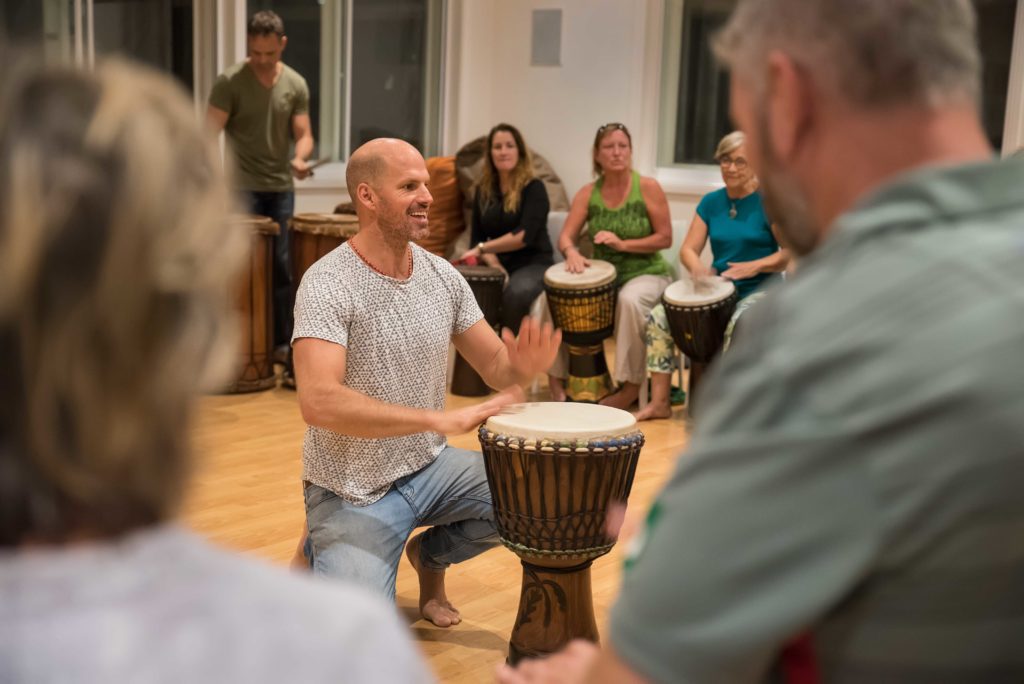 The act of playing a hand drum is quite often a form of meditation, due to the level of focus and concentration involved. Put simply, 'drumming meditation' is the art of doing this deliberately and consciously.
Many people find it easier to achieve a meditative state – and all the associated benefits – than with traditional meditation techniques, because concentration often comes much more easily.
Drumming and meditation both have large bodies of research highlight numerous therapeutic effects. Both have been shown to integrate various parts of the brain and a number of studies have shown that drummers have higher cognitive function and problem-solving ability compared to control groups. In one study, group drumming over just six weeks was shown to improve mood and decrease work-related burnout.
Community drumming is a vehicle that can stimulate creativity, foster team spirit, promote healing and enhance general wellbeing and quality of life. Drumming can boost energy levels, release stored tension and is well known to reduce patterns of depression and anxiety.
Gift Ideas:
• 8 week community drumming & mindfulness course – next course starts February 2022 in Terrigal. All levels are welcome with drums supplied (or BYO).
• Team drumming celebration – prices start at $15 per head
• African drums $90 – $260
For booking & enquiries: inrhythm.com.au

Central Coast Surf Academy gift vouchers
Central Coast Surf Academy (CCSA) is run by former professional surfer Amee Donohoe, who was ranked 5th in the world during her career. She now teaches alongside a team of hand selected professional and qualified coaches from around the Central Coast.
CCSA run all types of lessons from complete beginners through to elite & high-performance surfing and catering for children and adults alike. Whether you are learning to surf or have world title aspirations, CCSA is well-equipped to help achieve any goals you might have.
Their programs are a great gift idea for kids during the holiday season – they provide friendly surf instruction for children of all ages with fun school holiday programs. They also offer ladies-only surfing programs as well as mixed adult groups for all ages and levels.
Their lessons are accessible along all parts of the coast, currently running in Avoca, Terrigal, Toowoon Bay, Shelly Beach, Wamberal, MacMasters and Copacabana.
CCSA also teach skating at various local skate parks around the coast, so if anyone in the family is keen to improve their skills in this area, their gift vouchers provide a great option to do this.
Lessons start at $40 for groups and more information can be found on their website: centralcoastsurfacademy.com
We have so many wonderful small businesses here on the coast offering something truly unique, so consider supporting them and shopping local this holiday season. Stay tuned for more local gift ideas and recipes over the coming weeks.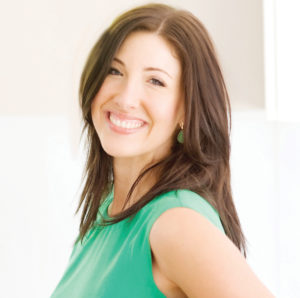 Georgia is a clinically trained nutritionist, wholefoods chef, columnist and mum. She's been featured in Body & Soul and had TV appearances on ABC Breakfast and Studio 10 for her unique approach to food and health. She's known for reinventing traditional foods for the modern kitchen and was instrumental in a radical new approach to sports nutrition with a program for the NRL Parramatta Eels, kickstarting their ascent on the ladder in recent years. Find out more at stirringchange.com.