I must be honest, there is no such thing as an 'unkillable' plant but there are more than a few out there that come close.
These are the hardy plants, the disease and pest tolerant and the 'leave me alone' plants that don't want to be fussed over.
The 'unkillable' are suitable for investment properties, larger areas of gardens that you just don't have the time for and are the saviours of homeowners who desire a good looking, easy-care garden but can't fit in gardening due to their lifestyle.
There is an old saying that goes something like, "There's no such thing as a plant problem, it's a person problem" and I would tend to agree.
Just like ensuring that you find pets that will fit into your lifestyle, selecting suitable plants for the way you live and what you can provide will help you become a plant carer and not killer.
These are my top 10 (almost) unkillables to try at your place.
Cast Iron Plant (Aspidistra elatior) is one that really does live up to its name.
It belongs to the lily family and is native to China and Japan.
A shade lover that is also a happy indoor plant, it can survive on just about no sunlight.
It has a rather slow growth rate and is expensive but disease and pest resilient.
The worst thing you can do for this plant is to over-water it.
Plant it and walk away, worth the money.
Indian Hawthorn (Rhaphiolepsis indica) is a slow-growing shrub that loves the sun and can make a lovely hedge that won't require pruning.
It is tolerant of all sorts of conditions and will even grow happily in coastal spots.
Indian Hawthorn is considered somewhat invasive so select with care and perhaps remove the berries to slow the spread.
Star Jasmine (Trachelospermum jasminoides) will cover the eyesores in your garden beautifully.
It grows as a ground cover or climber and loves our climate.
This jasmine will give you gorgeously fragrant flowers that will quickly attract the local bees.
While it takes a little time to find its feet and establish, once it does this vine will take off.
Not fussy about soils and will grow in part-shade but does best in full sun.
Bower of Beauty (Pandorea jasminoides) is my favourite climber as it ticks a lot of boxes.
It is a native Australian vine, a super-fast grower that creates a dense, evergreen feature and will grow just about anywhere.
It is also a set and forget climber that's a favourite with our native bees.
Grows in semi-shade but will do best in full sun.
The roots can become invasive so plant away from underground infrastructure.
Mat Rush (Lomandra spp.) is a local council favourite that you will often see in roundabouts and along roads and it's because of their adaptability and ease of care.
They are Australian native grasses and can grow happily in large pots and fill areas of your garden easily with their stunning fountain-like form.
There are lots of lovely variations and they are not fussy about location.
Flax Lily (Dianella spp.) fit the bill if you are looking for a more strappy leaved plant and many are native to Australia.
Most have striking blue-green leaves and produce stunning deep purple berries but there are also some interesting cultivars out there for you to choose from, with some being more tolerant of extreme conditions than others.
A popular landscaping plant, I think these look best when mass planted along edges or to fill areas.
Teddy Bear Magnolia (Magnolia grandiflora 'Teddy Bear') an easy-care evergreen small tree that will
reward you with the most magnificent creamy white highly fragrant flowers imaginable.
They grow in a compact shape and are suitable as a hedging plant.
This magnolia is happy in full sun or part shade and although it will prefer a free draining soil, there's not much more you need to worry about.
Lilly Pilly Resilience (Syzygium australe 'Resilience') is a fast-growing native that will give you either a lovely small feature tree or a fast-growing evergreen hedge and you get those delicious edible berries.
Frost and drought tolerant, you will find it hardy once established but choose this cultivar, not just any lilly pilly as it is bred to be resilient as the name indicates.
Prefers full sun and but can tolerate semi-shade.
Bush Lily (Clivia miniate) can probably survive the apocalypse; enjoying a bit of a rise in popularity with indoor plant collectors, but they have been the investment property garden friend for decades.
They love shade, are not fussy at all most conditions, are drought hardy but are not happy in frost-prone areas.
You also get a burst of brilliant trumpet flowers in winter.
Agapanthus (Agapanthus spp.) are not a favourite at all with me, but I have included them as they seem to be very popular.
One of their better attributes is that due to their tough sap-filled strappy leaves and clumping form, they can work as a fire barrier.
They can be grown in pots but also work well in mass plantings.
Although they are best known for their mauve flowers, these days pinks, whites and even a 'black' is available.
Prefers full sun but can grow in semi-shade.
They can become invasive to our waterways so look out for cultivars like 'Queen Mum' which are referred to as sterile and less likely to spread.
GARDENING BOOK REVIEW – 1 Minute Gardener
by Mat Pember & Fabian Capomolla, Pan Macmillan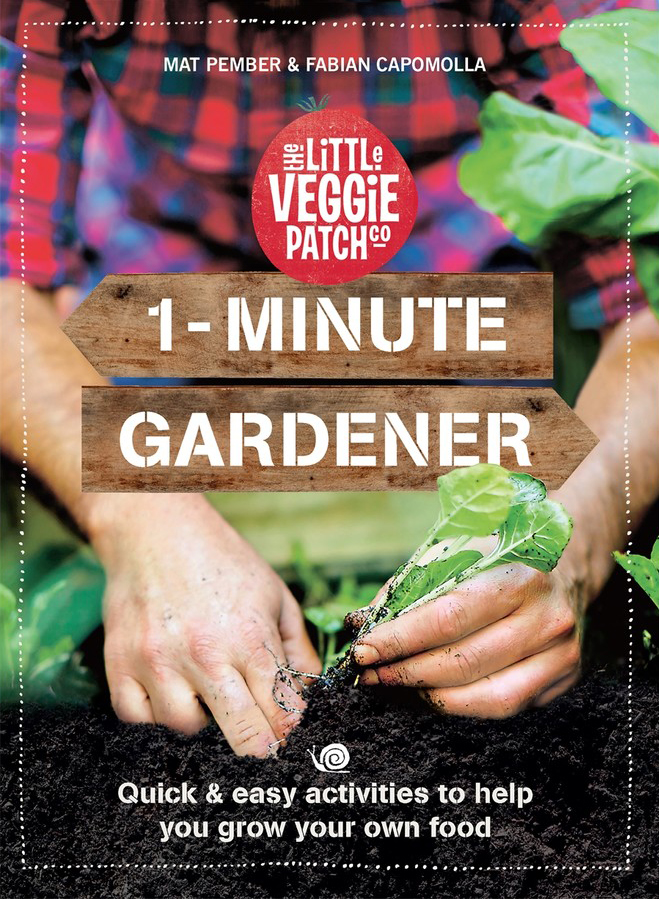 Another great book from the team at 'The Little Veggie Patch Co.' and follows on from their success as a source of basic, good advice, particularly for food gardeners.
As always, Pember and Campolla, share a healthy dose of sustainable gardening techniques but here they have also taken the fear out of it for those with less time and perhaps less knowledge.
Within are 60 guides to getting your gardening done quickly, sustainably, and effectively.
A list of plants that are better suited to a busy lifestyle are included along with lots of help with pests, diseases and even as a more experienced gardener, I found this book of value.
It is written in the fun and refreshing style that this duo is known for.
Perfect for beginners and for those who think they are far too busy to enjoy gardening.
TASKS & TIPS FOR YOU THIS WEEK
With all the heavy rain recently, if you notice your plants yellowing, it could be lack of nutrients as lots of water will wash them away.
Top up with some liquid or a slow-release granule formula.
Just a few things you could plant this week include herbs, Asian greens, asparagus, globe and globe artichoke, beans, beetroot, broccoli, cabbages, cape gooseberry, capsicum, carrot, celeriac, celery, chicory, chilli, choko, cucumber, eggplant, fennel, ginger, horseradish, kale, kohlrabi, leek, lettuce, marrow, mustard greens, okra, parsnip, potato, pumpkin, radish, rocket, salsify, silverbeet, spring onion, sweetcorn, squash, sweet potato, taro, tomato, turnip, warrigal greens, sunflower, aster, bedding begonia, calendula, California poppy, carnation, celosia, chrysanthemum, coleus, cosmos, dahlia, dianthus, everlasting daisy, gaillardia, gazania, gerbera, honesty, inpatients, kangaroo paw, marigold, nasturtium, phlox, portulaca, salvia, snapdragon, waratah, zinnia.
YOU & YOUR GARDEN: Karen's Stink Bugs, Tuggerah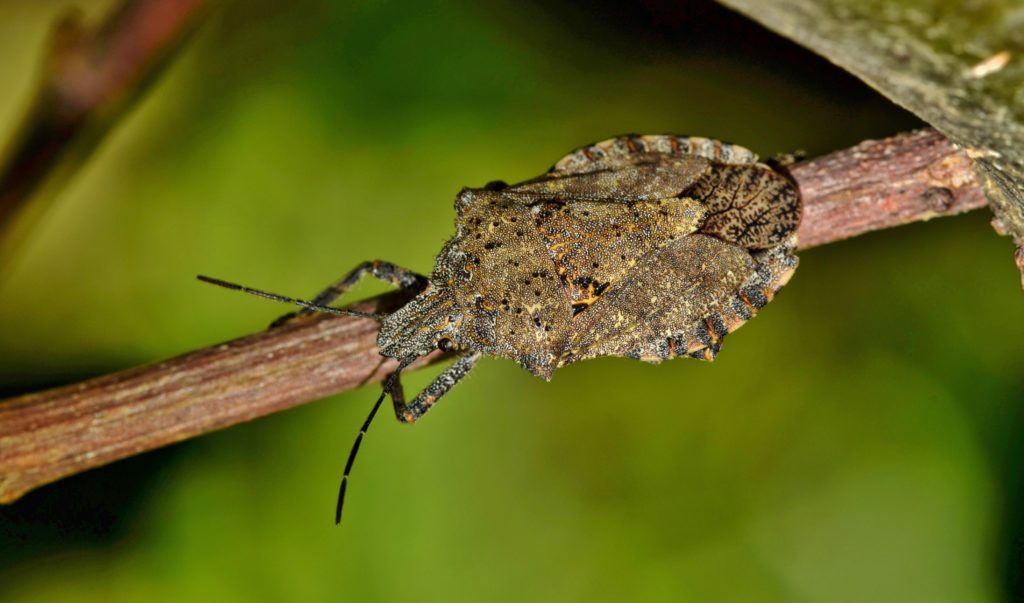 Q:
Dear Cheralyn,
I recently moved to the Central Coast and have inherited two lemon trees and I think a lime tree.
They are doing ok I think but there are a lot of stink bugs attacking them and I hear lots of different advice, but I want to care for, not kill these trees.
What is the best way to get rid of stink bugs?
Karen
A:
Hi Karen,
Welcome to the Coast.
Stink Bugs (Halyomorpha halys) are an annoyance and can be rather hard to eradicate once they take a liking to your place.
Consistency and vigilance are the best ways to deal them and always wear gloves and eye protection because that stinky spray they emit in defence is also caustic.
You will need to check your trees every day in spring and physically remove them and when spraying with a pyrethrum-based pesticide, ensure full coverage of both sides of the leaves.
Note this for next winter: spray your citrus trees with an oil-based pest control once a month as this will deter the nymph cycle of the Stink Bug.
Everyone: I am out and about visiting your gardens.
I would love to visit any garden but particularly school gardens, memorial gardens and verge gardens.
Contact me at gardeningcentralcoast@gmail.com and tell me about your garden.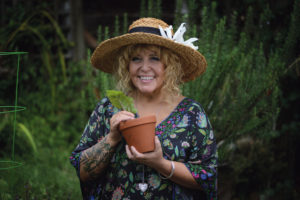 Next Week: Gardening for the Birds
Cheralyn Darcey is a gardening author, community garden coordinator and along with Pete Little, hosts 'At Home with The Gardening Gang' 8 – 10am live every Saturday on CoastFM963. She is also co-host of @MostlyAboutPlants a weekly gardening podcast with Vicki White.
Send your gardening questions, events, and news to: gardeningcentralcoast@gmail.com