On the Central Coast we are in a temperate area and while some tropical plants can grow well in various pockets and may even thrive with additional care, many plants from 'up North' just won't survive or thrive in this cooler climate.
When we think tropical plants for our garden, most of us are referring to the understory rainforest plants that generally need very rich loamy soil that is kept damp.
These plants love humidity, will not tolerate frost and the temperature remains above 18c.
Many tropical plants have large leaves to capture the light and the falling rain in the darkness of the jungle and while looking out over an area of wild tropical growth, you will also notice that the vegetation is rather tangled and almost overgrown in nature.
I've got a few tips and tricks to get this look without having to go 'Troppo!'.
Planting Tips
Try selecting plants that have darker foliage as this increases the perceived depth of your faux-tropical garden.
The darker an area is, the more difficult it is the see where the garden ends.
Increase volume by mass planting or grouping together pots of the same plants.
This makes the viewer think they are looking at one big plant, not lots of small ones and subconsciously we tend to think of tropical plants as bigger even though that is not actually always the case.
Placing plants closer together helps but mind that your selection is suited for this as the increase in humidity will be great for real tropical plants but not so good for others.
Too much humidity will increase the chance of fungal issues.
Vines will also boost the jungle vibe of your tropical paradise and you can try the Australian Natives Wonga Wonga Vine and Bower of Beauty (Pandorea jasminoides).
Add in a few plants that have unusual and bright blossoms as nothing says tropical like these.
A couple of suggestions for you that will do well in this area are Bird of Paradise (Strelitzia regina) and any of the Bromeliads.
Also Try These Plants
Bamboo can give you a tropical look and if you are hesitant about letting this plant into your garden, then try the delightfully jungle-looking and sounding Tiger grass (Thysanolaena maxima).
There are so many Cordylines in a myriad of colours and these can also give you another layer of texture with their spear-like leaves.
The good old Swiss Cheese Plant (Monstera deliciosa) is a temperate area plant that looks like it comes from the hot depths of the jungle but will be incredibly happy in East Coast Aussie gardens.
If you are looking for a large plant, try the Giant White Bird of Paradise (Strelitzia nicolai) as it is drought tolerant and will provide a great backdrop to your tropical garden.
Philodendron 'Xanadu' will grow in full sun and is also drought tolerant.
Any of the gingers will work well including the ornamental stand out Shell Ginger (Alpinia zerumbet 'variegata').
If you have a brown thumb, try a bunch of Cast Iron Plants (Aspidistra elatior) as they are pretty much indestructible and also do very well in large pots, perfect for courtyards.
Pop in Flaming Katy (Kalanchoe blossfeldiana) in any open little pockets and spots as their leaves and bright flowers make interesting little focal points that pop.
Heliconia of all sorts are also a welcome addition and give that unusual twist and while they may present a bit of a challenge, if you find a humid spot you should be rewarded.
Design Elements
Use pots that are deep emerald-green to extend the lushness of your tropical garden.
Dark earthy colours will work as well.
Rustic timber furniture and features will give a wild jungle feeling and you could try adding natural looking water features but instead of fast running fountains opt for slow trickling effects that will mimic the feeling and sounds of the rainforest.
GARDENING BOOK REVIEW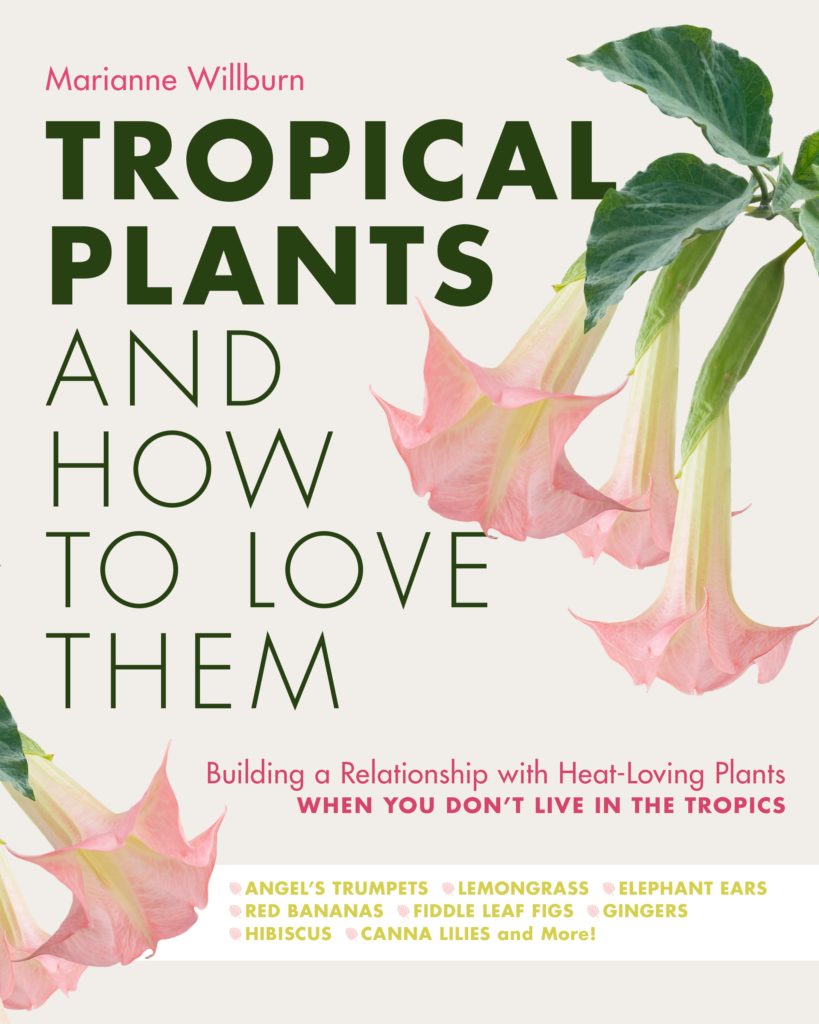 Tropical Plants and How to Love Them
Building a relationship with heat-loving plants when you don't live in the tropics.
Marianne Willburn ISBN: 9780760368947.
Quarto Books, USA
If you want to grow real tropical plants or even just be inspired by them then I highly recommend this new book by Marianne Willburn.
Both houseplant growing and delving into the creation of tropical growth for your garden is covered so well.
The advice is suitable for those not living in hot tropical climates and is written in an easy to understand, at time humorous and insightful way.
A gardening book with a bit of a difference for those who love the tropical look.
TASKS & TIPS FOR YOU THIS WEEK 
This week, you could plant artichokes, asparagus crowns, cape gooseberry, capsicum, beetroot, climbing and dwarf beans, cabbage, carrot, celery, chicory, choko, cress, cucumbers, eggplants, endive, melons, squashes, lettuce, spring onions, parsnip, peas, potatoes, radish, rhubarb crowns, salsify, silverbeet, sweet corn, alyssum, calendula, California poppy, carnation, celosia, chrysanthemum, cosmos, dahlia, dianthus, everlasting daisies, gazania, gerbera, marigold, petunia, salvia, zinnia, kangaroo paw, nasturtium, snapdragon, salvia.
A few things in season: avocado, banana, blueberries, mango, asparagus, broad beans, silverbeet, passionfruit, oranges.
YOU & YOUR GARDEN: Howard Williams, Wyoming
After our search for the perfect Central Coast deciduous tree for Martin of Blue Bay, Howard Williams wrote to us with his suggestion:
Dear Cheralyn,
As grower of Australian native plants for well over 35 years, may I suggest a tree that I have grown which may be good for Martin.
The tree is the Fine Leaf Tuckeroo (Lepiderema Pulchella) which puts on a beautiful new leaf followed by orange/yellow flowers then orange berries which native birds love.
It grows in my garden in Wyoming very well and is between 6 and 8 metres tall.
You can cut it back quite hard and it will still live a good life.
I hope this may help Martin.
Regards,
Howard Williams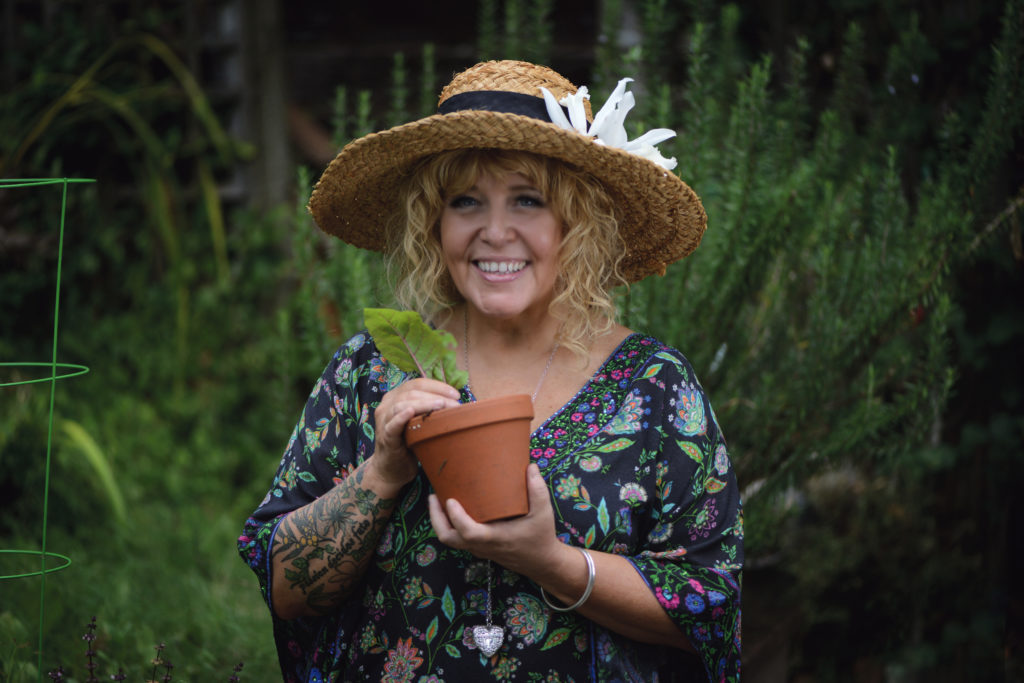 Cheralyn Darcey is a gardening author, community garden coordinator and along with Pete Little, hosts 'At Home with The Gardening Gang' 8 – 10am every Saturday on CoastFM963.
She is also co-host of @MostlyAboutPlants a weekly gardening podcast with Vicki White.
Send your gardening questions, events, and news to: gardeningcentralcoast@gmail.com