This is the final instalment of our lockdown special.
In lieu of being able to head out for dinner, we've been embarking on a virtual tour of the coast's best eating establishments.
We've asked chefs to inspire us with recipes that we can make at home, bringing the fine dining experience into our own kitchens. This week we're talking to Chef Suleyman Kirbancioglu from Safran Restaurant in Ettalong.
Safran was established eight years ago with the desire to showcase Turkish cuisine on the Central Coast. Turkish cuisine has a rich and vibrant history that goes way beyond the common offerings of dips, kebabs, and pide. Growing up in Turkey, and training under some of Turkey's best chefs, Safran is a way to express my love of Turkish cuisine in a contemporary way.
Inspired primarily by the Ottoman Palace kitchens, I draw upon traditional recipes and techniques, presenting them with a modern interpretation that reflects the current culinary scene in Turkey and Australia. Being awarded an Australian Good Food Guide Chefs Hat in 2020 and 2021, has been a massive achievement for myself, my wife and business partner Natalie, and the whole Safran team.
Over lockdown, we've been busy renovating the restaurant and creating new menus, so we're excited to get back to Dine In soon! At the moment, we're open Wednesday to Saturday evenings, offering a relaxed version of Safran. These meals are more casual and traditional than our usual Dine In style, but still feature some high-quality produce like Margra Lamb and full blood 9+ Wagyu. Our spiral borek pastries, and Middle Eastern style BBQ chickens have been very popular.
We've also put together a weekly "Sofra" dinner pack. Sofra refers to a table set with many dishes to share. So, each week we put together a pack featuring a variety of different dishes to share between two people. The Sofra packs are available on Thursday evenings and are advertised on our socials.

Grilled Prawn, Pastirma Butter, & Fava Puree
Serves 4
This entrée style dish was one of our most popular in 2020. It is a combination of Aegean Sea and Central Anatolian regions. Pastirma (not to be confused with pastrami), is a salted cured beef, coated in a spice paste then dried for many weeks. Combined with the butter & prawns, it is a unique and delicious combination. Fava bean puree is a traditional meze. Whilst not normally served with prawns and pastirma, the creamy texture and mild taste pairs perfectly.
FAVA PUREE
1 cup dried split fava beans, washed & drained 2 cup chicken stock
1 small brown onion, diced 1 tbs olive oil
1⁄2 cup cream
1 tbsp butter
Salt & Pepper
Fry onion in olive oil until soft. Add fava beans & the chicken stock. Simmer until beans are soft, approx. 30 mins. Add cream, butter, and seasoning.
Bring back to the boil, then remove from heat. Puree until smooth with hand blender.
PASTIRMA BUTTER
100gms diced pastirma (use Italian bresaola if you can't get pastirma)
30gms pine nuts
1tsp sweet paprika
1tsp Aleppo pepper flakes (use 1/2tsp regular chilli flakes if you can't get Aleppo pepper)
1tbs butter
1tbs olive oil
juice of 1⁄2 lemon
Chopped parsley to taste
In a small fry pan, heat olive oil and add pine nuts. Lightly brown, then add pastirma. Cook until crispy. Add paprika, pepper flakes, butter, lemon juice, parsley, salt.
PRAWNS
8 green king prawns, shell removed
Olive oil, & salt
Coat prawns in olive oil and salt. Grill on BBQ or griddle pan, 2 minutes each side.
TO ASSEMBLE:
Per person: On a small plate or bowl, place a large spoonful of fava puree. Using the back of a spoon, create a small well in the puree. Slice two prawns into smaller pieces and add on top of puree. Drizzle over a generous serve of the Pastirma butter. Garnish with micro greens, or dill. Afiyet alson! (bon appetite!)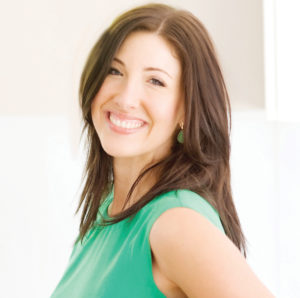 Georgia is a clinically trained nutritionist, wholefoods chef, columnist and mum. She's been featured in Body & Soul and had TV appearances on ABC Breakfast and Studio 10 for her unique approach to food and health. She's known for reinventing traditional foods for the modern kitchen and was instrumental in a radical new approach to sports nutrition with a program for the NRL Parramatta Eels, kickstarting their ascent on the ladder in recent years. Find out more at stirringchange.com.