Like many of us, I have happy memories of a mulberry tree in my childhood. This one stood in the centre of the playground at Orange Grove Primary School in the Inner West of Sydney.
From spring through to summer, we would eagerly await the end of the day bell and make a beeline for the lower branches to fill ourselves with its juicy berries and risk the wrath of Mum with our stained uniforms. For many of us mulberries mean the simplicity of being a kid, laughter filled playgrounds, climbing trees and that summer was on its way.
Growing Mulberry Trees
These trees are deciduous which means they will lose their leaves in winter and that makes them perfect for those seeking summer shade and winter sun. They are remarkably hardy, long lived and don't generally suffer from pests or diseases.
Should you grow one from seed the tree you will most likely end up with will be either male or female but mulberries are either male, female or bisexual. Those sold in garden centres will be bisexual or self-pollinating but do check just in case.
Mulberries bloom and then fruit in early spring and you will usually find that this can occur as early as the second year of growth. Although they can tolerate a range of conditions, they fruit best in a rich soil that is free draining with protection from strong winds and a position that is drenched in full sun.
They will also prefer space with about five metres between them and competing plants. Feeding is not a priority, and they are drought tolerant but do benefit from occasional deep watering and will need additional water during the hottest times of summer. Prune to eliminate overcrowding and dead branches when dormant.
More suited for Australian temperate areas, like the Central Coast, is the Black Mulberry (Morus nigra) and the berries of this species are by far the sweetest. Also available are Red Mulberry (Morus rubra) and White Mulberry (Morus alba tatarica). There are many cultivars on the market, and you are sure to find one to suit your needs, just have a chat with your friendly local nursey person. Mulberries have a long fruiting season that lasts from early spring through summer and unlike many other plants, will fruit continuously.
Dwarf Mulberries
This would have to be my pick of the bunch. Not everyone wants or can even accommodate a massive tree that can live for hundreds of years like the mulberry, so a great solution is the Dwarf Mulberry. There are lots of cultivars that have been bred to grow in dwarf size and some can even be trained to successfully grow in larger containers if you prune after fruiting.
I have one in the ground in my vegetable garden that has attained a height of about five metres in only two years and am enjoying the most succulent sweet berries at this moment. This is usually at the upper end of the height of the dwarf mulberry, but they are easily pruned to limit size. I've found my Dwarf Mulberry to be almost 'set and forget'.
Mulberry Tips and Facts
The reason you do not see mulberries for sale commercially, aside from perhaps farmers markets, is that they do not travel or store well.
To remove a mulberry stain rub it with an unripe mulberry. Other methods include drenching it with boiling milk and to attack old stains, soak in equal parts glycerine and warm water.
The easiest way to collect ripe mulberries it to lay a tarp under the tree and shake the branches every few days. Leave the tarp in place to catch fallen berries during heavy fruiting periods.
Silkworms prefer the White Mulberry and while they will eat the leaves of other mulberries, they will not eat the leaves of any other plant.
Resources
If you have a mulberry tree you might want to raise some silkworms. Everything Silkworks has everything you need! everythingsilkworns.com.au. As of publication Bunnings, Daley's Fruit and Narara Valley Nursery had lots of mulberry trees ready for purchase and you might want to check in with your local garden centre as well. daleysfruit.com.au; nararavalley.com.au
GARDENING BOOK REVIEW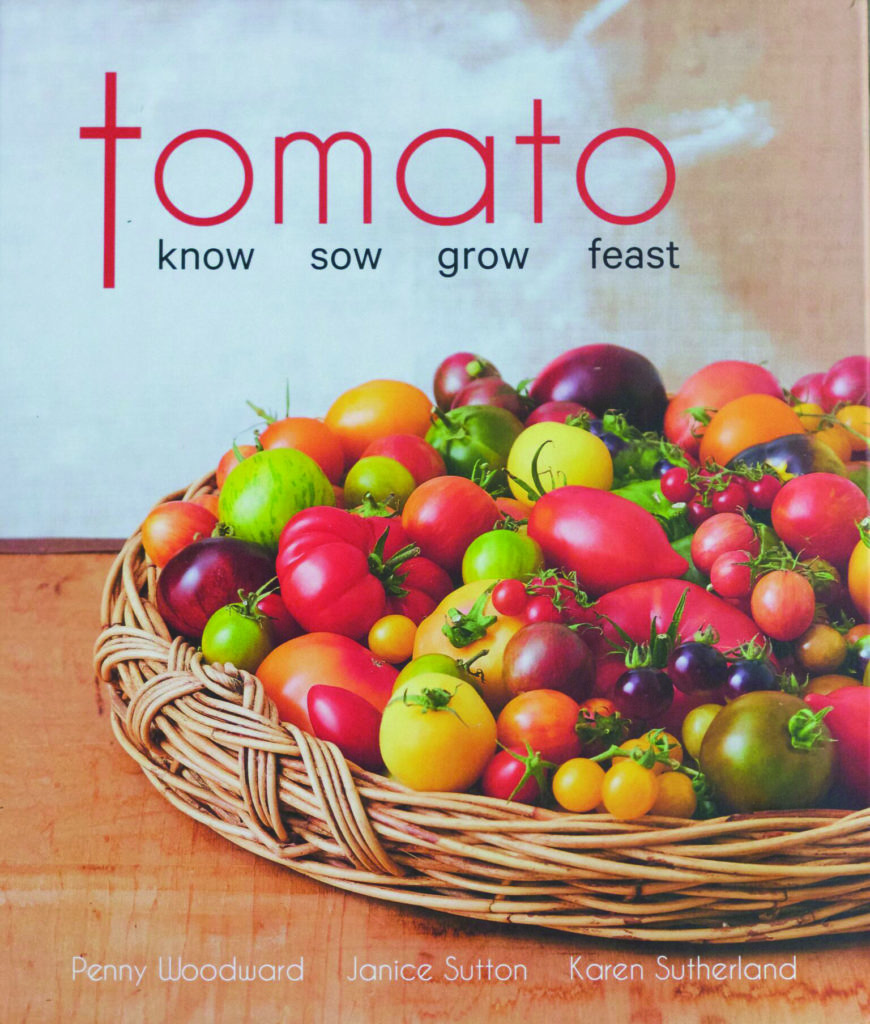 Tomato, Know, Sow, Grow, Feast by Penny Woodward, Janice Sutton, Karen Sutherland, Hyland House Publishing Manna Trading ISBN: 9780646982748
This is a brilliant homegrown gardening book that takes readers through the history and science of the tomato, including heirlooms varieties. It features a huge amount of gardening information that will be invaluable for novices to the more experienced. Tomato lovers are rewarded with a valuable gardening book and a huge cooking section featuring over 60 recipes by leading Australian chefs and cooks such as Maggie Beer, Stephanie Alexander, and Peter Gilmore. You will never need another tomato guide, this truly has it all and is written in Australia, so the information is local as well as plentiful.
TASKS & TIPS FOR YOU THIS WEEK
It's repotting time for most houseplants. Select a pot slightly larger than the old one and be ready with the best quality and plant appropriate potting mix. Gently turn out the old plant and then trim old, dead, and overgrown roots. Soak the root ball in a bucket of water with a seaweed solution added and then gently replant into its new home. This week, you could plant nearly every herb you can imagine along with cape gooseberry, capsicum, beetroot, climbing and dwarf beans, cabbage, carrot, celery, chicory, choko, cress, cucumbers, eggplants, endive, melons, squashes, lettuce, spring onions, parsnip, peas, potatoes, radish, rhubarb crowns, salsify, silverbeet, sweet corn, ageratum, alyssum, amaranthus, aster, California poppy, carnation, celosia, celosia, cosmos, dianthus, everlasting daisies, gazania, gerbera, gypsophila, impatiens, marigold, nasturtiums, petunia, phlox, salvia, zinnia, kangaroo paw, sunflower, snapdragon, salvia.
YOU & YOUR GARDEN: Martin, Blue Bay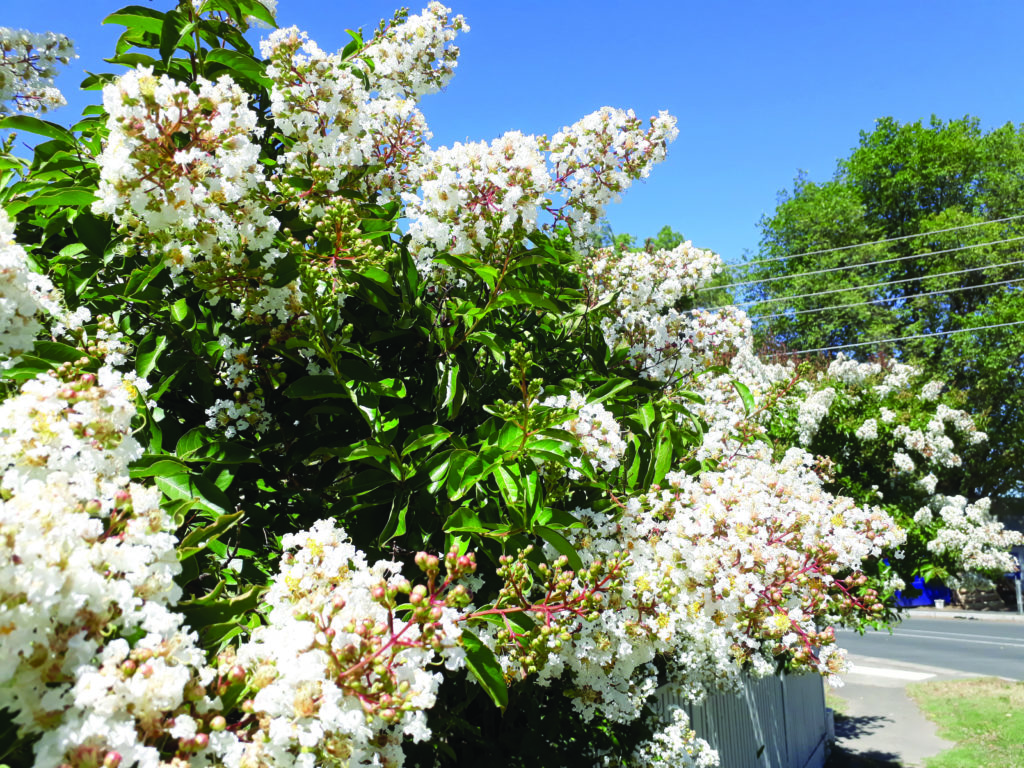 Martin is looking for a deciduous tree with a preference for a native species.
He did have a long list of preferences as well, but in nature, like buying a house, you will find there needs to be a compromise unless you are building it entirely yourself.
He was wanting a tree that would grow between six to eight metres with a lot of other requirements in colour, branch structure and form and while I really can't define a single tree to match all of these requirements, his first suggestion of the White Crepe Myrtle cultivar Natchez, (Lagerstroemia indica x fauriei 'Natchez') would be ideal.
This will not be a fast-growing tree, as Martin wants, but the wait will be worth it as is does have the 'wow' factor he is after.
The leaves have comforting warm tones though autumn before falling in the winter and the tree itself is easy to shape with careful pruning which is something important to Martin.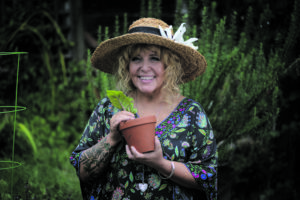 Cheralyn Darcey is a gardening author, community garden coordinator and along with Pete Little, hosts 'At Home with The Gardening Gang' 8 – 10am every Saturday on CoastFM963. She is also co-host of @MostlyAboutPlants a weekly gardening podcast with Vicki White.
Send your gardening questions, events, and news to: gardeningcentralcoast@gmail.com