Annuals are great for a fast and easy splash of colour in the garden but if you are ready to enter a long-term commitment with a flowering plant at your place, you may find that a blossoming shrub is your answer.
While the focus is usually on feature trees, flower beds and veggie plots, often we overlook the shrubbery, which can be a way to weave the elements of our garden together.
There is a difference of opinion both cultural and scientific surrounding what a shrub is.
The most accepted definition is that a shrub is no more than six metres in height and has no main trunk.
Sometimes you will see the term 'large shrub/small tree', and this is because the lines are starting to blur between the two.
A good example is the Tea Tree (Leptospermum spp.) which has species that are often described as such and has a main trunk. To throw a bit more into the mix, the term 'bush' means shrub in case you were asking and so yes, a rose bush is a shrub.
For the benefit of your garden planning, I'm going to suggest medium sized bushy foliaged plants that are generally known as shrubs. These are just a few of my favourites that will work well in coast gardens and flower throughout the year.
Native Beauties
Dwarf Bottlebrush (Callistemon spp.) is found in many hybridised colours and forms and makes a great addition to native gardens or even modern cottage styles. A sun-lover; they also tolerate semi shade.
Robyn Gordon Grevillea (Grevillea 'Robyn Gordon') will flower throughout the year and to ensure a bushy compact growth you will need to prune it to form. This one can cause allergies so if a concern, look for other small varieties such as 'lanigera', 'rhyolitica' and 'Lady O'. Requires full sun.
Blue Gem Westringia (Westringia 'Blue Gem') There are many westringias available that will work nicely as a flowering native shrub but look out for this one as it flowers prolifically and has a wonderful bushy growth habit as well. Prefers full sun but will tolerate semi-shade.
Birthday Candles Banksia (Banksia spinulosa) loves full sun but will also grow in semi-shade and it known for its orange-gold upright flowers, giving it its name. Can be pruned if needed but very easy care.
Wild Fuchsia (Correa jezabell) Once this beauty is established, it will reward you with stunning red bell-shaped flowers and peforms exceptionally well for those with coastal gardens. Loves semi-shade the best.
Traditional Favourites
Hydrangea (Hydrangea macrophylla) Find a semi shade position and this gorgeous shrub will love you. Generally, hydrangeas are not too difficult to grow but you need to be mindful that they are deciduous over winter. They will however, reward you with blossoms from summer through to autumn.
Plumbago (Plumbago auriculata) will grow well in temperate areas and is blue flower-lover's dream that blossoms throughout the year. Prune hard to encourage thicker growth and you will also find that Plumbago can grow as a climber as well. Needs full sun.
Mexican Shrimp Plant (Justicia brandegeeana) These remind me of my grandmother who had them growing as a small hedge. They are easy to grow, prefer a semi-shade position but will tolerate full sun and hate wet feet so take care not to over-water.
Mock Orange (Philadelphus coronarius) is a favourite of many as it is almost self-care in nature plus you get those delightfully fragrant orange blossom scented blooms. They must be pruned straight after flowering to ensure a compact growth and prefer full sun to part-shade.
Hebe (Hebe spp.) The foliage of the hebe is beautiful and comes in a vast array of colours and patterns but each summer you will also be gifted with stunning flower spikes that will bring additional interest to your garden. They are low maintenance and like sun to part-shade.
Japanese Camellia (Camellia japonica) is often thought of as a small tree but by a lot of gardeners as a large shrub and I'll include it as it really is well loved and a great addition to the garden. They are exceptionally easy to grow and long-lived once established. With over 20,000 cultivars, you will find one that will suit your place but on the most part they prefer semi-shade and can be pruned to shape and size.
No matter which shrub you choose, think of them as the mid-ground for your garden design. They should sit between the height of your trees and the taller of your garden beds and can provide low hedging or taller path borders. If you balance the flowering seasons, you can always have something adding to the fragrance and beauty of your garden throughout the year.
GARDENING BOOK REVIEW
Gardening Hacks, 300+ Time and Money Saving Hacks by Jon VanZile 2021, Adams Media ISBN: 9781507215814 A valuable book for beginners and a handy reminder, and a fun book, for those with green thumbs. Make your garden flourish with these 300 easy and inexpensive gardening hacks to help your plants blossom. Gardening Hacks includes helpful tips like: Saving your eggshells, which can serve as everything from an organic seed starter to a natural snail and slug repellent. Adding a pinch of cinnamon to help prevent fungal diseases that might prevent your plants from maturing. Using the newspaper to help deter weeds from sprouting. Creating your own DIY seed packet catalogue to help keep your seeds organized as your garden grows.
TASKS & TIPS FOR YOU THIS WEEK
Time to refresh your garden soil. You may need to top up and you will need to add compost, nutrients and balance your soil. Either use a pH testing kit or take samples to one of the many friendly gardening centres on the Coast who will happily test for you.
This week, you could plant artichokes, asparagus crowns, cape gooseberry, capsicum, beetroot, climbing and dwarf beans, cabbage, carrot, celery, chicory, choko, cress, cucumbers, eggplants, endive, melons, squashes, lettuce, spring onions, parsnip, peas, potatoes, radish, rhubarb crowns, salsify, silverbeet, sweet corn, alyssum, calendula, California poppy, carnation, celosia, chrysanthemum, cosmos, dahlia, dianthus, everlasting daisies, gazania, gerbera, marigold, petunia, salvia, zinnia, kangaroo paw, nasturtium, snapdragon, salvia. A few things in season: avocado, banana, blueberries, mango, asparagus, broad beans, silverbeet, passionfruit, oranges.
You & Your Garden – Flannel Flowers, Michelle Morris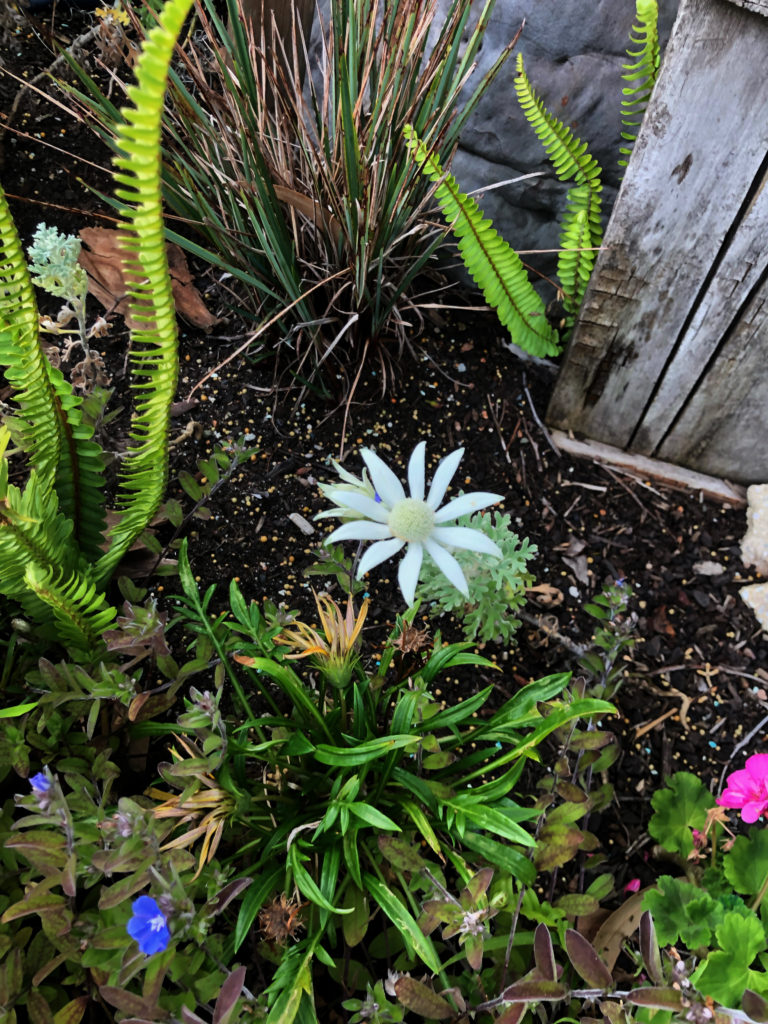 Across the Central Coast, Sydney and beyond, it is Flannel Flower (Actinotus helianthi) blooming time. A serious note from your gardening correspondent, it is illegal to pick them or any Australian Native Flowers growing in the wild, so be like our Coastie Gardener of the Week, Michelle, and grow your own! These are her beauties that she planted as small seedlings last year and up they have come. Well done Michelle, these are fabulous!
A few tips for growing them. First, ensure you purchase from a registered grower. Plant your flannel flowers in a sunny, well-drained protected spot. You need to take care while wedding or working around these plants as they don't do well if their roots are disturbed. Tip prune after flowering as this will encourage branching help keep the plant's shape. You can also grow Flannel Flower is pots, just keep to the same sort of advice when growing.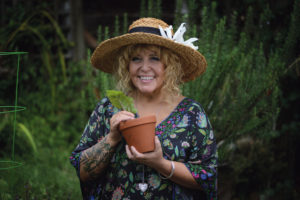 Cheralyn Darcey is a gardening author, community garden coordinator and along with Pete Little, hosts 'At Home with The Gardening Gang' 8 – 10am every Saturday on CoastFM963. She is also co-host of @MostlyAboutPlants a weekly gardening podcast with Vicki White.
Send your gardening questions, events, and news to: gardeningcentralcoast@gmail.com