While staying on our tropical journey, I thought we could explore the frangipani as it provides what many of us are looking for in a Coast Garden with a bit of jungle theme.
Unusual branching, glossy deep foliage, exotically perfumed flowers and when we want the sun's warmth in winter, most species comply by shedding their leaves.
No wonder the frangipani has become almost synonymous with this part of the world, so much so that many believe this South American tree to be a Sydney native.
Although they only grow approximately 20cm a year, they do have a small non-invasive root-ball and can easily be grown in large containers.
They just love the conditions over here and have settled right at home and so let's explore this rather lovely favourite in-depth.
How to Grow a Frangipani
First up, a little housekeeping: frangipani sap is toxic and a skin irritant so care must be taken with placement and with handling during gardening.
You will also need to be aware that frangipani will take a few years until the first flowers appear and that the vast majority are deciduous, meaning they will lose all their foliage in winter.
Most standard types attain a height of up to 6m with an umbrella shape to them and while they will tolerate light frosts, frangipani do far better in frost-free areas.
They need a free-draining sandy soil and detest getting wet feet so be careful not to overwater.
In winter, watering should be ceased altogether unless a succession of usually dry or hot days occur.
If you have a clay soil, they will struggle, and this is the number one reason this beautiful tree fails to thrive and can even die and although they can grow in most places, sun is critical and full sun most of the day is required.
They also respond very well to a fish-based fertiliser and seaweed-based boosters.
You will also find that an increase in phosphorus in your soil can boost your summer flower show.
Ensure that the root area is well mulched but allow space around the trunk to avoid water pooling.
Cuttings can be taken at any time but will do best if removed in late spring to early summer.
Select a nice firm branch and cut a section about 30cm in length.
Carefully remove any flowers and leaves from the lower 6cm of your cutting and then place upright along an outside shaded wall or fence that is protected from rain and water for about a month.
Once the end has completely dried out, plant into a pot of course sand and water well.
Continue watering weekly and once roots form, transplant into your desired final position.
Never tip-prune a frangipani tree, always remove entire branches if needed.
This tree can suffer from what is known as 'frangipani rust'.
A fungicide is the answer and must be applied to all surfaces and dropped leaves disposed of in the regular rubbish bin.
Using a copper-based fungicide can also slow the rate of spread but if the tree overly effected, unfortunately you may have to remove entirely.
If your frangipani is failing to flower it could just be that it is still too young or that it is not obtaining enough sunlight each day.
Another reason could be a lack of phosphorous.
Try These Frangipani
Aside from its delectable perfume, frangipani is now available in over 300 identified colours.
They will generally flower across the Central Coast and much of Australia from late November through until mid-April.
From whites through to creams, yellows, oranges, apricots, pinks of all shades to vibrant reds and on to even purple shades.
Here are a few that you might consider for your garden.
A little tip, any named 'ruba' will have the strongest scent.
Common Frangipani (Plumeria alba) are big, beautiful trees and the stuff that millions of artworks, textile and home décor designs are based on.
Fruit Salad Frangipani (Pulmeria acutifolia 'Rubra') is what grows in my garden and is my firm favourite.
They are a tricolour plant variety that has a yellow centre melting to white and then tinged in pinks.
Petite Pink Frangipani (Plumeria obtusa Dwarf) a popular potted frangipani that also works well as a hedge.
Singapore Plumeria (Plumeria obtusa) also known as Pagoda Tree and Singapore Graveyard Tree; this frangipani grows sweetly fragrant flowers in bunches.
Darwin Blood Red Frangipani (Plumeria ruba) is probably a must for tropical inspired gardens with its brilliant re blossoms and deep coloured branches.
North Queensland Blue Frangipani (Plumeria spp) with its intoxicating fragrance and what appear to be blue flowers, this rare variety is much desired plant collectors and the frangipani obsessed.
The blooms are not blue but rather a light dusty purple that appear blue to the eye.
Native Frangipani (Hymenosporum flavum) is not related to what we think of as 'frangipani' and although the fragrance is similar, closer observation will bear this out.
The trees have a distinctive bark, are evergreen and the flowers are a lot smaller in size.
GARDENING BOOK REVIEW
Costa's World, Gardening for the soil, the soul and the suburbs – Costa Georgiadis, October 2021 HarperCollins Publishers ISBN: 9780733339998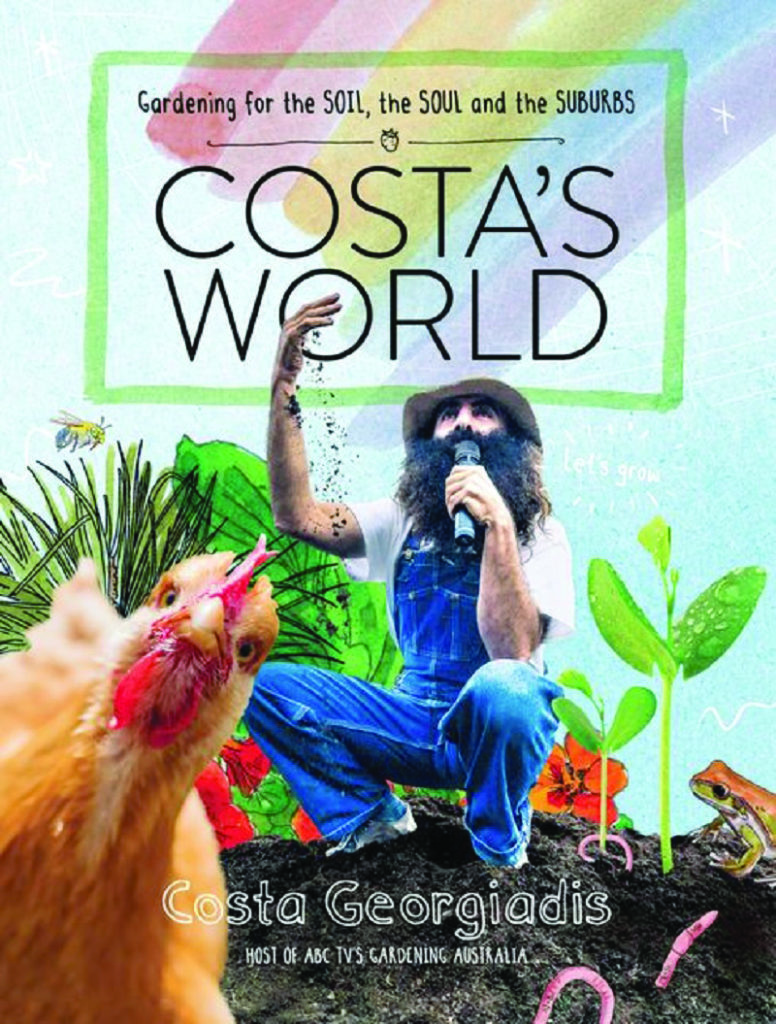 Do you need this book? Yes! Costa embodies all that is good about gardening with the earth and his book is a joyful companion for any gardener, would be gardener or complete brown thumb.
It is brimming with solid advice while every page brings a smile to the reader's face.
Personally, I think every child should have a copy of this stuffed in their stocking as it speaks about gardening and the local things everyone can do to care for our planet in such a friendly, fun way that is inspiring without at all talking down to kids or alienating others.
Make no mistake, it's not a kid's book, it's an 'everyone' book and I was impressed with the sections on garden design including exercises to help you determine your microclimate and test your soil along with brilliant planning advice to help your garden thrive and not waste your money when selecting plants and making landscaping decisions.
Easily gets my 5 leaf out of 5 rating.
TASKS & TIPS FOR YOU THIS WEEK
Get that compost moving because now the days are warmer, your compost will be decomposing faster.
Turn more regularly to get that air in to do its job.
Just a few things you could plant this week include herbs, Asian greens, asparagus, globe and Jerusalem artichoke, beans, beetroot, broccoli, cabbages, capsicum, carrot, celeriac, celery, cucumber, eggplant, endive, fennel, horseradish, kale, kohlrabi, leek, lettuce, marrow, mustard greens, okra, parsnip, potato, pumpkin, radish, rhubarb, rocket, salsify, silverbeet, spring onion, sweetcorn, sweet potato, taro, tomato, turnip, warrigal greens, zucchini, sunflower, aster, bedding begonia, calendula, California poppy, carnation, celosia, chrysanthemum, coleus, cosmos, dahlia, dianthus, everlasting daisy, gaillardia, gazania, gerbera, honesty, inpatients, kangaroo paw, marigold, nasturtium, phlox, portulaca, salvia, snapdragon, waratah, zinnia.
YOU AND YOUR GARDEN: Carol, Point Clare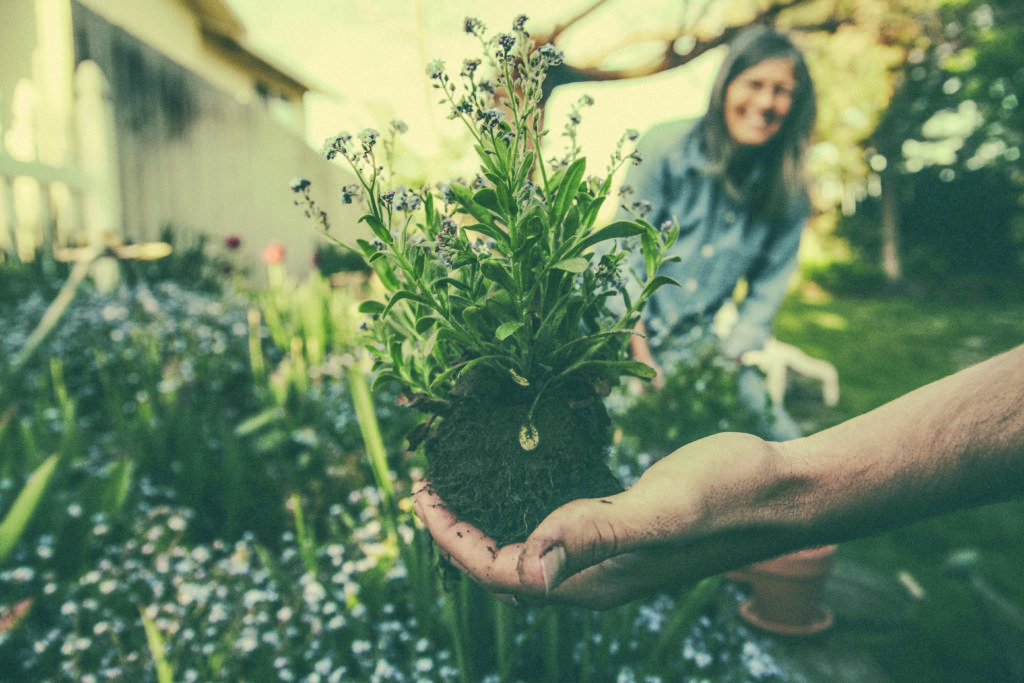 Sadly, Carol lost her gardening partner when her husband passed and now all the work rests on her shoulders.
I had a delightful conversation with Carol about the ways she has adapted.
"I keep it going and while it is harder, it keeps me fit and I love it.
I grow all my own vegetables year-round and that also keeps me busy" She added that while she can't do the heavy work that her husband used to do, she has found ways to get it done and I love it!
"I get together with my friends, and we make a day out of it. We go to each other's homes and have a gardening day. We help each other with what needs to be done and it's also a great way to catch up." This gardening working bee means that Carol, and her friends, don't have to give up the type of garden they have previously enjoyed, and it saves a lot of money. Other tips we chatted about included having a smaller lawn and popping in raised garden beds instead to increase self-sufficiency, save money and cut down on lawn upkeep.
How do you find gardening friends if you don't have any? Try your local community garden. Joining up will help you find like-minded souls to garden alongside with and form your own gardening bees. Carol's joy with her gardening and the sharing of tasks with friends was so uplifting to hear!
I am back on the road with 'You and Your Garden' so if you would like me to visit your plants and you, (private & public gardens) please drop me a line: gardeningcentralcoast@gmail.com
Next Week: Grow Your Own Christmas Lunch
Cheralyn Darcey is a gardening author, community garden coordinator and along with
Pete Little, hosts 'At Home with The Gardening Gang' 8 – 10am every Saturday on CoastFM963.
She is also co-host of @MostlyAboutPlants a weekly gardening podcast with Vicki White.
Send your gardening questions, events, and news to: gardeningcentralcoast@gmail.com