Bakehouse 2000 at Kincumber has been keeping smiles on customers' faces throughout lockdown with its zany theme days and intends to keep up the fun right through to December 1.
Owner, Leanne Visconti, said the idea began during the first week of lockdown, when one staff member brought in some pairs of orange socks and said "let's dress up for fun".
"The next day we decided to do crazy hair and we realised the customers were getting a good laugh out of it, so we thought we'd just keep it going," Visconti said.
Throughout the long weeks of lockdown, the Bakehouse kept the fun going.
"At first we thought it would be for just a week or so, but as lockdown continued, we kept coming up with new ideas," Visconti said.
"All these weeks later we are still going and are planning to keep it up until December 1, when things will be pretty much back to normal.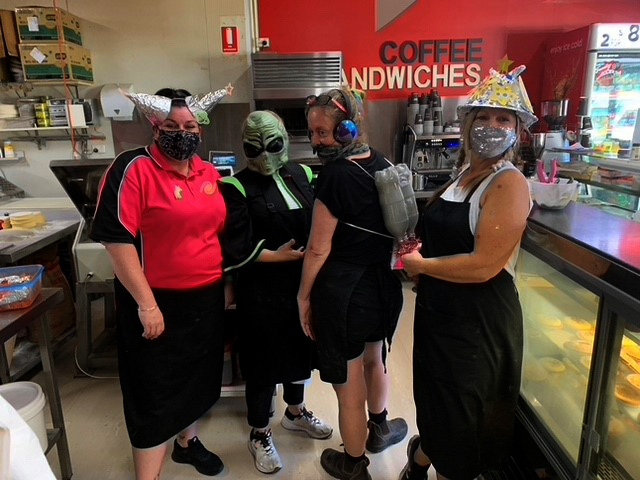 "Every Monday we have been featuring a local business – asking them to provide shirts, hats, whatever we could wear to promote their business.
"We've had days for a variety of businesses, including Kincumber Floormaster, Seacoast Fishing, Kincumber Hire, Kincumber Sand and Soil and lots of others.
"We found customers were coming in just to see what we had on each day.
"We've dressed as pirates, Mexicans; we've had 'wear something orange' and 'wear something pink' days; we've been fairies and princesses."
For the past two weeks the bakery has been decorated to a Bali theme, collecting money for a charity being run by ex-pat Coasties to provide supplies in Bali.
"Everyone was feeling a bit down and we have been doing it mostly to give customers a laugh," Visconti said.
Customer, Beverley Kennedy, said owners and staff at the bakery had gone out of their way to follow the rules and keep their customers safe as well as putting a smile on their faces.
"They make everyone welcome and I think they are worthy of a great big thank you and acknowledgement for their hard work in these trying times making sure everyone leaves with a smile on their face," she said.
"They have gone above and beyond – such deserving Aussies just going about their day and spreading the love."
Terry Collins