Nineteen-year-old Alex Hart would love to be a truck driver, but he knows he's got to work his way up, so for the time being he's happy to have a full-time job, washing trucks, doing yard work and driving the forklift.
"I like just being able to work with truckies and trucks and I love the people I work with," he said.
Hart was helped into his job at Freightlinx in Tuggerah by the Wesley Mission and Regional Youth Support Service (RYSS) which prepares young people with intellectual disability or mental illness for the workforce.
The RYSS School Leaver Employment Support program has NDIS backing and Support Co-ordinator, Alex Whymark, said they were achieving great success.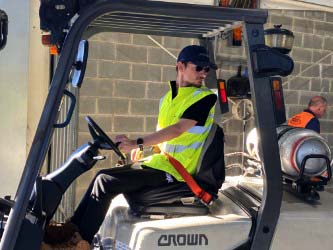 "We currently have nine active participants in the program and, once COVID lockdown is over, we have a further six lined up ready to go," he said.
"The program can go for anywhere between 12 and 24 months and all our participants have some sort of disability.
"They are aged between 17 and 22 as NDIS funding for this program is only given from the end of their schooling years until they are 22, after that it's a different program.
"The jobs that participants end up with all depend on their needs, we help them with anything from building job skills like improving communication skills, problem solving and time management.
"That all increases to job training through work experience, job interview training, understanding job interview attire and helping them get that, as well as learning how to apply for jobs and understanding job advertisements.
"We have been really successful.
"We helped Alex [Hart] get into the transport industry.
"We supported him to get a traineeship with Freightlinx in Tuggerah and he works with truck drivers and supervisors washing trucks and driving forklifts."
Since starting his job in late April he has obtained his forklift licence after completing a three-day course at Training Wheels in North Wyong.
"He was really successful and enthusiastic in working with us to gain new skills," Whymark said.
"He's absolutely loving his job and come a long way since he started the program.
"His communication is great and his employer is saying he's doing really well.
"Another young man got a casual job at Coles, and another young man is really interested in cars so we're looking at getting him into a mechanic's or a spray painter's.
"It's really about what they are interested in," Whymark said.
In a report conducted in 2020 by the Australian Institute of Health and Welfare about 48 per cent of working-aged people with a disability are employed.
Harry Mulholland