This is the third instalment of our lockdown special. In lieu of being able to head out for dinner, we're embarking on a virtual tour of the coast's best eating establishments. We've asked chefs to inspire us with recipes that we can make at home, bringing the fine dining experience into our own kitchens. This week we're talking to Chef Scott Price from Yellowtail restaurant in Terrigal.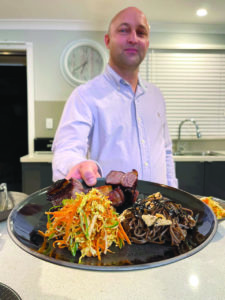 I moved from Queensland five years ago, rented an old sandwich shop and set up the tiny fine-diner, Yellowtail in the heart of Terrigal. I believe in Terrigal and the coast as a leading destination to visit and live.
At Yellowtail we run a really flexible menu, taking inspiration from anywhere and everywhere. We serve Modern Australian food in a relaxed setting, with great wines, cocktails and service.
The other chefs and I often find ourselves veering into the Pan Asian food realm, and when you're talking takeaway, no cuisine lends itself as well as Asian Food.
The Pandemic has been tough for us, being a small, community-focused restaurant that plies a trade creating an all-round experience for our guests. However, we have been able to pivot as best we can to provide a bit of that Yellowtail Love at home.
At the moment, we are providing a unique 'Heat & eat' offering every second Saturday. We put a lot of time into preparing a gourmet banquet in true Yellowtail style, that you need only heat, finish, and plate on the good crockery!
This week we have teamed up with local Berkeley Vale butcher, Moobi Valley and fishmonger Shane's Seafood to serve a banquet with some premium ingredients.

Here we use the 'cheek' of toothfish. This is a large fish that is caught sustainably in sub-antarctic waters off Tasmania. The fillets from the fish are sold at an extremely high premium to top restaurants. We use the cheek, which would normally be discarded with the head. The flesh is meaty, sweet and delicate and lends well to being coated in Japanese breadcrumbs and fried. Combined with a punchy mayo and ice-berg lettuce, it's like a mini Asian-style burger.
For the main, we take a really good quality beef short-rib, and we 'sous-vide', it. Some of you may be familiar with this cooking method and have your own equipment at home. It allows you to take secondary cuts like short-rib and cook them at a very low, consistent temperature in a water bath for a very long time, in this case overnight. What you end up with is beautiful tender meat, that still has the character of the meat you started with. Then it's simply a matter of marinating with maltose, which is a sugar that caramelises amazingly, but is low in sweetness, so it doesn't become cloying. Balanced with the savoury tang of Chinese black vinegar and dark soy, all that's left to do is glaze the ribs and get some colour on them in a very hot oven.
The cabbage salad is some simple ingredients shredded up and coated with 'strange-flavour' dressing. An intriguing mix of sesame, peanuts, chilli and Szechuan pepper.
The soba noodles are a great staple to have in the pantry, and when tossed with the following glaze, become an incredible side.
We take three iconic Japanese ingredients: dashi, which is a seaweed broth that is the foundation of many Japanese dishes; yuzu which is a Japanese citrus unlike any other, but could be best described as lemonade flavour; and mirin, the sweet rice wine that gives a sweetness and depth so different to sugar. Combined, reduced and emulsified with butter, it provides a powerful but balanced punch to almost anything.
Here is the full recipe:
Beef short-ribs with maltose and black vinegar glaze, buckwheat noodles, and 'Strange flavour' wombok salad
Serves 4
The ribs
Ingredients:
1.5kg of good beef short-rib, ask your butcher to slice into 4 cross ways through the bone 200ml Maltose or brown sugar
100ml Chingkiang black vinegar
100ml soy sauce
1 knob ginger, grated
2 cloves garlic, crushed
1 green chilli, chopped
Instructions:
1. Preheat oven to 220C
2. If you have a sous-vide, we recommend sous-viding the ribs for 24hours at 60c. If not, it's best to simmer the ribs in water at a very slow simmer for around 6 hours.
3. Mix the remaining ingredients for the marinade. Drain the ribs and coat with the marinade. Cook on a tray in the oven for 20 minutes, until nicely caramelised. Rest, and cut into individual ribs. Serve with the noddles and salad.

Buckwheat Noodles
Ingredients:
250g soba noodles, cooked as per instructions
200ml mirin
50ml soy
100ml yuzu juice
100g cold butter, diced
200ml dashi stock
Furikake (we make our own but you can buy from Chan's Asian supermarket)
Instructions
Reduce mirin to syrup consistency, add remaining liquids and reduce by half. Remove from heat and whisk in cold butter. Add noodles and toss. Sprinkle furikake over the top.
Wombok salad
Ingredients:
¼ wombok cabbage, shredded
2 large carrots, peeled and shredded
3 green shallots, sliced finely
Dressing
Ingredients:
1 tablespoon chinese sesame paste 1 dash of water
2 tbsp rice wine vinegar
pinch sugar
1 tsp Crushed sichuan peppercorns 1⁄2 tsp dried chilli
2 tbsp peanuts
2 tbsp peanut or vegetable oil
Instructions:
Combine dressing ingredients, toss with remaining ingredients.
Yellowtail are now accepting orders via their website and you can follow them via their Facebook and Instagram channels or subscribe for updates through the website to be the first in the know.
Georgia is a clinically trained nutritionist, wholefoods chef, columnist and mum. She's been featured in Body & Soul and had TV appearances on ABC Breakfast and Studio 10 for her unique approach to food and health. She's known for reinventing traditional foods for the modern kitchen and was instrumental in a radical new approach to sports nutrition with a program for the NRL Parramatta Eels, kickstarting their ascent on the ladder in recent years. Find out more at stirringchange.com.