Former Bateau Bay paramedic and chaplain for NSW Ambulance, John Sillince, who became known as Father John, retired on August 22 after a 44-year career helping people in their hour of need.
"I got into it because I wanted to make a difference and work with people, and to do something meaningful with my life," he said.
"On the job you really get to see the best and the worst in people but the highlight for me was delivering several babies."
Sillince, who now lives in Morisset, said the job itself was the same today as it was in 1977 when he started but now there were more "toys to play with".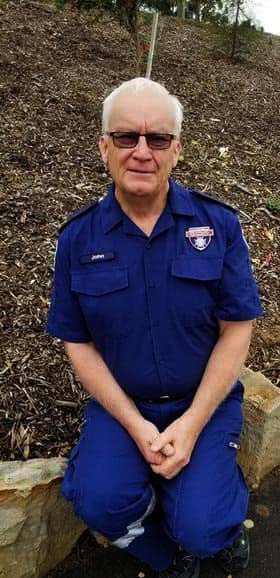 "You wouldn't recognise the service from when I started," he said.
"Back when I started our stretchers didn't have wheels and we had to carry patients.
"Our ambulances also didn't have any of the things we have nowadays.
"All we had was a stretcher, some oxygen and a first aid kit.
"Now we can treat all kinds of things like burns and pain, heart attacks and blood clots, and our stretchers have wheels to make it easy to move patients."
When Sillince left school he worked in telecommunications for a few years before realising it wasn't for him, so he left that and started with St Johns Ambulance Service as a first aider at football games.
"I did that for a few years before becoming an ambulance officer and went from there," he said.
Sillince started his career as a paramedic in 1977 in Sutherland Shire and the eastern suburbs of Sydney.
In 1981, he became an intensive care paramedic, and in 1996 he headed to the Central Coast where he was based out of the Point Clare and Bateau Bay ambulance stations until 2019.
In the 1990s, Sillince took a three-year break to become a chaplain and in 2003 he was appointed a peer support officer, to help his colleagues with practical and emotional support and link them with professional support when required.
He became known as Father John and in 2019, Sillince was appointed the NSW Ambulance Chaplain, the same year he left the Central Coast to go to the Upper Hunter town of Merriwa where he worked until his retirement last month.
"I became an ordained pastor, and I'm very involved in my local church in Morissett, and in my retirement I'm going to become more involved with them as well as continue my chaplaincy work for NSW Ambulance," Sillince said.
"I'm fascinated by steam trains, and anything steam powered, so I think I'll search around for groups dedicated to them."
His message to people considering joining paramedicine is "to be caring and dedicated and you'll go a long way and have a really rewarding career".
"There are also so many different career paths in it now, like intensive care, extensive care and being an aeromedical paramedic.
"If you want to help people, it's worth considering," Sillince said.
Harry Mulholland