Following the soaring success of their idea to bring a virtual market to Bouddi during lockdown, a Killcare duo has set their sights on expanding the initiative Coast-wide.
The Bouddi Home Markets, which first launched in July, is a community initiative that involves a series of home-based shop fronts advertised in a local facebook group.
Residents can post products or services they'd like to offer and then set up a small stall, table or shelving at their residence to begin selling at any time.
The markets were originally accessible to residents of the Bouddi Peninsula only but, after seeing the significant appeal, plans are being drawn up to set up the mini markets right across the Coast.
Event founder and organiser, Lisa Mount, said the plans to expand show just how much the community is loving the initiative.
"It's been really fulfilling to witness this initiative blossom the way it has, and so organically," she said.
"It's really a testament both to the families in our area and their love for their community, as well as what can be achieved when two or more people with a common vision put their heads together, open their hearts and just go for it.
"The initiative has now been operating for almost two months – there are the more obvious changes such as a growth in our facebook group audience number (now 569 members strong), more shop-fronts (over 35 for the last trail) covering six suburbs in the Bouddi region and a greater number and diversity of products and services on offer to locals.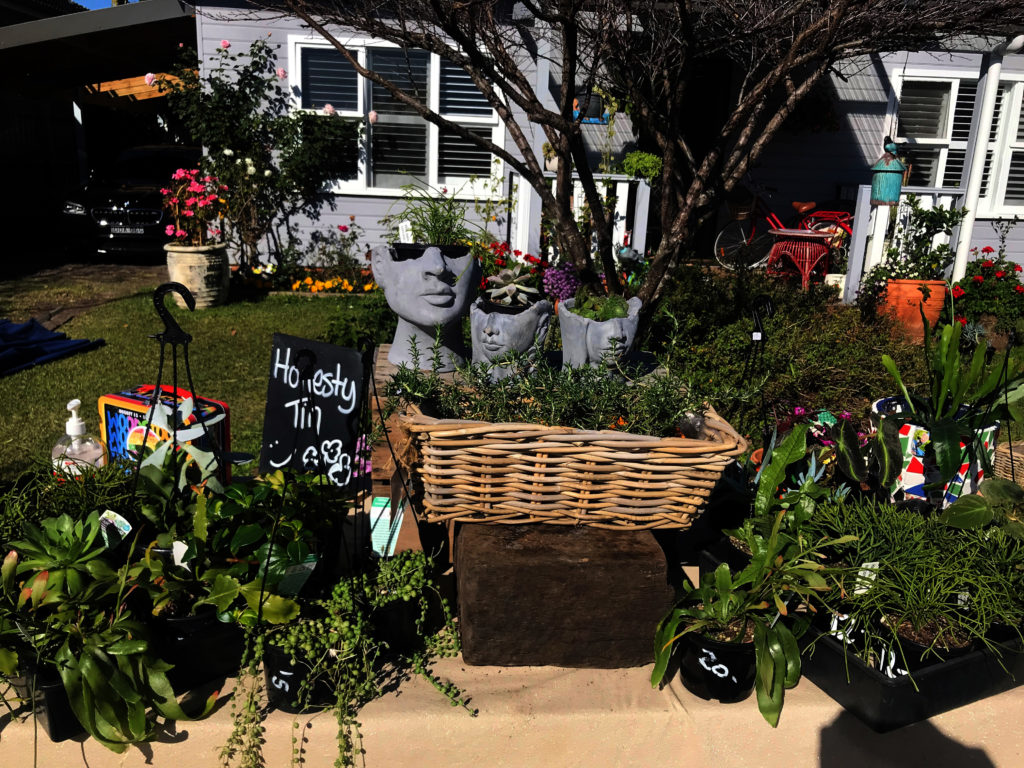 "There are also many less-obvious changes that really provide the foundation needed to ensure this initiative is sustainable in the long-term.
"These are things like one-on-one conversations behind the scenes between shop fronts establishing trade exchanges for their goods and services, new friendships being formed between neighbours, improvement in general mental and emotional wellbeing all-round due to individuals and families working toward a positive common goal.
"This creates a real experience of connection, belonging and empowerment.
"This sense of empowerment … not only makes for a healthy, happy weekend, but sets a positive tone in the home and community for the rest of the week.
"It's these smaller ripples effects at a local level that really create the change people are asking for on larger scale."
The initiative has seen community members step up to take on more of a coordination role within their own 'bio-region' (facebook group).
One member, Kirsty Ireland-Hopkins, created an online virtual map to help depict all the current home shopfronts by using Google Maps.
"This level of involvement by individual members is not just really inspiring, but an essential element of the initiative as we really want people investing on a heart level into this, because that's where the sustainability piece falls right into place, and from the right place," Mount said.
Killcare resident, Hannah Sitkowski, said she loves to host her 'The Bower' stall every Saturday.
"I make herbal teas from things that come from the garden, flowers, fruit, herbs, eggs, fresh brioche …" Sitkowski said.
"I love the community feel – I love seeing my neighbours come by and I've learned they have a lot of secrets in the kitchen.
"It's really inspiring and see people coming out and supporting each other in different ways."
Another resident, Debbie Van Borssum, holds her 'Pre-Loved on the Lawn' stall each week and said it's a great way to recycle her old clothes and bring the community together.
"I loved the idea from the beginning, and I do like shopping, so it was a good excuse for me to clean out my cupboard and then my ideas grew from there," Borssum said.
The kids help me set up and get involved … my son is a good artist so he's going to start doing some drawings to sell.
"The treasure map idea – that was a great week – everyone had their maps and they had to collect tokens and I think that got everyone out and that's what has made it grow.
"And now its expanding!"
The markets first expanded last month with the launch of the Macmsaters Beach group.
"It really unfolded organically, and as we anticipated," Mount said.
"Killy & Macs are 'sister' bioregions so to speak, so it was only natural that Macs came to the party not soon after the Killcare-Wagstaffe trail was established.
"On a practical level, it was simply a matter of me drawing up a map, and inviting residents of Macmasters to then be part of the upcoming weekend Saturday 'trail' (a four-hour block from 10am to 2pm).
"Since then we've had interest from people living at Empire Bay, Bensville and even as far as Avoca and Terrigal to list.
"And whilst the focus, at the moment, is on the geographical area of Bouddi, I am now working rapidly behind the scenes with another person who is also aligned with the Home Markets vision to develop the means to accommodate a much larger area.
"The name may undergo a slight change but the purity and integrity of the initiative – that being a social enterprise which supports not only local economy but mental and emotional wellbeing – will not only be maintained but strengthened as it grows."
Mount said locals who are interested can sign up to the Bouddi Home Markets Facebook page and/or send her a message via the group to help set up a Home Markets in your area.
Maisy Rae