LOCKDOWN DINING: In lieu of being able to head out for dinner, for the next six weeks we'll be embarking on a virtual tour of the coast's best eating establishments. So we're trying something new on the column – a lockdown special, of sorts.
We've asked their head chefs to inspire us with recipes that we can make at home, bringing the fine dining experience into our own kitchens. To kick things off we're hearing from Chef Daniel from At Baker St in Gosford who has provided links to a video of him whipping up the delicious recipe below.
The philosophy behind At Baker St was to allow local residents to enjoy the best of central coast food bowl. To harness my passion for good, fresh food and create an experience for customers that connects the farm and plate.
This is a recipe that will help you enjoy the fine dining experience at home – with elements that even the kids can get involved with. We start with the best of Australian ingredients. At Baker St we use a salt bush lamb from a good friend in Dubbo.
When it comes to lamb cutlets, full lamb racks are a lot nicer to work with. If you leave the fat on the rack and salt it the night before, placing it back in the fridge, it helps remove moisture which concentrates the flavour.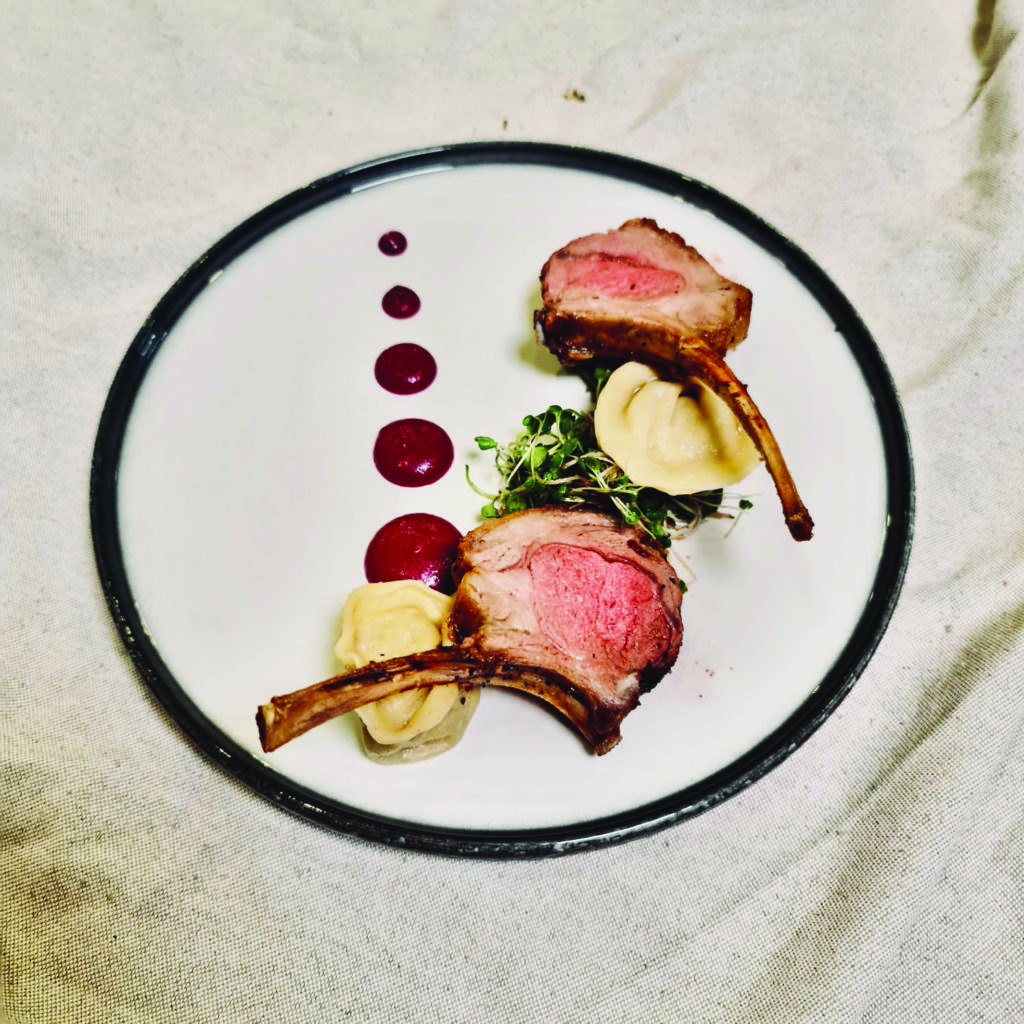 Taking fresh beetroot to the next level with sugar and vanilla helps to bring out its sweet and earthy flavour and pairs beautifully with lamb. Cooking it with the skin on allows the sweetness from under the skin to be locked in.
We also use Australian Meredith goats cheese in this recipe and locally grown microgreens from Super Green Farms – Drew and his son deliver the freshest array of sprouts and microgreens and we toss them in a simple dressing to finish the dish.
This will be a great dish to enjoy with a glass of red, whether it's a family dinner or date night. Use the QR code to get access to my recipe video and cook along from home. I hope enjoy it and look forward to seeing you at Baker St soon.

Lamb filled tortellini with a rack of lamb and beetroot emulsion
Ingredients:
2 or 4 point rack of lamb (prepared the night prior)
Oil for searing
Pasta (made 2 hours prior)
400g 00 plain flour
4 whole eggs
4 egg yolks
Pinch of fine salt
1 whole egg for sealing the tortellini
Lamb filling:
250 g lamb mince
1 egg yolk
200g Meredith dairy goat's cheese
½ bunch of oregano leaves finally chopped
Pinch of salt
Beetroot emulsion:
2 small beetroot
2 teaspoon sugar
Drop of vanilla
200ml olive oil
Salt & white pepper
1. Prepping the lamb: score the fat with a small knife, making very small cuts. Salt the fat and meat well and place in the fridge (overnight is best).
2. Making the pasta: place the flour on the bench in a small mound and create a well in the centre for the eggs. Put them, along with the extra yolks and salt in the well and gently mix it with a fork. Continue to beat the mixture, slowly adding more of the flour until it forms a dough. Knead the dough for a few minutes until it's come together, then allow it to rest for 2 hours.
3. Making the lamb filling: place all the ingredients in a bowl and use your hands to dig in and mix well.
4. Making the tortellini: use a pasta machine or rolling pin to form thin sheets of pasta. Cut the pasta into rounds (any size you like) and place a small spoonful of the lamb filling in the middle. In a small bowl, beat an egg and paint it around the outer edge of the pasta round. Fold the pasta round in half, enveloping the lamb filling and pinch the joining edges together.
5. Making the beetroot emulsion: boil the whole unpeeled beetroot, sugar and vanilla together with enough water to cover. After it's soft (about an hour), remove the skins, which will slide off easily and allow them to cool slightly. Place them in a blender, slowly adding in the oil and seasoning with salt and white pepper.
6. Cooking the lamb: pre the heat oven to 220 degrees then heat a large oven proof frying pan on high heat until it's very hot. Add a splash of olive oil, place the lamb in the pan (fat side down) and allow it to cook for 5-6 minutes. Transfer the pan to the oven for 18 minutes and then rest a further 6 minutes. Slice up the rack into individual cutlets for plating.
7. Cooking the tortellini: bring some well-salted water to the boil in a medium sized pot. Cook the tortellini for 6 minutes, then toss them in olive oil and salt and pepper.
8. Plating up: when it comes to plating, it's your call: line, dots or both with the beetroot emulsion. Place the tortellini on the plate, then stand the cutlets up to display the delicious colour on the lamb. Toss some microgreens or salad leaves with olive oil, lemon and salt and place them next to each lamb for colour.

At Baker St, lockdown offerings
At Baker St are still offering delicious meal options, including a range of convenient 'heat and eat' meals and family-sized smorgasbords that allow you to 'travel' with your tastebuds: from Italian and Mexican to Asian street food, with cocktails to match or their usual list of beer and wine. If you order for pick up you'll notice the large range of desserts still on offer, including extravagant profiteroles, cheese cake and chocolate mousse.
You can order online or via Facebook, for pick up or home delivery. You can follow Chef Daniel and At Baker St team on Facebook, Instagram or YouTube and their website atbakerst.com.au.