This would have to be one of the most often asked questions I receive, "Can Australian Native plants grow in the shade?" and it is also an answer that surprises many because, let's face it, we do consider Australia the land of sun and heat.
Our country is made up of various climates and conditions with plants to match.
There are over 24,000 species of Australian Native Plants and that's a huge number in the botanical world.
England has 1,022 native species and the USA about 17,000 so you can rest assured that there are shade lovers in our bunch.
The trick is, finding ones that will grow successfully in your garden, because while a rainforest fern from Cairns may love the dark corners of Far North Queensland, your patch of NSW may leave it feeling rather parched.
As always, the trick to easier gardening is finding the right plants for your garden, not trying to force plants that won't be happy into situations they are not suited to.
The following are a few suggestions that should fit your conditions.
I have divided them into simply dry or moist loving plants and then given you a few sizes that may fit into your patch.
Still not sure?
Have a chat with any of the amazing team at any of our local garden centres and nurseries.
Shady Dry Area
Small Shrubs (up to 1m in height):
Prickly Bottlebrush (Callistemon brachyandrus) which has cultivars in all sizes, White Correa (Correa alba), Waxflower (Crowea Exalta), Flax Lily (Dianella longifolia), (Grevillea diminuta), Myrtle Hakea (Hakea myrtoides), Alpine Tea-tree (Leptospermum rupestre), Thyme-leaf Honey-myrtle (Melaleuca thymifolia), Fan Flower (Scaevola spp.), Native Violet (Viola hederacea), (Thryptomene spp.), Lomandra (Lomandra longifolia)
Tussock Grass (Poa sieberiana)
Medium Shrubs (1 to 2m in height):
Myrtle Wattle (Acacia myrtifolia), Banksia (Banksia blechnifolia), Clover Bush (Goodia lotifolia),
Coastal Rosemary (Westringia fruticose) cultivars are available in small and medium sizes, Round-leaved Mint Bush (Prostanthera rotundifolia)
Large Shrubs (over 2m in height):
Hairpin Banksia (Banksia spinulosa), Broad Leaved Palm Lily (Cordyline petiolaris), Cycad Palm (Cycas media),
Crimson Bottlebrush (Callistemon citrinus), Fern-leaf Grevillea (Grevillea longifolia), New South Wales Waratah (Telopea speciosissima)
Climbers:
Wonga Wonga Vine (Pandorea pandorana)
Shady Moist Area
Small Shrubs (up to 1m in height):
River Wattle (Acacia cognata) which grows as a small to medium shrub and small tree, Veiny Wattle (Acacia venulose), Christmas Bells (Blandfordia grandiflora), Hard Fern (Blechnum spp.), Small-leaved Boronia (Boronia microphylla), Pilliga Posy (Brachyscome formosa), Cut-Leafed Daisy (Brachyscome multifida), Tasman flax-lily (Dianella tasmanica) White Fan-flower (Scaevola albida), Branching Grass Flag (Libertia paniculata) Medium Shrubs (1 to 2m in height)
Birdsnest Fern (Asplenium australasicum), Brogo Overflow' Bottlebrush (Callistemon subulatus), Austral Indigo (Indigofera australis), Lance Leaf Hovea (Hovea lanceolata), Poorinda Firebird Grevillea (Grevillea 'Poorinda Firebird'), (Dampiera purpurea), Chef's Cap Correa (Correa baeuerlenii), Rice Flower (Ozothamnus diosmifolius)
Large Shrubs (over 2m in height):
Karri Oak (Chorilaena quercifolia), Spear Lily (Doryanthes palmeri), Braidwood Waratah (Telopea mongaensis), Hairy Dogwood (Pomaderris pilifera), Long-leaf Lomatia (Lomatia myricoides), Cross-leaf Honey-myrtle
(Melaleuca decussata), Silky Hakea (Hakea sericea), Soft Tree Fern (Dicksonia antarctica)
Climbers:
Traveller's Joy (Clematis aristate) Small-leaved Clemati (Clematis microphylla), Native Sarsaparilla (Hardenbergia violacea), Bower of Beauty (Pandorea jasminoides)
Shade-suitable plants are not dark-loving plants.
They will not grow well at all in full sun, but they still require light.
In the wild, this is usually in the form of dappled sunlight that falls from beneath the foliage of taller plants.
As you can see from the plant lists above, shade suitable plant also does not usually like wet conditions, preferring moist and in some cases even dry environments.
The lessons are to know your garden, your environment and conditions and select plants to suit.
An important point to note is that many larger Australian Native Trees require underplanting to provide soil and root stability.
By selecting shade-tolerant species you can create a natural garden that will thrive in the conditions available.
For more information:
Australian Plant Society: austplants.com.au
Australian Plant Society Central Coast District Group: austplants.com.au/Central-Coast
GARDENING BOOK REVIEW
Australian Dreamscapes, the art of planting gardens inspired by nature, Claire Takacs, Hardie Grant Books ISBN: 9781743794708.
Following on from my chat with our gardener of the week, this is a book to help you find your own natural style and bring it to life in your garden.
Also, a gorgeous gift book, the photography is truly inspirational while sharing practical and achievable results.
The words of the designers and gardeners themselves describe the processes, challenges and outcomes which add a realness to this beautiful collection of wild and yet softly tamed gardens.
My review: 5 leaves out of 5 leaves.
TASKS & TIPS FOR YOU THIS WEEK
Well, that was a wild bunch of weather this past week, so you better get out there and check your stakes, remove any broken branches or foliage, and tip out any full saucers under potted plants.
You could plant artichokes, asparagus crowns, cape gooseberry, capsicum, beetroot, broad beans, cabbage, carrot, English spinach, lettuce, mustard, spring onions, parsnip, peas, potatoes, radish, rhubarb crowns, salsify, silverbeet, sweet corn, alyssum, calendula, California poppy, carnation, celosia, chrysanthemum, cosmos, dahlia, dianthus, everlasting daisies, gazania, gerbera, marigold, petunia, salvia, zinnia, kangaroo paw, nasturtium, snapdragon, salvia
Lunar Planting Guide 28th August – 3rd September
From early Saturday morning (28th) until 2:26pm that day, you will find that this is the best time for transplantation of established plants and trees and the planting of bulbs.
From this time until early Monday morning, planting and tending to root crops and flowering bulbs as well as the care of established lawns are advised.
Tuesday 30th is a time of rest for the garden – for the rest of the week, until Monday 6th, weeding, pest control, feeding, pruning, soil preparation and compost work are all tasks best done during this time.
You & Your Garden: Brendan Gulson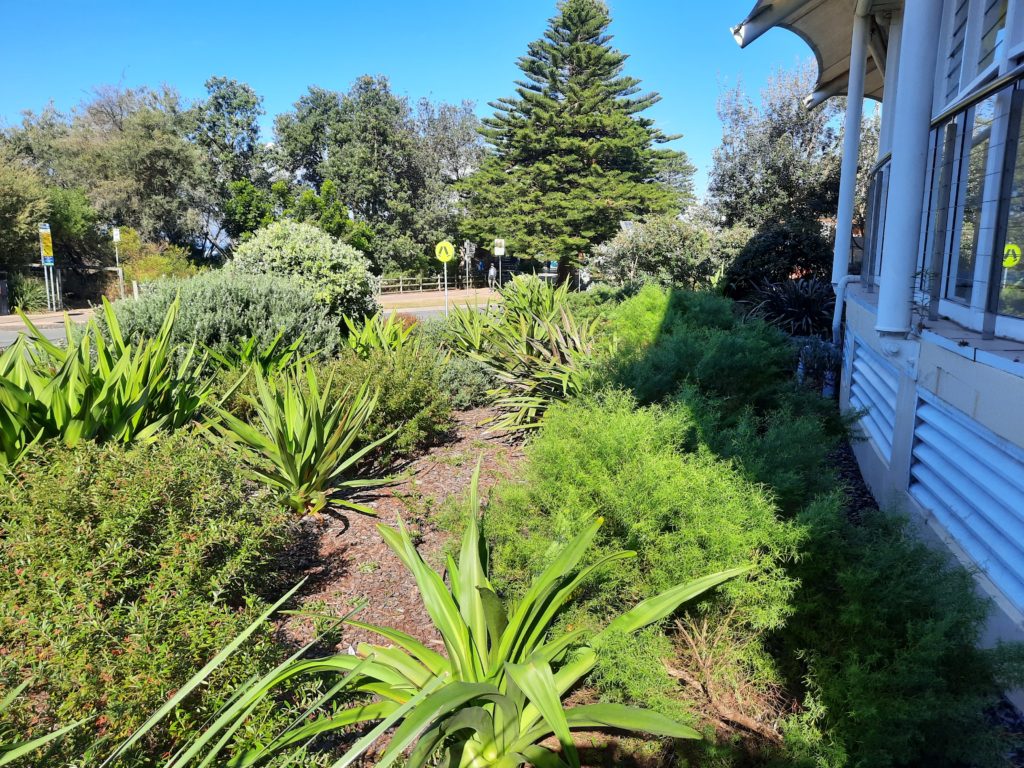 Natural Coastal Garden
Our gardener this week is a professional and he has a message for coast-side gardeners; you can have a beautiful, natural-looking garden that is still easy to maintain and still looks neat.
He also has the perfect example that you can see for yourself at the Diggers Club, Ettalong.
Brendan was given the job of restoring and maintaining the gardens at the Diggers through his company 'Warrigal Green' and said that although there were a few issues with the site, fortunately there was a good irrigation system and bore pump that only needed repair.
He also found that the soil that had been originally laid at site at the time of construction was still good.
He first replaced the existing pine bark mulch that was used throughout the garden.
"Using leaf mulch adds to the nutrient levels of the soil as it breaks down and a lot of other mulches don't. It's also a third of the price of pine bark mulch."
The other challenge for the site was retaining the view and he has succeeded in 'keeping the punters happy 'by simply maintaining the height/shape of the Coastal Banksia that naturally popped up on site.
The addition of lower growing or easily pruned to shape natives have supported the style of this impressive feature garden.
"The creation of a balance between a natural garden that looks full but doesn't look out of control while remaining low maintenance was my aim on this site and it's something I want other gardeners to see can be easily achieved." Brendan said.
Native gardens do get a bit of a negative reputation for being messy in appearance and even hard to maintain but Brendan has proved his point in a striking way.
The Ettalong Diggers Garden is an inspiration for any gardener and worth a closer look next time you are in the area.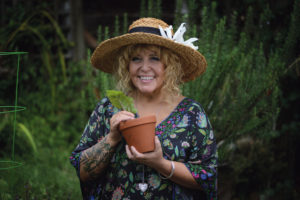 Cheralyn Darcey is a gardening author, community garden coordinator and along with Pete Little, hosts 'At Home with The Gardening Gang' 8 – 10am every Saturday on CoastFM963. She is also co-host of 'Mostly About Plants' a weekly gardening podcast with Vicki White.
Send your gardening questions, events, and news to: gardeningcentralcoast@gmail.com