Maybe you have decided to sell your home due to the current favourable market conditions or perhaps you have a rental inspection looming.
Then again, you might need these tips should we suddenly come out of lockdown, or you are thinking of taking your video calls in amongst the plants.
So, if your garden has started to look more like a sleeping couch potato than a lush wonderland, let's look at ways that quickly make a big difference and will make others think you are the street green thumb!
My suggestions are in order of importance so whether you have 15 minutes, an hour, or a day, go through them in order and you will get as close to a fabulous garden as your time allows.
Pick it Up
Right now it is pretty windy and that means additional leaves, branches and things in general falling everywhere.
At any time, the very first thing you should do is collect everything that has fallen into your garden.
Ideally sort and compost, but at least pile up in one area in a corner somewhere and cover to protect from the wind.
This means raking the lawns and ground and sweeping paths, but it also involves getting in and picking out fallen debris in plants.
The only plant that looks good with a crown full of leaves and twigs are the birds nest ferns and friends.
Oh, and it should go without saying, but pick up the dog and cat poop.
Do one last look around because your friends are guaranteed to relieve themselves one minute before your inspection.
Wash or Wipe It
You might like to do this as your last task of your 'Fabulous Fast Fix' session but washing down paths, steps, the outside of pots, and even giving flat fences created from metal a quick once over can make all the difference.
Patios and fences can be a haven for old spider and cobwebs and if they are currently unoccupied then sweep those away too.
Now this one will sound strange but stay with me, clean the outside of bins.
In any inspection, people are going to probably walk past your bins and if they are dirty, it will just put the feeling of messiness in people's minds.
It's all in the Edges
The difference that trimming the edges of a lawn can make is even better than mowing it.
You can get away with a lawn a few centimetres longer than might be optimal if the edges are neat and clean.
This is where the eye goes to in a garden … the edges!
We humans are wired to look for edges so play on that and do the borders of everything first.
Even if your garden is a flowing organic jungle, neat edges will still create a feeling of tidiness and care.
While native grasses look stunning arched in a cascading fountain of leaves over a path, a collected rabble of botanical debris sitting under them just feels messy.
Clear away what's underneath and this will not only define the path and edges but also make your feature plants pop.
Trim it Off
Stand in the front of your garden space, in a position that a visitor is likely to first stand and look.
What do you see that looks messy in the way because it is hanging into the garden?
Are there palm fronds that are tangled in a heap of overgrowth? Vines choking other plants? Small branches that are just too much for now?
Off you go and chop them all off.
Now isn't the time for major tree lopping, it's a tidy up.
Hedges can be a bit of a headache, especially if you rent and are not too sure how to go about trimming them.
For a fast fix, don't try and to get a perfect geometric shape.
Simply trim of the scraggly bits and overgrowing edges so you have whatever shape the hedge happens to be right now but in a neat form.
Fabulous Photos
Do you need to take a photo of your garden to share with someone? (Maybe me here at Down in the Garden!)
After your 'Fabulous Fast Fix' treatment you might like to share your photos with others online.
Then these few tips will make sure your pictures look amazing!
Take horizontal shots as these are more of use to publications.
They can always be cropped to the trendy square shape that is used on social media later.
Horizontal is best for any landscape image as it gives the viewer the feeling of being within the space.
Place a subject just a little off-centre within your horizonal image.
This subject could be a tree, a flower, a person, a wishing well, you get the idea.
Take the photo either early morning or late afternoon as the colours will be richer.
As far as sunlight is concerned, overcast, cloudy days give you beautiful lighting that allows the colours of your garden to really pop.
A full sun day at midday will only wash out the colours and tones of your image.
IN MY GARDEN: Shayne Leslie, Native Wildlife Sanctuary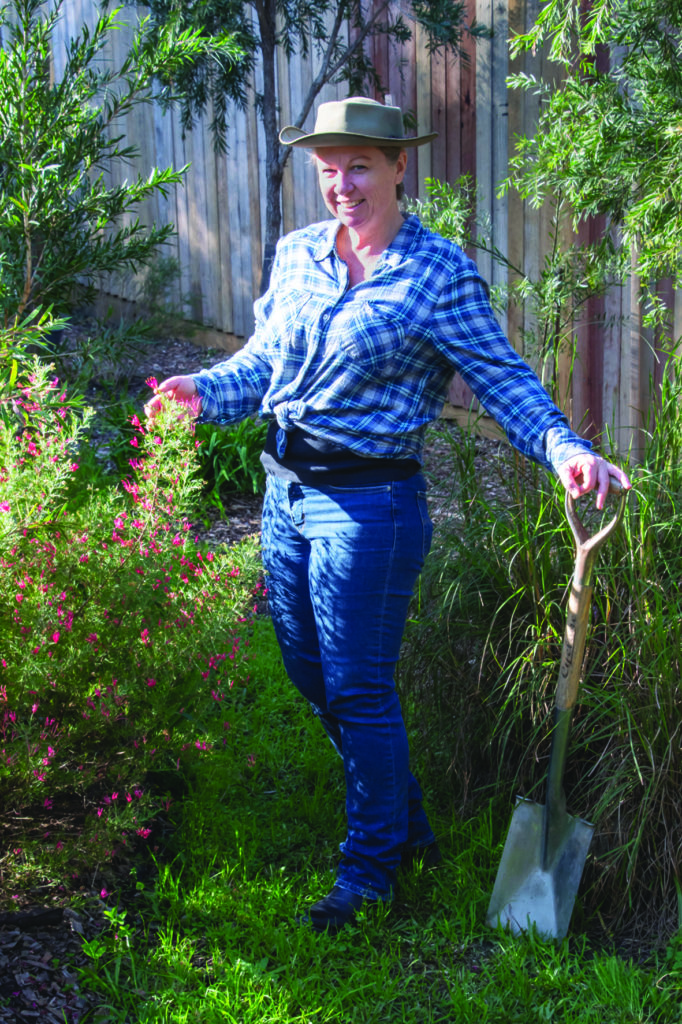 When Shayne moved to the Coast in 2003, it was the allure of not only her almost 100-year-old Wyoming home but also the opportunity to create a native garden sanctuary as she is inspired to 'Heal Country' through her love of gardening.
From what was an overrun traditional garden of introduced plants, bamboo, and lawn she has created a native wonderland of callistemons, banksias, native grasses, and features that have not only achieved her objective but offered an invitation to the local wildlife that has been readily accepted.
For those worrying about their edible veggie patches in such a garden, fear not as Shayne has found that the native wildlife, especially Native Minas and Magpies are her garden security gardens and readily fest on pests leaving her with a thriving kitchen garden.
Native flowers draw in bees of all types and this garden in Wyoming is not only a delight for all wildlife visitors, but also one of the loveliest I've experienced for humans as well.
Peaceful, rich, and fascinating.
I asked Shayne how someone would get started creating a garden such as hers.
"I joined the local 'Community Environment Network' and their 'Habit for Wildlife' program that encourages and helps people grow and maintain gardens that are focused on caring for the local wildlife," she said.
"I also found a lot of help from 'The Australian Native Plant Society'.
"The staff at my local garden centre, 'Narara Valley Garden Centre' helped so much with identifying and sourcing the plants I was after, and I'd recommend getting to know your local nursery for this type of help."
In future Shayne hopes to have open garden days to not only share her passion for native gardening but also gorgeous home that is this year enjoying its 100th birthday!
GARDEN BOOK REVIEW
Grow What Where, Over 3,000 Australian Native Plants for Every Situation, Special Use and Problem Area, Natalie Peate, Gwenda Macdonald, Alice Talbot, Bloomings Books Pty Ltd
Yes, it has been around for a while but it is still in print and reprinted for good reason, it's fantastic.
The topic is one of the most often I'm asked about on my radio show and this resource will last you a lifetime as your garden grows and changes.
Problem areas, soil types, climates and even characteristics that you might desire are covered.
The book also comes with an interactive CD to help you find your plants but even without this, it's a brilliant gardening resource.
This one? 5 leaves out of 5 leaves, easily!
TASKS & TIPS FOR THIS WEEK
This week check in with your citrus as they may need a feed about now and don't forget your camellias as they could be hungry too.
If you want to get a jump on your tomato crops, purchase seeds now and plant either indoors or in greenhouses so they are ready for Spring planting.
Lawns need feeding too now.
You could plant artichokes, asparagus crowns, cape gooseberry, capsicum, beetroot, broad beans, cabbage, carrot, English spinach, lettuce, mustard, spring onions, parsnip, peas, potatoes, radish, rhubarb crowns, salsify, silverbeet, sweet corn, alyssum, calendula, California poppy, carnation, celosia, chrysanthemum, cosmos, dahlia, dianthus, everlasting daisies, gazania, gerbera, marigold, petunia, salvia, zinnia, kangaroo paw, nasturtium, snapdragon, salvia.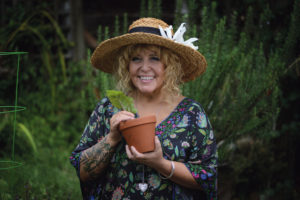 Cheralyn Darcey is a gardening author, community garden coordinator and along with Pete Little, hosts 'At Home with The Gardening Gang' 8 – 10am every Saturday on CoastFM963
Send your gardening questions, events and news to: gardeningcentralcoast@gmail.com