To all who know Bernie Wykes, he is a wonderful enigma, as at 100 years of age, he hasn't learnt to be old yet.
Bernie doesn't have time to put his feet up, he is too busy and too active to do that.
He celebrated his 100th birthday on June 11 and the lure of competition, good friends and a great game still finds Bernie driving from his Davistown home to the Bateau Bay Bowling Club twice a week, every week.
A celebration was held at the club to present Bernie with a special shirt and to make him a Bateau Bay Bowls Honorary Member, a special honour for those who have made significant contributions to the club and bowls.
In his younger years, Bernie was a competitive cyclist in road races and on the track.
He competed in such races as the Goulburn to Sydney road race, finishing 22nd out of 125 starters in the 1938 Goulburn to Sydney race.
Bernie's love for cycling only came to an end two years ago.
The then 97-year-old would ride his bicycle from Davistown to Kincumber and back three times a day.
It came to an end when a young boy lost control of his skateboard, and in the collision with the skateboard, Bernie was tossed over the front handlebars of his bike.
Bernie survived, his bike survived, but the condition of the skateboard is unknown.
Born in Woollahra in 1921, Bernie's parents moved the family to a property near Appin, about eight kilometres south of Campbelltown.
Bernie would regularly walk from the family home into Campbelltown and back again.
Bernie went to school at St Gregory's College Campbelltown, before then attending Hurlstone Agricultural College, where he studied Agricultural Science.
Apart from his studies, Bernie was also working on his family's Appin Rd orchard, commencing work there as a 14-year-old.
After completing his studies and leaving Hurlstone, Bernie worked for Johnson and Johnson developing products to protect and enhance crop growth.
During World War II, Bernie served with the Volunteer Defence Corps (VDC), that had been established in 1940 to defend and protect Australian citizens during the war.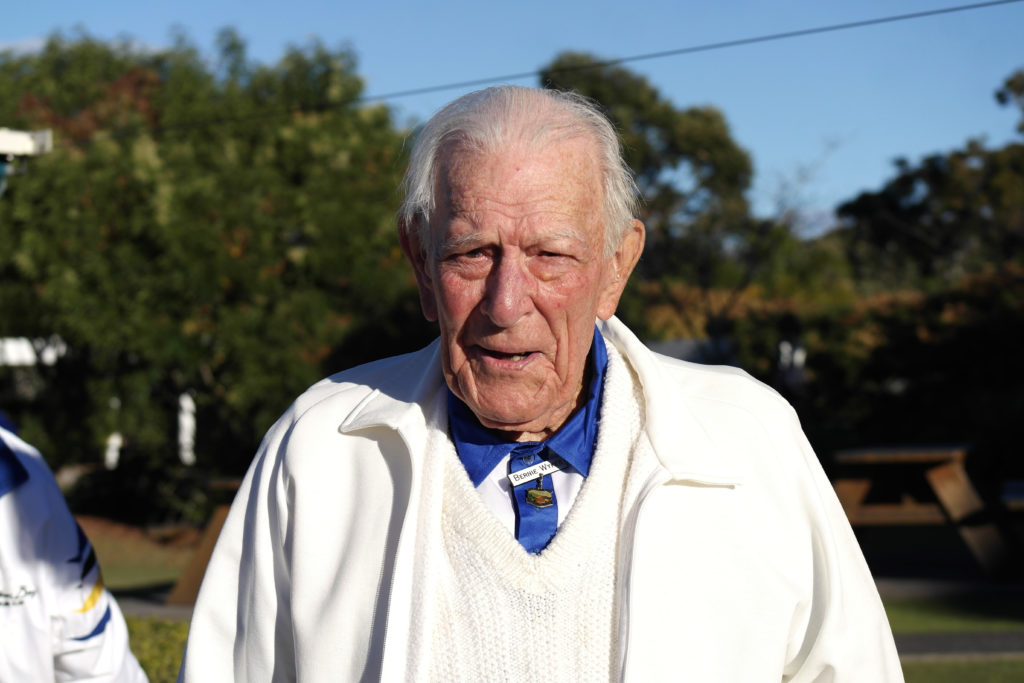 After the war, apart from his agricultural work, Bernie also worked as a welder, spray painter and panel beater, with much of it self taught.
He moved back into agriculture, working for a company called Ivan Watkins Pty Ltd, which over a 32-year period and through changes in ownership and name, saw Bernie finally retire as the Production Manager for Ciba-Geigy in 1980.
When Bernie was 14, he met and fell for his one and only true love, Verna.
Although attending different schools, Bernie and Verna were daily companions to and from school each day.
Some years later they married and were together for 72 years before Verna's passing.
Their lifetime relationship was a perfect example of two souls meant for each other (although Bernie always knew who was the boss).
Two beautiful daughters, Helen and Marilyn, came along, and there are now four grandchildren and four great grandchildren.
One of Bernie's grandchildren is actor, singer and television personality, Toni Pearen.
Bernie's love for sport and keeping active had no boundaries.
In the 1970s Bernie built his own water ski boat, and he made good use of it.
He also took to golf and he was playing off a seven handicap before he retired.
Three times Bernie holed out in one.
When Bernie and Verna retired to the Central Coast and set up home at Berkeley Vale in 1980, they both discovered lawn bowls and the Bateau Bay Bowling Club.
With Bernie and Verna both being particularly good golfers, they took to bowls with gusto, a game Bernie said he wished he had taken up much earlier.
Bernie joined the Bateau Bay Bowling Club on September 5, 1984, and for many years he represented the club in pennant competitions, with him twice competing in State Pennant Championships.
Bernie is one of the finest lead bowlers to have played at Bateau Bay, and to this day, he is well known to be a very hard person to beat on the greens.
Every Tuesday and Friday Bernie can be found playing in social competition and winning more times than not.
It is a pleasure to know Bernie Wykes and it is an honour to play with and against Bernie Wykes, but don't expect to beat him, as he is as fit and capable at his favourite sport as people half his age.
There is no more respected or liked member of the Bateau Bay Bowling Club.
When asked what he attributed his wonderful long life to, Bernie simply replied, staying fit and living well.
Source:
Media release, June 12
Bateau Bay Bowling Club