As the leaves fall, turn red, gold and amber and the cold quickly descend on us, this weekend we celebrate 'The Central Coast Harvest Festival'.
In your garden, you may also be harvesting so let's look at what you can do with that bounty or the goodies you might bring home from our lovely local farmers.
When is it ready to harvest?
While we may spend a great deal of time planning and planting and even worrying about whether we 'got it right to start with', for the newer gardeners or even old hands with new plants, there is just as much concern over the right time to harvest.
Check in with recommendations for the species you have grown but also use your eyes, nose and taste buds to determine if your produce is ready for the picking.
The size and 'time to harvest' recommendations are just that, general recommendations, not rules.
Be aware that you might not attain the sizes you are used to seeing at the supermarket or even at the farmer's market.
Some seasons and some gardening methods don't produce the same sizes so it's not really a steadfast guide.
The wonderful thing about gardening is that the more you do it, the more it becomes intuitive.
When your delicious botanical beauties are ready to be plucked from the garden, bring them straight inside, wash and dry quickly and then get ready to plunge in or perhaps store.
Preserving your bounty
There is nothing at all more glorious than a basket of freshly collected garden produce taken straight to the kitchen and used.
The tastes, aromas and the feeling of absorbing the natural goodness from the earth cannot be beat, however, coming in at a close second are the naturally preserved and stored fruits and vegetables from your harvest.
Short term, store as appropriate for type and don't mix your fruits, vegetables, herbs and berries as fruits, and some vegetables, give off ethylene gas to help them ripen faster and while that may be terrific for your unripened avocados, it's not good for produce you wish to get a bit of milage out of.
Most root vegetables do well in cool, dark, dry places while leafy greens should be wrapped in paper towel or a light cotton cloth and then sealed in an airtight container in the fridge.
Don't toss your tomatoes in the fridge though.
They do best at room temperature until they are ripe and then you will need to pop them into the fridge.
Methods you might consider for long term preservation are canning, drying, pickling and freezing, but you must consider the suitability for your produce and the varying times that your harvest will last under these different methods.
While you can successfully preserve individual types of fruits, berries, herbs and vegetables, don't overlook combination opportunities that pickling, and canning can offer.
Creating your own relishes, passatas and pickles is a popular way to use up your excess and perhaps not so pretty produce.
Drying
I am a big fan of my dehydrator.
Mine is a very simple fan and small heating element stacking system and it is brilliant.
Fast, reliable and when I don't have time to start pickling and canning, (which to be honest is most of the time), I can simply chop and toss it in the dehydrator.
Most herbs, fruits, berries and even some vegetables as well as edible flowers can be dried and then stored in airtight containers in cool, dry, dark places for use later.
They can be rehydrated for use, tossed as they are into cooking are many even snacked upon as a great alternative to chips and lollies.
Freezing
The majority of produce will need to be blanched to prevent freezer burn prior to freezing and this is done by boiling chopped or whole produce for one or two minutes, depending on type, and then plunging in ice water to cease the cooking process. After draining very well, freeze in airtight containers.
Canning and Pickling
One of the oldest methods of preservation, canning involves using sterilised jars that are then filled with produce and then boiled in water with their lid on to produce a vacuum.
This seals the lid to the jar while killing any lurking bacteria within.
While fruits and pickle preparations are the safest, due to their high acid levels, there is a risk involved in other types of canning as botulism, a deadly bacteria can survive in non-acidic environments.
Cheralyn's Coastie Pickles
Make the most of the harvest weekend and bring home some delights to pickle!
You could try carrots, beetroot, beans, cauliflower, radishes and whatever else you find. Add a few herbs and you are done. The secret to Coastie Pickles is that they are whatever you find on The Coast to toss in. They are everyday and everyway goodness and will last for a year at least if stored in a cool dry and dark place.
2kg Central Coast grown vegetables
2 cups apple cider vinegar
2 cups water
2 tablespoons salt
2 tablespoons sugar
6 x 500ml jars with lids
Wash jars and lids in hot soapy water, rinse and place jars upright and lids top side down on to a baking tray and place into a preheated to 120C oven for 20 minutes to sterilise.
While that is happening, wash, dry and chop up your harvest bounty vegetables to suit the size of your jars.
Take out your tray of jars and lids and let them cool to the touch and then fill them up with your chopped up treats.
I'd suggest you pickle singular vegetables to start with before experimenting with combinations but go wild if you must!
Poke in a few springs of herbs and chillies, peppercorns and the like to your taste. Grab everything else on the ingredient list, pop it into a saucepan and bring to a full boil.
Pour this into the jars leaving about 5mm from the brim and then seal with lids.
Find a large saucepan and place a clean cotton cloth in the boom and then place the jars upon it.
 Fill the saucepan with water to cover the jars completely.
Bring the pot to a rolling boil, let boil for 10 minutes and then remove jars from pot with heavy tongs and let cool to room temperature before storing.
TIME TO GET YOUR HANDS DIRTY
It's time to plant new roses and I hear the cheer break out around the Coast. Get on to pruning those hydrangeas and only cut back the branches that flowered last season. Ease up on the watering of indoor plants.
You could plant: artichokes, asparagus crowns, broad beans, broccoli, cress, cabbage, carrot, English spinach, kale, kohlrabi, lettuce, mid and late season onion`s, parsnip, peas, radish, rhubarb crowns, shallot bulbs, snow peas, spring onion, turnip, English daisy, candytuft, Canterbury bells, delphinium, dianthus. forget-me-nots, lobelia, gypsophila, honesty, lupin, nemesia, nigella, pansy, poppy, snapdragon, statice, stock, sweet pea.
PLANT HAPPENINGS AROUND THE COAST
The 2021 Central Coast Harvest Festival Program See what's on, plan your weekend (12th – 13th June)
The program is now available online at: info.centralcoast.nsw.gov.au/harvestfestival 
At Home with the Gardening Gang live at The Harvest Festival. Cheralyn (yes, your gardening journalist! and Lance of CoastFm963 will be broadcasting live from Coachwood Nursery. Everyone welcome to join us and if you have Harvest Festival news, drop by the outside broadcast table for a chat. 8am – 10am Saturday 12th June, Coachwood Nursery.
Native Bee Hotel Workshop & Native Plants Giveaway, Pearl Beach Arboretum, 10am Saturday 12th June,
In conjunction with the Ephemeral Art trail, Franscisco Garcia Bulle Buenowill be conducting a workshop on how to set up Solitary Bee Hotels to be used in the Arboretum. Koala and bee attracting plants will be given away to the community (one per household). pearlbeacharboretum.org.au for details.
The Bigger Picture: Central Coast Native Trees Tips for Identification is the theme of the June meeting of the Australian Plant Society Central Coast. Learn to identify 12 of our local trees. 1:30pm Saturday 12th June, Phillip House, 21 Old Mount Penang Road, Kariong. $2 includes a cuppa. Contact: Pat Carlton 0458300922.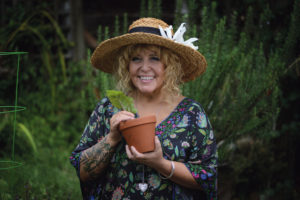 Cheralyn Darcey is a gardening author, community garden coordinator and along with Pete Little, hosts 'At Home with The Gardening Gang' 8 – 10am every Saturday on Coast FM 96.3.
Contact cheralyn gardeningcentralcoast@gmail.com with your questions, events, news or if would like to be a part of 'DOWN IN YOUR GARDEN'.