Your gardening writer is not an avid orchid collector and grower, but I am slowly coming around to them as I begin to understand the passion and seducing attraction of these other-worldly looking plants.
For those of you who many have been swept up in the wonderfully exciting houseplant wave that is still rolling along nicely, you may find orchids your next level challenge.
For everyone, I hear that once you have stepped into the world of orchids and found success in your horticultural efforts, there is no turning back.
A Short Story of Orchids
At present we believe that orchids date back over 200 million years from around the Equator and have since spread throughout the world and don't we love them!
There are over 30,000 species identified now, and we have created over 200,000 varieties.
The first written record of orchids was Ancient Greek Theophrastus 371–287 BC, considered the 'father of botany', in around 300BC in his title 'Inquiry into Plants'.
Greek physician, pharmacologist and botanist Dioscorides (40–90 AD) was the first that we know of to have defined and named these plants 'orchids' in his work along with their possible uses in his 'De Materia Medica' which was the standard herbal medicinal text until the Middle Ages.
Both the Ancient Greeks and Romans revered them as plants that helped the reproductive systems in humans.
Once glass, and more importantly glasshouses, became possible in the 19th Century, growing orchids was possible almost anywhere as they could be transplanted, propagated and cared for in a similar environment to their origin.
Which Orchid for You?
The vast majority of orchids that people grow are 'Epiphyte Orchids'.
These grow upon trees and rocks and in a little stricter botanical term, a plant growing upon rock void of soil is further classified as a 'Lithophyte'.
The second group, the 'Terrestrial Orchids' makes up the rest of the population and they are not always as well represented in collections as they can be a lot more difficult to cultivate.
As their name suggests, they grow upon the ground. Most cultivated orchids that you will find on the market are epiphytes that originate from the tropics and to then grow them successfully you will need to emulate their natural environment.
They usually live by attaching themselves to the bark of trees with good air circulation, plenty of light and high humidity.
Growing Your First Indoor Orchid
We have all been there or seen it happen.
Someone gifts a beautiful orchid with its divine arch of perfect flowers that look too beautiful to be real and then, the flowers die, and the plant follows.
It doesn't have to be that way and by remembering the conditions that orchids naturally grow, you should be able to easily keep yours alive as well.
The problem is that most people treat them like other houseplants, although I will point out here that all plants need varying types of care.
The majority of plants we use as houseplants are those which can live in a level of shade, require earth-based potting mix and usually a very moist soil and so we go wrong by providing these things for our orchids.
We also like things neat and so quickly lop off the gnarled looking aerial roots that seem to escape the pots and the bulbs that appear, and we think are excellent opportunities for propagation.
Both are food storage system of your orchid plant and must be left alone and once your flowers fall, leave those canes to themselves to because they storge energy for your plant as well.
Orchid Don'ts
To grow most orchids you need good air circulation, sunlight, dedicated orchid mix or bark, careful watering and special orchid food.
* don't use regular potting mix
* don't place in direct sunlight
* don't let water pool on leaves
* don't trim aerial roots
* don't let their pot stand in water
* don't cut spent canes or pseudobulbs
How to Grow Orchids in Your Garden
First, find a tree!
No tree, or no desire to grow your orchid in a tree?
That's ok, you can simply use old branches, sticks and even rocks artfully placed in pots.
Under this structure, you will need a medium and that is not going to be soil.
Your epiphytes will recoil in horror if you plant them in dirt so fill your pot with a chunky medium like bark chips, gravel or charcoal.
There are specialty orchid growing mediums which are made up of these things and having a look at them will give you the idea or a solution.
This is rather general advice so make sure you seek out individual care tips for your species. Feed your orchid with a specialised orchid fertiliser but at half strength, (because this is a native plant), from mid spring until mid-autumn. You will find that most of this type of orchid need daily watering through the hottest summer months then a couple of times a week in mild weather, to once a fortnight through the winter months.
Got a tree? Maybe a big rock in the garden?
Just tie your orchid to it … and follow the rest of the instructions I have given but also make sure the position suits the species you have chosen.
One tip I will share with you, don't tie that orchid to a Paperbark Tree or other bark shedder.
There are different types of orchids, and each has slightly different needs and a good chat with your supplier or hopping along to a local Orchid Growing Club or Society will open the world of growing, collecting and maybe even a whole new hobby for you.
Mingara Orchid Club Inc.: facebook.com/mingaraorchids
Australasian Native Orchid Society Central Coast: anoscentralcoast.com
I also highly recommend 'Understanding Orchids' by William Cullina (in print of digital) for those wanting to learn more at home and grow their first orchids.
This will help with selection of type as well as care.
TIME TO GET YOUR HANDS DIRTY
You could plant artichokes, asparagus crowns, broad beans, broccoli, cress, cabbage, carrot, English spinach, kale, kohlrabi, lettuce, mid and late season onion`s, parsnip, peas, radish, rhubarb crowns, shallot bulbs, snow peas, spring onion, turnip, English daisy, candytuft, Canterbury bells, delphinium, dianthus, forget-me-nots, lobelia, gypsophila, honesty, lupin, nemesia, nigella, pansy, poppy, roses, snapdragon, statice, stock, sweet pea.
Down in Your Garden: Katrena, Umina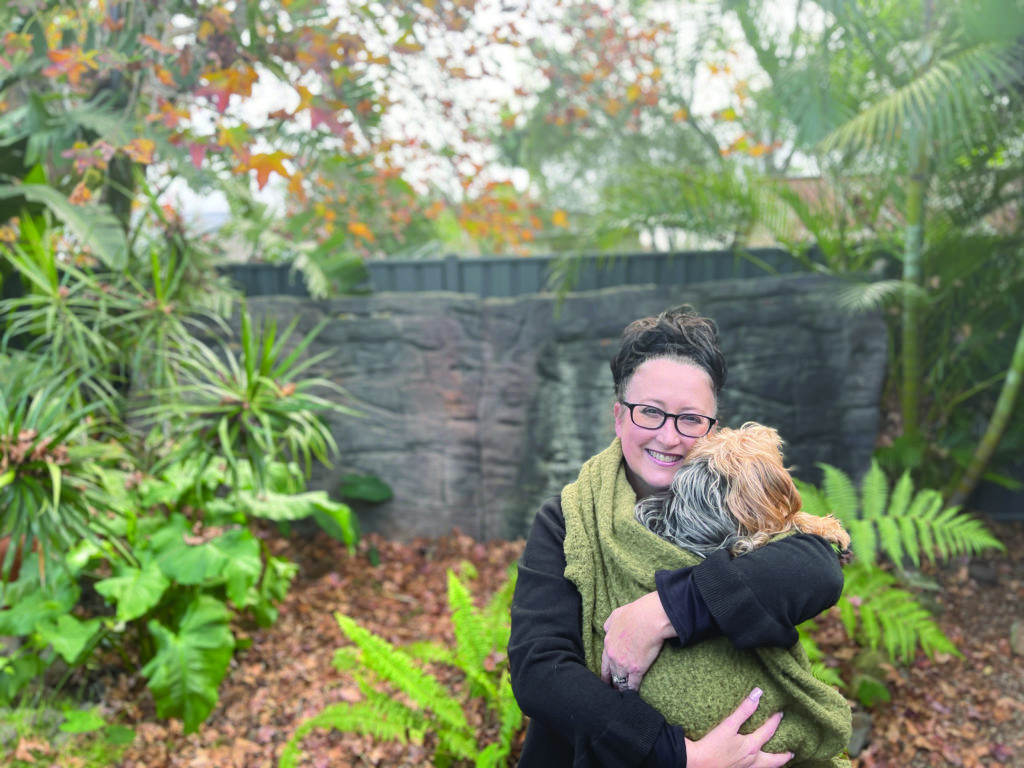 After winding down the hill into Umina, through the busy afternoon school traffic, I find Katerna's home with its sky hugging frangipani and stands of lavender out front which give me no hint of the tropical secluded forest I am about to be enchanted by.
Once inside, the tinkling sound of water fountains artfully placed in rooms that are hugged by great collections of indoor plants delight me.
The transition between this indoor oasis and back outdoor paradise is seamless. "This is my secret sanctuary." Katrena Friel tells me. "I feel protected, I feel private, it's my green sanctuary."
Current gardening plans that I noticed include the removal of a large fishpond that was leaking and as Katrena and her husband were concerned about the environmental impact, they are replacing it with a fernery.
Interestingly Katrena does not consider herself a 'gardener' but rather a person who has learned to live with plants and it shows in her ability to select and encourage the botanical beauties that form both her indoor and outdoor gardens.
There is a naturalness to everything that just seems 'right' and is, as she says, 'a perfect green secret sanctuary'.
I didn't want to leave!
Three Big Gardening Questions:
Q. One Plant You Can't Live Without:
A. Tree Fern, I think it's so delicate, beautiful and I love the shade.
Q. Piece of Advice:
A. Take a walk and see what is flourishing in everybody else's garden and get to know the rhythm of an area.
Q. What Do you Think Your Garden Is Missing:
A. A better plan for my hydrangeas, I really want them to go ballistic this year.
PLANT HAPPENINGS AROUND THE COAST
The 18th Annual Mingara Orchid Fair and Show 2021 Saturday 26 June 9am – 4pm & Sunday 27 June 9am – 3pm presented by The Mingara Orchid Club Inc. Join us for a great day out and view the most spectacular floral displays you will ever see, and ENTRY IS FREE!! facebook.com/mingaraorchids
At Home with the Gardening Gang Broadcasting Live at The 18th Annual Mingara Orchid Fair and Show 2021
Saturday 26 June 8am – 10am. Come to the Orchid Fair and meet the Gang as they share their popular live 2 hour show straight from the heart of the orchid wonderland.
Sale Day of The Central Coast Cactus & Succulent Society 10am – 2pm 26th June, Gosford Showground under cover, free entry & lots of parking.
Cheralyn Darcey is a gardening author, community garden coordinator and along with Pete Little, hosts 'At Home with The Gardening Gang' 8 – 10am every Saturday on Coast FM 96.3.
Contact Cheralyn gardeningcentralcoast@gmail.com with your questions, events, news or if would like to be a part of 'DOWN IN YOUR GARDEN'.