Just as gardening has had a huge jump in popularity of late, so have other plant-based interests including mushroom foraging and growing.
Autumn is the time for this peaceful nature-based activity for all ages and as well as getting out into the forests, you can end up with a basket of yummy goodness or at least photos.
However, unless you are trained and experienced in the identification of wild mushrooms, this expedition can be dangerous and deadly, so we are not suggesting you do this on your own. Enjoy the thrill of the hunt and as you would with unusual flowers, take photos and memories instead.
There are a few mushrooms hunting experiences that include identification lessons that appear from time to time, and you will be able to take mushrooms home to eat.
A great resource to find people, courses and events is: facebook.com/groups/AustralianWildMushroomHunters
There are well over 10,000 species of fungi that we would identify as mushrooms and of these only around 25 are poisonous but many of these will cause death.
While that may seem like a small risk, every year dozens of people in Australia are poisoned by mushrooms they forage and some even die so you need to be careful.
Only about thirty of the 10,000 make their way onto the commercially available list in most of the world so growing your own could be just the thing for those looking for a new culinary experience.
Like everything you grow, even the humble white button mushroom tastes amazing fresh from your own garden.
Grow Your Own Mushrooms
These delicious treats that are bursting with goodness are not a plant but are fungi.
What we harvest and eat is the fruiting body of the fungi that lives underground or within other things.
Mushrooms begin their life as spores that then develop into mycelium which colonises and then nourishes itself with what they find around them if conditions and available food source is right.
They will then, under further favourable conditions, fruit and become mushrooms.
At home, mushrooms are usually most successfully grown from 'spawn'. This is a medium that contains the spores of the mushroom you are wanting to grow.
It looks sometimes like little pebbles and is a mixture of grain and occasionally other materials.
This spawn is added to a 'fruiting substrate'.
This is the growing medium that will provide the place for the developing mycelium to develop.
Different mushrooms will grow on different fruiting substrates so be guided by the directions of your supplier. Think of this like the soil type that various plants prefer or need.
After that?
All mushrooms grow pretty much the same way.
They will need a cool, damp and dark place so under your home, a basement, garage or created area like a cupboard.
Generally, temperature needs to be around 21c for the spores to produce filaments and take hold.
Depending on conditions this will take around three weeks. To achieve this heating pads or a warm position can be used.
The temperature then needs to be dropped to between around 13 – 16c for successful fruiting to produce your mushrooms.
At this point, a layer of about 2cm of damp potting mix can be spread over the top.
Very lightly mist the soil when needed to prevent drying out. Mushrooms will fruit in around a month and are ready to harvest as per species.
Growing mushrooms at home in coffee grounds collected from local cafes is also a popular method.
It does work but you need to make sure that the coffee grounds are very fresh and haven't been contaminated or you run the risk of growing other things like bacteria along with your mushrooms.
The best way would be to give the café a sterilised bucket to collect the grounds in for you.
Local Mushroom Farm
Margins Mushrooms is a local fungi success story operated by the Margin family.
Originally an experiment in a cool room within their ice-cream factory, this Central Coast company has been homed since 2011 in the old unused Woy Woy Abattoirs that had been closed for around eight years.
Margins Mushrooms is a staple at markets up and down the Coast and beyond (in fact drop into Gosford City Farmers Market this Sunday to meet them and see their locally grown, amazing mushrooms).
They offer farm tours for groups, and you can purchase their wonderfully delicious Oyster Mushroom Growing Kit online at marginmushrooms.com.au
Mushroom Box Kits
These are also offered by some local nurseries and most larger stores with nursery sections.
A good solution for first timers as all you will need to do is place it in the suggested spot and then water it.
They tend to be a lot more expensive than buying the spores and spawn but if you are limited on space and want a very tidy solution, they would be suitable for you.
Mushroom Compost
This is the stuff left behind after growing mushrooms. It is the fruiting substrate and soil or the entire mushroom kit once it stops producing.
Use in the rest of your garden for a rich boost and perhaps a couple of baby mushrooms might even surprise you.
Beginner Mushroom Growers
Like plants, some mushrooms can be a little more challenging than others. These three are all relatively simple.
Pearl Oyster (Pleurotus ostereatus)
This is a very easy mushroom to grow and with results for our dinner plate appearing in only a few weeks, a great one for the kids to grow, or those of us who are impatient.
These will grow indoors on straw and sawdust and hardwood logs outdoors.
Garden Giant (Stropharia rugosoannulata)
Needing more moisture than most and having a fruiting time of up to 6 months, these are none the less a popular and easy mushroom to try.
They can be grown indoors on sawdust blocks or straw but also can make an amazing feature outdoors when grown on hardwood chips.
They can be grown upon a pile, a layer or a feature garden of these chips.
Shiitake (Lentinula edodes)
Want to take it a step up and start growing mushrooms in your garden?
The Shiitake love growing on hardwood logs, but the downside is that they take a long time to fruit on logs, up to 12 months.
Mushrooms growing on logs in your garden!? Worth it, right?
The log can be reinoculated (seeded with spawn) every season to keep your yields coming though once established.
If you simply cannot wait, they will fruit in only a couple of months on a sawdust block indoors.
NEW COLUMN: DOWN IN MY GARDEN
We are featuring a local Central Coast Garden each week on this page. Private gardens, community gardens, great gardens, tiny gardens, indoor plant collections, balcony gardens and yes, beginner gardens too.
If you would like your garden featured, send an email to: gardeningcentralcoast@gmail.com Cheralyn will be interviewing via email/phone and will request a few lovely photos from you to include. Let's share our garden love Central Coast!
TIME TO GET YOUR HANDS DIRTY
Camelias should be starting to flower, time to prune cumquats, plant lilies and deadhead those autumn bulbs. You could plant: broad beans, broccoli, cress, cabbage, carrot, English spinach, kale, kohlrabi, lettuce, mid and late season onions, parsnip, peas, radish, snow peas, spring onion, turnip, forget-me-nots, lobelia, gypsophila, honesty, nemesia, nigella, pansy, poppy, snapdragon, statice, stock, sweet pea, viola, wallflower
PLANT HAPPENINGS AROUND THE COAST THIS WEEK
Growing Mushrooms at Home 3pm – 5pm Saturday 22nd May, Village Hall, Narara Eco Village. Mycology basics, how to grow Oyster Mushrooms easily with low cost and in a small space. Bookings $5 at: nevmushroomsmay2021.lilregie.com/booking/attendees/new
COASTFM Members Day 'The Gardening Gang' – Cheralyn, Pete, Vicki and MC Microbe will all be there! 3pm to 6pm Thursday 27th May, Bayview Hotel, Woy Woy. CoastFM96.3 will be broadcasting live, there is live music, prises and loads of fun. Free entry for members, their guests, family and friends. Not a member? Come anyway!
Planting for Wildlife Workshop: 10am – 12pm, Saturday 29th May. Plant it and they will come! Join CEN (Community Environment Network) to learn how to start creating habitat gardens that will be beautiful spaces to enjoy. Rumbalara Environmental Education Centre, 149 Donnison Street, Gosford. To Book: cen.org.au/events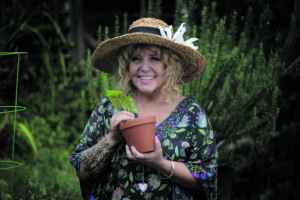 Cheralyn Darcey is a gardening author, community garden coordinator and along with Pete Little, hosts 'At Home with The Gardening Gang' 8 – 10am every Saturday on Coast FM.
Send your gardening questions, events and news to: gardeningcentralcoast@gmail.com