Bees have enjoyed celebrity status the past couple of years and rightly so.
They even have a day dedicated to them with Thursday 20th May now declared World Bee Day.
No bees can very well mean no plants and although they are only one type of pollinator along with other insects, animals and birds, they are an incredibly important one.
Let's explore the ways you can become more bee-friendly by learning how to identify and become mates with our local native bees.
When most of us imagine bees, we are usually thinking of the European Honeybee (Apis mellifera) and this is because, as the name suggests, it is the insect that creates the vast majority of the honey that is in commercial production through the world today.
Across most places on Earth, these bees assure our food security via their pollination method.
In Australia, up to two-thirds of commercial agriculture depends upon bee pollination, including the European Honeybee.
However, there are well over 20,000 species of bees around the world and one of the very best pollinators of all are some of Australian's own native bees, of which there are over 2,000 species.
Australian Native Bees
I remember an online conversation about gardening with someone last year who was insistent that the only way to improve production in a home vegetable garden was by keeping European Honeybees as our native bees just couldn't compete.
She was beekeeping herself and had seen the results firsthand, but the key was, any bee encouraged into her garden would have improved results.
She probably would have even seen far better improvements with many of our native bees.
A lot of our bees are smaller and generalist in their gathering nature and this means they can pollinate anything from a huge pumpkin flower to a tomato flower and this just is not true of the European Honeybee.
In fact, when it comes to tomatoes in particular, our Blue Banded Bee (Amegilla cingulate) is a champion!
The Blue Banded Bee
A team led by Dr Katja Hogendoorn at the University of Adelaide completed a three-year research program* in 2006 breeding and using Blue Banded Bees in tomato greenhouses.
Tomato flowers rely on a method of pollination referred to as 'buzz pollination', something that European Honeybees cannot do.
Buzz pollination relies on strong vibrations, the 'buzzing' caused by the bee and the Australian Blue Banded Bee is perfect for the job.
Tomato pollen is encased within the flower in capsules, so it needs these vibrations to shake loose.
If your garden is open, this is achieved through wind but if you have a sheltered garden or a green house?
You need to give them your plants a good shake and still, this is never as productive as the wonderful vibrations of a bee.
In the commercial industry, electric motors are used to shake the tomato plant.
This is just one of many examples of the amazing pollination qualities of our Australian Native Bees and of course, they are without doubt the best pollinator for the vast majority of our native flora and a big part of the environmental circle of the lands around us.
The Wild Pollinator
Want more Native Bees in your garden?
Well, before you go running out to purchase a bee hotel to welcome in your new native bee housemates, you need a to know a bit about these bees, so I asked Central Coast local Native Beekeeper and Bush Regenerator at CEN, (Community Environment Network), Ben Davis-MacAndrew for his advice.
Ben teaches native bee workshops at schools, with private and public organisations and is a Native Beekeeper who provides hives on the Central Coast.
Ben is passionate about Native Bees and yet acknowledges the importance of European Honeybees to the economy. What he isn't passionate about is irresponsible European Honeybee keeping practices.
We talked about ways to encourage native bees into our gardens, provide homes for them and for those with the inkling, become beekeepers of native bees.
"Build it and they will come", Ben told me.
He explained that native bees need a place to feel at home in and that you can't just put a bee hotel into a space and hope that the bees will use it.
They probably won't.
"First you need to observe which bees are coming through your garden.
Identify those and then research their requirements and provide them.
Then the native bees will be more likely to move in.
Grow a garden that suits the bees, not the other way around."
Australian Native Bees fall into two categories, solitary and social.
"People often think all bees are social, that they live in hives as this is what European Honeybees do, but the majority of our bees are solitary.
These types of bees, for example the Resin Bees and Leaf-Cutter Bees do not create hives.
There are no queens or workers.
A female solitary bee mates with a male and produces offspring which are nurtured in nests. Your 'bee hotel' structures will be very welcoming to solitary bees but they not of intertest to social bees."
Others have yet again very different types of nests.
"The Blue Banded Bee for example is a solitary bee that burrows into the ground to create their nests."
Providing clay soil areas will create a welcoming place for these bees to set up home in your garden but remember, you need to grow the garden first for any of these bees and that will mean natives.
"I focused on getting my garden right first. As a Bush Regenerator, I planted local natives to encourage and support the local native bees," Ben told me and this makes sense.
If you like your honey and native bees then social bees like the very popular Stingless Bee (Tetragonula carbonaria) are a great option to set up in your garden
Social bees in the wild form their hives in the hollows of trees.
Ben sources and sets up specialist built hives that emulate these conditions for budding Native Beekeepers but did say his services are in high demand at the moment as people are creating gardens with a deeper and more respectful use of the environment.
You can find out more about Ben and his work at facebook.com/thewildpollinator
The Wild Pollinator Plant Suggestions for Native Bees
Plant these in your garden and the locals will love you!
Dwarf Abelia (Abelia x grandiflora)
Bottlebrush (Callistemon spp.)
Spider Flower (Grevillea spp.)
Tea Tree (Leptospermum spp.)
Honey Myrtle (Melaleuca thymifolia)
Native Rosemary (Westringia fruticose)
Recipe – Cheralyn's Violet Honey – makes 2 cups
This honey will add a lovely sweet floral note to drinks, foods and cooking.An added benefit of this flower and honey mixture is that it is very good for sore throats. Let a teaspoon dissolve in your mouth to sooth and calm any inflammation.
Gather:
2 cups of mild organic honey
a handful of violet petals (Viola odorata)
or make it native with (Viola hederacea) a double boiler
or two saucepans that nest water
a fine strainer
a sterilised jar/s
To Create:
Set up your double boiler or place a smaller saucepan into a larger one. Pour in enough water into the lower saucepan so that the water level comes up to about half the height of the inner saucepan.
Place the honey and the violet petals into the inside saucepan and warm very gently on a low heat for five minutes. Strain into sterilised jar/s and store in a cool dry and dark place and use within twelve months and a month once opened.
TIME TO GET YOUR HANDS DIRTY
broad beans, broccoli, cress, cabbage, carrot, English spinach, kale, kohlrabi, lettuce, mid and late season onions, parsnip, peas, radish, snow peas, spring onion, turnip, english daisy, forget-me-nots, lobelia, gypsophila, honesty, nemesia, nigella, pansy, poppy, snapdragon, statice, stock, sweet pea, viola, wallflower
PLANT HAPPENINGS AROUND THE COAST THIS WEEK
Kokedama Workshop: 10:00am – 11:30am, Sat May 15th, Lisarow.
Come and join this relaxing workshop creating your very own Japanese inspired Kokedama creations. Bookings essential: lunaandcodesigns.com
Planting for Wildlife Workshop: 10am – 12pm, Saturday 29th May.
Plant it and they will come! Join CEN (Community Environment Network) to learn how to start creating habitat gardens that will be beautiful spaces to enjoy. Rumbalara Environmental Education Centre, 149 Donnison Street, Gosford. To Book: cen.org.au/events
The 2021 Central Coast Harvest Festival Program See what's on, plan your weekend (12th – 13th June).
The program is now available online at: info.centralcoast.nsw.gov.au/harvestfestival
*Academic Paper:  K Hogendoorn, CL Gross, M Sedgley and MA Keller (2006) Increased tomato yield through pollination by native Australian Amegilla chlorocyanea (Hymenoptera: Anthophoridae), Journal of Economic Entomology 99(3), 828-833.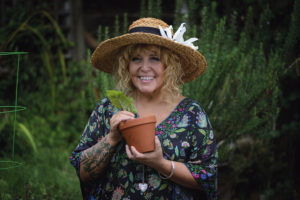 Cheralyn Darcey is a gardening author, community garden coordinator and along with Pete Little, hosts 'At Home with The Gardening Gang' 8 – 10am every Saturday on Coast FM.
Send your gardening questions, events and news to: gardeningcentralcoast@gmail.com