Hundreds of women gathered at the Gosford Waterfront today to call for an end to gender-based violence.
The March4Justice follows a series of marches held nationwide today after tales of sexual harassment and violence engulfed Federal Parliament recently.
Member for Gosford, Liesl Tesch, was among the crowds of women at Brian McGowan's Bridge protesting against sexism, misogyny and experiences of sexual harassment in the workplace.
Tesch said she was 'really proud' to be there today, hosting the event in support of thousands of women facing gender-based violence across the country.
"We are here today to demand change and we will do it with kindness, dignity, decency and integrity," Tesch said.
"We are angry, we need equity, political accountability and real change.
"It's not just in politics, it's across the country, it's on the sporting field, it's in our board rooms … white, privileged men cannot continue to get away with everything."
In her closing address, Tesch also acknowledged the older members of the march and spoke about the need for real leadership on this issue of sexual abuse.
"We are so proud of the voice you have given women – we walked on your shoulders and we've continued this fight, but we thought that this fight would be over," Tesch said.
"So young women, we've got a long journey to go with you because we know it is not going to stay like this forever.
"As a woman with [a] disability, you've all given me a voice [and] now I'm in that parliament with this voice, I'm prepared to stand up against those white men on the other side.
"The Prime Minister of Australia had an opportunity to show us that sexual violence is not acceptable in our society, unfortunately he decided to look the other way when courageous woman stepped forward.
"Women should be believed when they come forward."
Tesch hosted the presentation, which was attended by over four hundred people, and involved moving speeches from community leaders and youth representatives.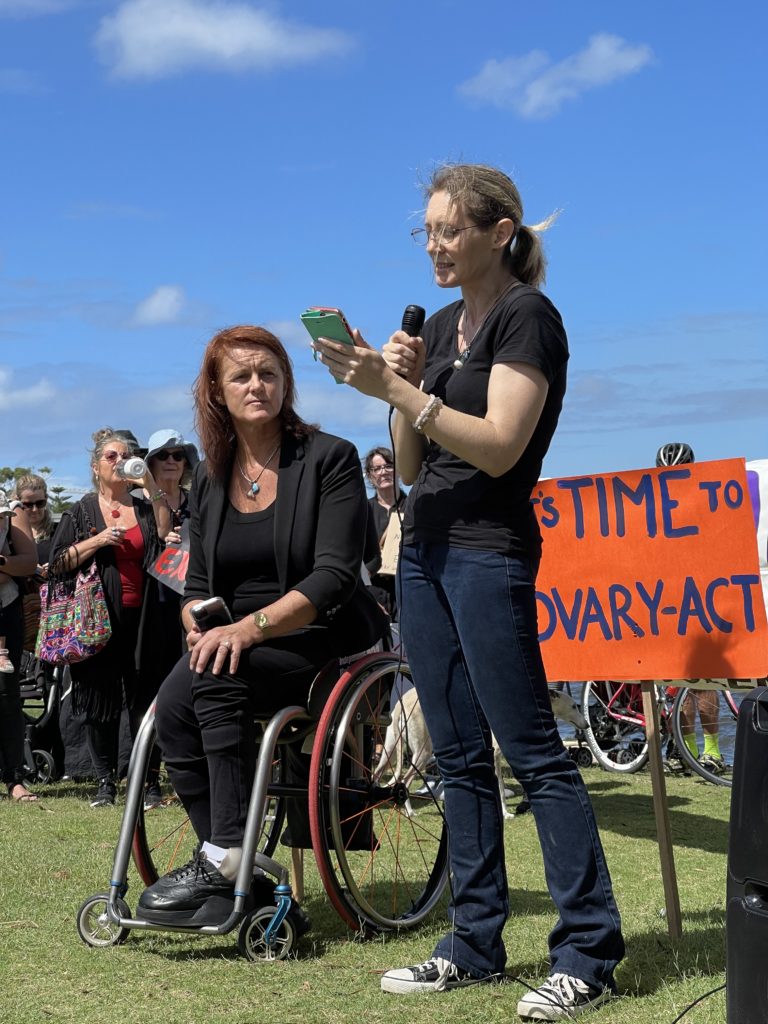 Event organiser and owner of Listen Up Podcasting, Kel Butler spoke about her experiences as a queer woman and of facing sexual assault as a teen, harassment in the workplace, and abusive relationships.
"I'll never forget how it made me feel," Butler said.
"But now I understand hiding is not the answer, that being silent is part of the problem and a form of enablement.
"I need to speak … silence is poison, and it is exactly what perpetrators rely on so they can keep perpetrating unhindered and unaccountable.
"Women are still getting assaulted in all sorts of ways, and the institutions that are meant to protect them instead blame them, dismiss them, retruamatise them and worst of all, stand by the men accused of hurting them.
Butler also called for changes in legislation and education, and more support for systems around coercive control, consent, rape and domestic violence.
"We don't need another media campaign in an election year, we need real change," Butler added.
"And it starts with having more women, all types of women, in our parliament, on our boards, in our judicial system.
"I feel like we need to tear it all down to the ground and start fresh, starting with the patriarchal systems and our conservative government.
"The connection between all forms of discrimination and white male entitlement cannot be denied … we must acknowledge how much worse patriarchal misogyny and inequality is for any form of minority group.
"Solidarity is our greatest asset and our greatest power …enough is finally enough."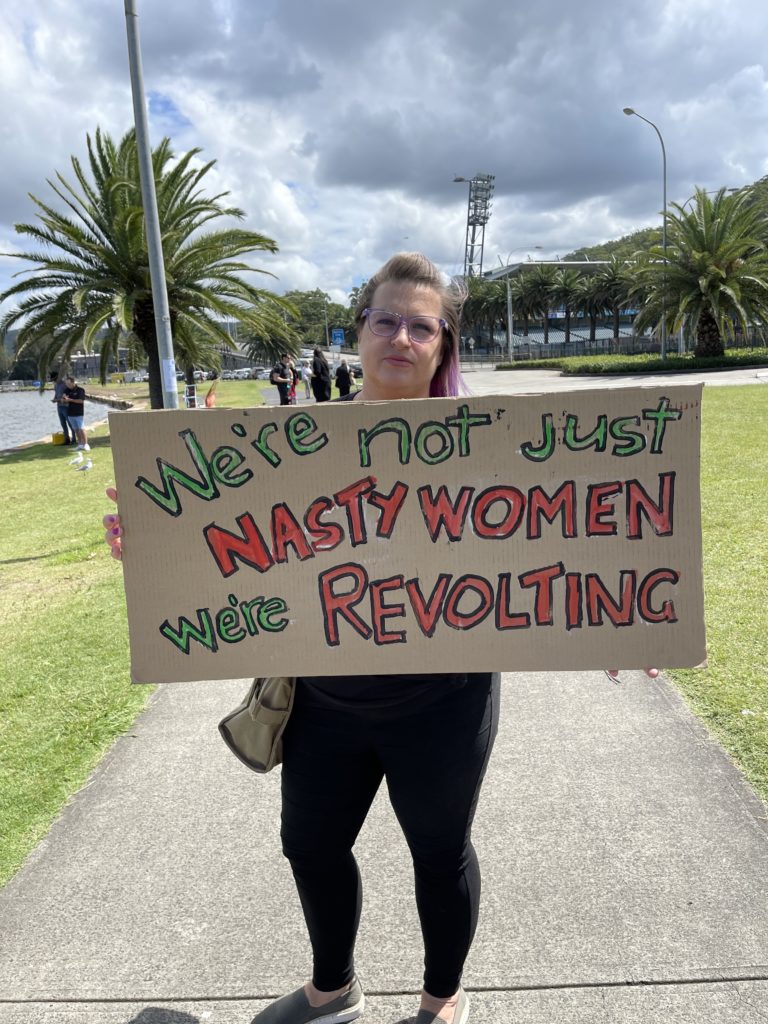 'Marchers' were asked to wear black, bring banners, and chant loud to show their support for systemic change to help resolve gendered violence.
Dozens of signs were planted across the waterfront which spoke of bodily autonomy and a woman's right to speak out about inequality and sexual abuse.
Local Mel Wojtas said she was marching to support the women who could not attend today's event.
"Currently in Australia, one woman per week, on average, loses their life as a result of gendered violence … today, I'm marching for those women who can't be with us anymore," Wojtas said.
"I'm dedicating the rest of my life to helping survivors, including myself, of sexual and gendered violence and coercive control."
"I'm very passionate about this – I'm a lived expertise consultant and I enact social change through social and public policy, as well as advocacy on the ground."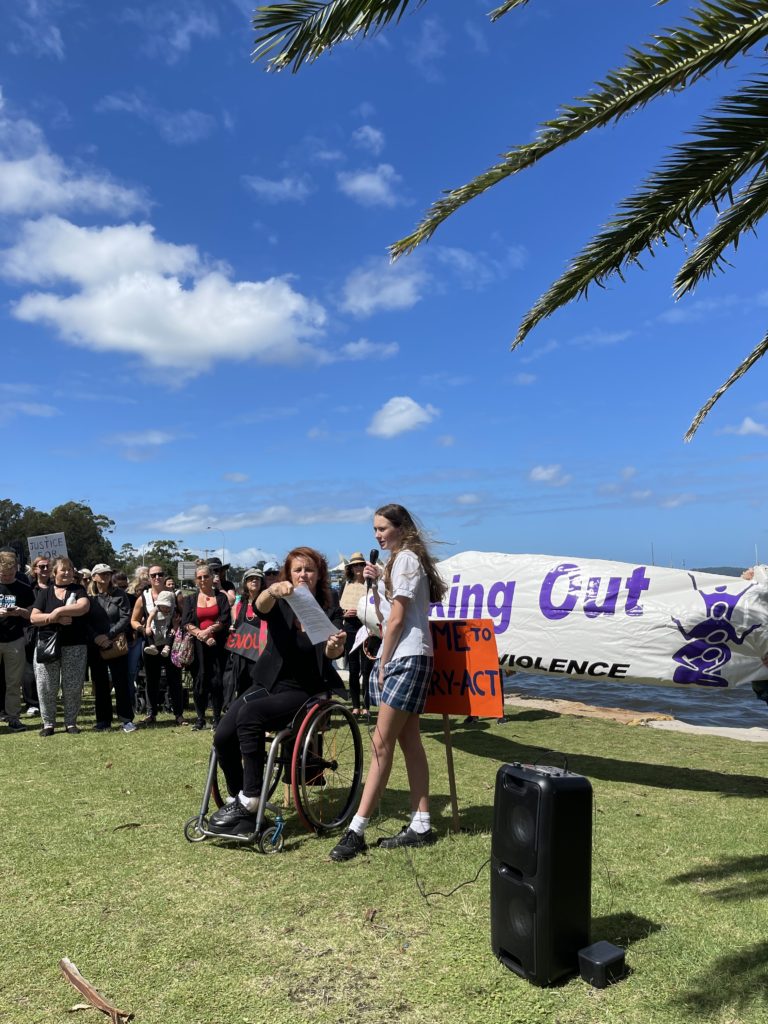 Representative of Central Coast Youth Parliament, Phoebe Sheridan, also spoke at the event, thanking the generations of women who had come before her in their fight for the right to vote.
"Its time for Generation Z's to pave the way for Generation Alpha," Sheridan said.
"We have come so far from the 1950s housewife, now we have opportunity to vote, we have rights.
"Women are still mistreated, bruised and abused, but in a different way.
"We should have respect, we should have equality, otherwise our lives will lack quality."
The 16-year-old student from St Joesph's Catholic College also spoke about her experiences of playing in Aussie Rules and Basketball and the discrimination she has faced as a young woman.
Speaker Aunty Robyn Reid, a local Aboriginal elder and Representative of Mingaletta Aboriginal & Torres Strait Islander Corporation, said it was a very important day to recognise the cause.
"We are here standing up for our sisters across Australia … no more will we not be heard, we will not be silent," Reid said.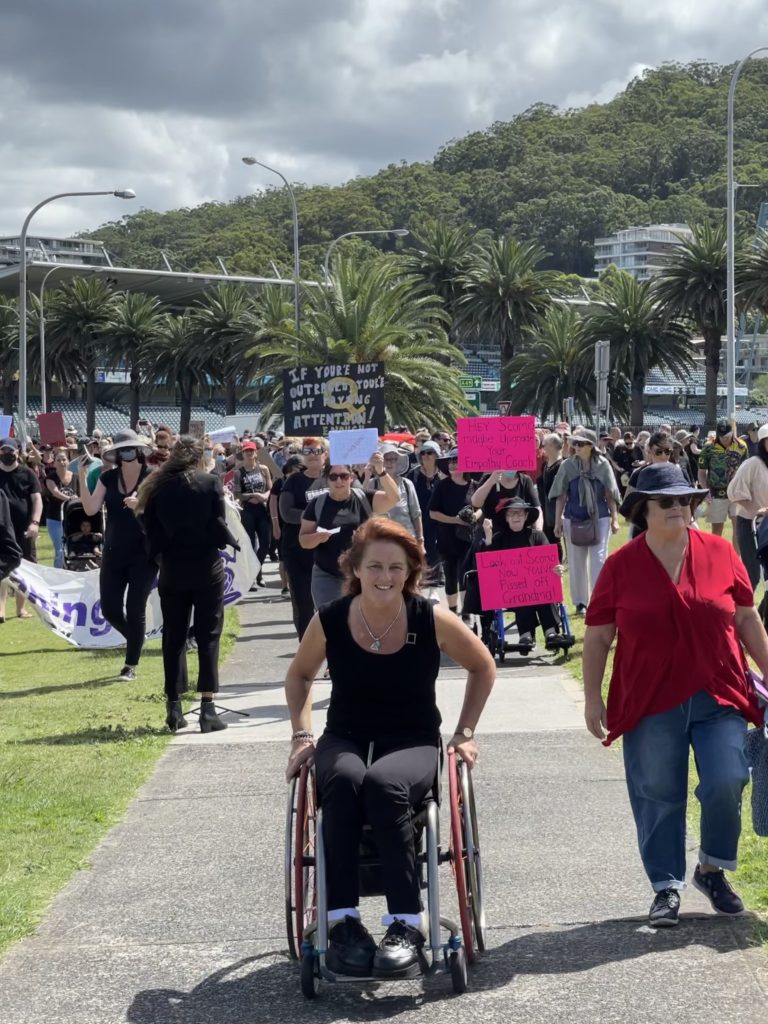 "We have a voice; we have our pride … watch us roar!"
The March4Justice movement aims to highlight the recent revelations that have arose from fresh allegations of sexual assault in Canberra, with protestors today delivering a petition calling on Scott Morrison to act against gender-based violence.
Maisy Rae