As the chill rolls in on the Coast, it can be easy for beginner gardeners to think that gardening is slowing down and there won't be much to do.
The opposite is true.
This is a time of harvest, preparation and a lot of planting.
For those of us with more experience, it is also the opportunity to change a few things up in our gardens.
March, the Time of Early Autumn
GARDEN CARE
This is the time of harvest but also of seed collection.
As summer flowering plants require dead heading, take the opportunity to save those seeds by leaving some on the plant to develop.
Other seeds can be removed from fruits and vegetables by soaking in water to remove the pulp for a few days.
Seeds should then be naturally dried and placed into paper envelops, in airtight containers and then best stored under refrigeration.
Spring annuals can also be direct sown now along with perennial plants, trees and shrubs.
Buy your spring flowering bulbs now in preparation for next month's planting season.
Perennial flowering plants like lavender and daisies and evergreen hedges such as viburnum should be pruned now, and clumping perennials like agapanthus and clivia can be divided and replanted.
Prune those climbing and rambling roses now too.
LAWNS
Now is a good time to create a new lawn by laying turf or sowing lawn seed.
In established lawns, remove dead grass so that air, water and nutrients get to the roots. This is done via scarification (raking out dead matter) and aeration which is achieved by piecing small holes into your lawn with a garden fork.
Your lawn needs a good feed now as well to strengthen it for the coming winter and slowing of growth ahead.
While there are many good commercial products out there, here is an organic homemade one you might like to try:
Drink It Up Lawn Feed
a can or stubbie of beer
1 cup of ammonia
1 cup of baby shampoo (not antibacterial)
Mix together outside to provide ventilation for yourself. Spray lightly and evenly over your lawn now and in a fortnight.
PEST AND DISEASES
Powdery mildew looks like white or grey dust on your plants.
With all the rain and the heat, we have been experiencing recently, powdery mildew is a huge issue so to treat, remove effected leaves or, to prevent, try this organic mixture:
Milky Powdery Mildew Defender
Into a spray pump bottle add 40% milk to 60% water.
Shake well and then lightly spray onto plants as a preventative.
It can be sprayed on affected plants and will help somewhat.
This time of the year is also caterpillar time so pick off or try an organic product such as Yates Caterpillar Killer.
April, the Time of Mid-Autumn
GARDEN CARE
Mulching garden beds not only helps retain water and protect the soil and plants from summer heat, it also retains nutrients and keeps soil warm during winter and protects the top soil from being blown away.
Now is the time to get mulching and ensure that yours is at least 50mm deep to be effective and keep it a few inches at least away from the stem and trunks of plants – you don't want to suffocate them or provide a breeding ground for pests and disease.
This is also a good time to get those winter vegetables planted and getting things in like leeks, cabbages, broccoli, onions, peas and turnips will provide you with plentiful homegrown yummy stock and soup ingredients.
If possible, select a bed to rest over winter and work on replenishing the soil with a green manure crop like mustard greens and the dig it in in along with compost and well-rotted manures.
Each autumn select a different bed to do this with as the practice will ensure a wonderfully healthy and thriving garden.
Perennial plants that have begun to die back need to be cut right back at this time and it is also the time to get those spring bulbs in like jonquils, daffodils, freesias, iris and lilies.
You can also plant dormant bare-rooted trees, shrubs and my favourites, roses, now.
BARE-ROOTED PLANTING
Get that plant into the ground ASAP because although it looks dead, it is just hibernating, and it does not want to be triggered by being out of the cosy safe ground.
If you really have zero time to plant the day you get them, a little trick is to 'heel' them.
Rinse off any sawdust/packing medium that the roots may of arrived in and plant into a shallow hole until you are ready to plant but you must keep the ground moist.
To plant, dig a hole according to the individual needs of the species and add some compost, a mound of soil for the roots to spread out upon and then plant so that the level of the soil is the same as it was before it was dug up.
You can see this level by looking at the stem/trunk as there will be a different in appearance.
Water in well but ease back on watering as plant settles in.
LAWNS
If you still need to mow, raise the blades of your mower as grass will weaken if cut too close at this time of the year.
Whether you are using a homemade or a commercial feed, make sure that you are following the directions closely and always water in well after feeding.
You will need to continue lightly feeding once a fortnight and if you are noticing any bare patches that are struggling, add a little seed to those areas and water in well.
PEST AND DISEASES
Fruits, leaves and any diseases materials need to be collected and disposed of straight away at any time in the garden, but autumn poses more risks with its still warm days and abundance of debris.
One such problem is black spot that can infect roses.
Clear away fallen leaves of roses and burn them or dispose in general rubbish to avoid black spot.
Earwigs are an autumn challenge as well and I've noticed them in my garden for the first time last year.
Pyrethrum is a good deterrent but use sparingly as it can kill bees as well.
May, the Time of Late Autumn
GARDEN CARE
The thickness of compost should be taken down to around 25 to 30mm so that the available sun can penetrate it.
Compost has a habit of blowing off, so top up in areas where needed.
If you haven't planted out all your spring bulbs yet, you better get a wriggle on!
Tulips can be planted towards the end of May on the Coast and you can still get good results from any of the Lily family planted now.
Gardenias and azaleas do well if planted now as do hebes.
Now is the time to move established deciduous trees and shrubs as they become dormant.
A handy way to remember this is "May is moving month".
How to Move a Big Plant?
Firstly, select a cooler day as this will ensure less chance of transplant shock.
Dig a hole twice the width of the root ball section you are planting and deeper than required for that root ball section.
Mound up some soil in the bottom with well-rotted manure and compost and water the hole well.
Cut a circle around the shrub/tree with a sharp spade around the root ball as large as you can manage to move.
Water the root ball in place before lifting and allow to drain over an hour.
Lift the root ball and hold together with a tarp or sheeting so that the soil and roots don't fall apart.
Move to your new hole and plant, with the soil and roots in tack, to the exact same depth as before.
Backfill and then water and ensure the plant surrounding soil is kept moist over the coming month.
PEST AND DISEASES
Snails and slugs love your garden a little too much at this time of the year so get in first with organic baits and traps.
TIME TO GET YOUR HANDS DIRTY THIS WEEK
Pumpkins should be getting close to harvest so get them off the vine and lay out in a protected spot in the sun.
This enables the skin to firm up so you can store for longer if need be.
As basil is starting to look leggy and lose its colour, now is the time to pick and dry.
Some such as parsley, coriander, oregano, rosemary and thyme as well as basil can be washed, dried, chopped up and frozen in airtight bags very successfully.
Feed your soil! It has been working hard over summer and all this rain is washing away nutrients so compost, add worm castings, worm tea and fish and seaweed solutions do a great job of pepping up plants.
You could plant: Asian greens, beetroot, broccoli, brussels sprouts, cabbages, carrots, cauliflower, celery, chicory, cress, endive, lettuce, mustard, parsnips, climbing and dwarf peas, radish, spring onions, silverbeet, spinach, swede, turnip, calendula, cornflower, delphinium, carnations, everlasting daisy, forget-me-not, foxglove, gypsophila, honesty, larkspur, nigella, pansies, poppies, statice, snapdragons, sweet peas, chives, coriander, garlic, marjoram, oregano, parsley, rocket.
ALL THE DIRT AROUND THE COAST THIS WEEK
Permaculture Central Coast Inc presents: Autumn Gardening on the Coast with Cheralyn Darcey
6:30pm Tuesday 16th March, Tuggerah Hall, 9 Anzac Road, Tuggerah. Cheralyn will discuss ideas on creating and supporting a thriving autumn garden while sharing fascinating botanical history of the plants of this season. For more details: www.permaculturecc.org.au
Coachwood Nursery Succulent Workshop 3pm Saturday 27th March. 900 Wisemans Ferry Road, Somersby.
Book now so you don't miss out on the next very popular. Booking essential. www.coachwoodnursery.com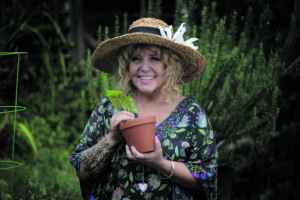 Cheralyn Darcey is a gardening author, community garden coordinator and along with Pete Little, hosts 'At Home with The Gardening Gang' 8 – 10am every Saturday on Coast FM.
Send your gardening questions, events and news to: gardeningcentralcoast@gmail.com