Dozens of disgruntled residents gathered outside Gosford Chambers ahead of Central Coast Council's February 3 meeting, protesting a proposed rate rise of 10-15 per cent.
Protesters tested Administrator Dick Persson's patience when he bravely fronted them for a conversation before he chaired the first Council meeting of the year.
Resident Marianne Hamilton, who later spoke at the Open Forum, claimed the survey which ratepayers were invited to complete was "rigged".
"It doesn't give you the option to say no rate rise or anything other than 10 or 15 per cent," she said.
"I feel like Council needs to be a lot more transparent; there are a lot of confidential meetings for example."
Another resident called for an answer on why Persson refers to ratepayers as "shareholders".
One woman asked "If we don't pay our rates, what happens?" but Persson replied "You won't win that battle".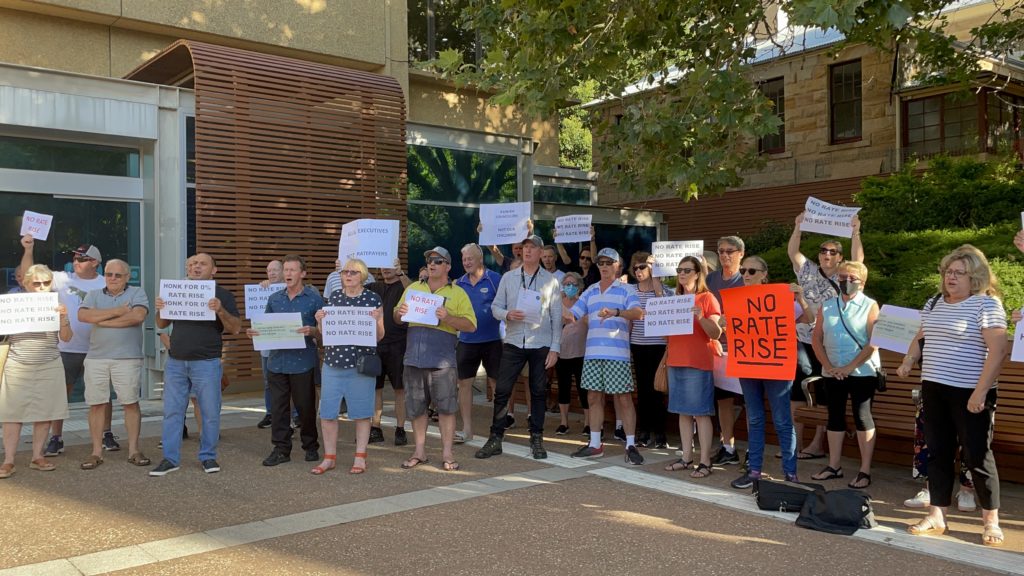 Persson faced derogatory signage, television crews and journalists who moved in to record every word.
He admitted he may have called one person a jerk when he couldn't get his answers out before people started baiting him, but said afterwards he failed his own standards of behaviour and was sorry for that.
But the Administrator did have a couple of wins.
He asked protesters who had read his interim report; only a minority put their hand up.
He asked how many realised that Wyong residents would actually on average pay $3 a week less in rates even with a 15 per cent rate increase because of the effect of rate harmonization, which would see former Gosford council residents pay on average about $7 more.
Quite a few ratepayers said they hadn't realised that.
When he finished, the crowd politely applauded him.
During the meeting itself, Persson said services such as libraries, pool hours and sporting field maintenance would be cut back if the proposed rate rise does not get IPART approval.
The deadline for the Council's submission to IPART is next Monday, February 8, and the Council indicated last year that it may need an extension for the report on why such a rise is needed.
"This need for a rate rise has come out of left field and IPART is aware of that and so is being accommodating," Persson said.
Merilyn Vale and Jacinta Counihan