The NSW Government has granted over $270,000 for improvements to Crown Land reserves and community facilities across the Central Coast, including more than $193,000 being shared among five groups in the northern suburbs.
Norah Head Lighthouse Reserve has received $94,509 towards improving access, controlling weeds and bush regeneration.
Pioneer Dairy at Tuggerah will construct a new creek crossing and repair the storage shed roof with its $42,069 allocation and Tuggerah Nature Reserve has received $30,000 to control blackberry weed.
Funding of $3,856 will go towards controlling pest rabbits on Crown Land along the Wyong River at Mardi.
Yarramalong School Community Centre has received $22,770 to establish a bushfire protection zone and development of a waterwise garden.
Other projects to receive funding are: $29,876 to control wild dogs at Mangrove Mountain Flora Reserve under the Central Coast Wild Dog Management Plan to protect domestic pets and the local community; $29,645 to upgrade the carpark and driveway at Kariong Scouts Camp; and $19,250 to paint Patonga Public Hall inside and out.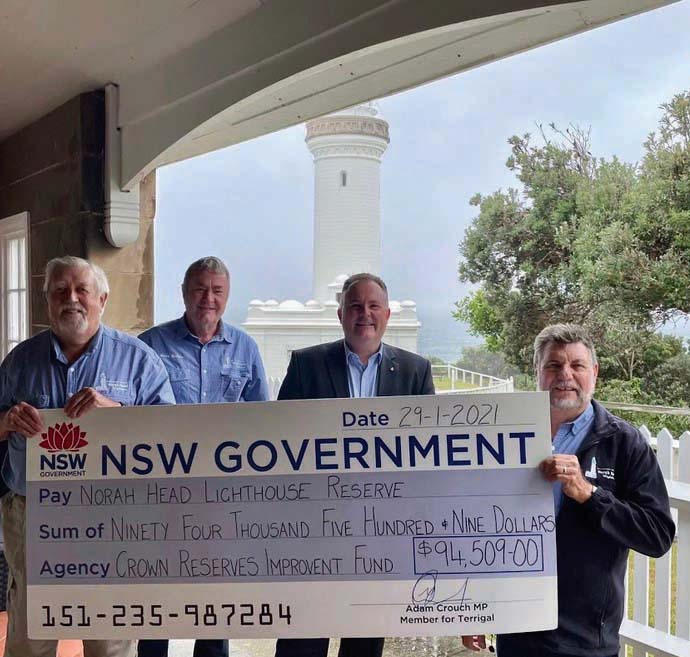 Parliamentary Secretary for Central Coast, Adam Crouch, said the Crown Reserves Improvement Fund was an annual funding boost to upgrade, improve and maintain local reserves, facilities and infrastructure.
"Importantly, this funding for Crown Land reserves also supports the local economy through more opportunities for recreation and tourism businesses," he said.
The funding to Norah Head Lighthouse Reserve will go towards building a new 175m public pathway from the lighthouse keeper's quarters down past the lighthouse tower and on to the public stairway down the cliff to Nimbin Beach.
This community pathway requires reconstructing with a disability friendly 1.8m-wide concrete path to replace the current narrow and dangerous bitumen path.
Funding will also go towards the control of invasive weeds and bush regeneration of native trees, bushes and grasses on the reserve to encourage native wildlife and reduce land erosion.
Sue Murray