SURFING –
The first event in the World Surf League's (WSL) 2021 Vissla NSW Pro Surf Series came to its conclusion on Friday, February 19, with Shelly Beach resident and newly risen young gun, Molly Picklum, taking out first place.
The Great Lakes Pro was the first Qualifying Series (QS) 1000 rated event in the Vissla series, and was hosted at Boomerang Beach over four days, beginning on Tuesday, February 16, with a round of 56 in the women's division and a round of 120 in the men's.
Throughout a week of wind, rain and a location change to Tuncurry Breakwall on Day Three, the women's competition came down to Picklum and Sunshine Coast's, Sophie McCulloch.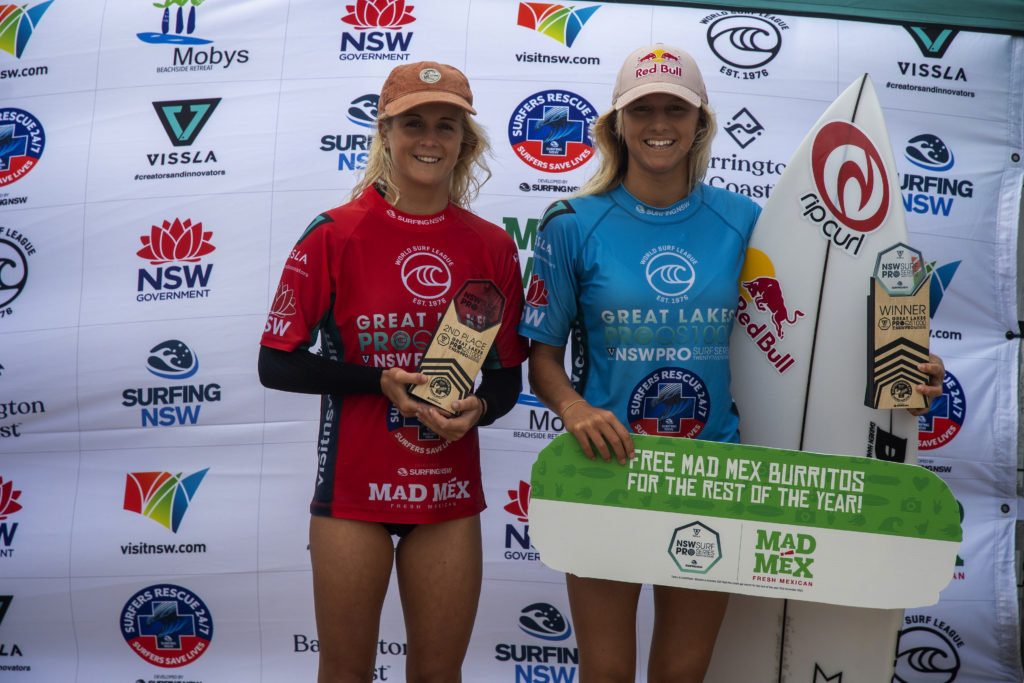 Reaching this point took no easy measure on the part of Molly, who sliced through the Round of 32 with a winning wave in the last five seconds of the matchup.
"Surfing heats are always more stressful when conditions are like this," Picklum said.
"There's no one spot to sit, or waves to look for, so there's a lot of luck involved.
"I just paddled in to find a reform and ended up getting that last one at the end."
From here, Picklum had another close encounter in the Round of 16, where surfer, India Robinson's, final 6.70 point wave placed her only 0. 80 behind, but it was Molly who proceeded to Heat Three of the Quarterfinals.
In the Quarter and Semi Finals, it was Picklum, along with McCulloch, who scored the highest totals, leading everyone to expect heavy competition for the Grand Final.
Throughout this 30 minute final, Picklum was able to hold her early lead with a 7.75 opener until her second biggest wave, a 7.25 pointer around the half-way mark, shot her up to an unbeaten 15 points.
In the end, her win was convincing, with a 5.9 point lead over McCulloch's 9.10.
"This feels amazing and something I'll remember forever," Picklum reported at the end of the contest.
"I've been dreaming of taking out a QS event since finishing runner-up in the Maroubra QS in 2018 and to win this feels like I've achieved a personal goal.
"I've been staying here with my coach Micro [Glenn Hall] and working really hard on my strategies and heat game plan while I've been here, and it really helped having him here alongside me.
"I can't wait for the rest of the series over the coming weeks."
In the Men's division, Reef Heazlewood placed first in the final against Jordan Lawler after a convincing run throughout the whole series.
In the Round of 64, Heazlewood came up against Bateau Bay local, Joel Vaughan, wherein these two moved through to the next round with respective scores of 14.66 and 10.87.
Vaughan maintained a strong bout of momentum into the Round of 32 with a score of 16.46 that was launched by a near-perfect 9.43 first wave score.
Next, in the Round of 16, Vaughan was eliminated in his second match up against Heazlewood, as well as Matt Banting, who both topped his 13.87 score with a 17.36 and 16.46.
"My game plan was to just find a wave that had a steep section on it," said Vaughan.
"My goal in this event was just to continue to improve on my comp surfing and just focus on my own surfing."
For Picklum, the win did not affect her qualification for the upcoming Challenger Series, which she already earned her place due to her performances in 2020.
The Challenger Series is itself a qualifying event for the top echelon Championship Tour, where the world's best surfers compete for the World Title.
Nonetheless, Picklum expressed her excitement at taking out her first ever WSL QS 1,000 event win.
Picklum will have more opportunities to increase her competition experience over the next couple of weeks as the Vissla Series travels along the NSW coast.
The Port Stephens Pro was held from Sunday to Tuesday, February 21 – 23, with the Mad Mex Maroubra Pro scheduled for Friday to Sunday, February 26 – 28, and the Series conclusion, the Central Coast Pro, scheduled for Avoca Beach, from Tuesday to Sunday, March 2 – 7.
Source:
Media Releases, Feb 16-19
WSL Surfing NSW