We all love more than a bit of sun and our gardens, particularly our veggie plots that would not thrive without it.
But a balanced garden needs a bit of shade as well and the best way to do that naturally is with 'Shade' trees. What is a shade tree?
It isn't a species; it is simply a tree that has thick foliage so that it provides more cooling shade than your average tree.
BEFORE YOU BRING A TREE HOME
Size matters so find out the expected minimum and maximum heights of trees.
Thinking you will just 'trim it down' is not a good plan as trees are healthiest if they are allowed to grow naturally, just like you!
The lifespan of the tree will need to be considered as well.
Some areas, such as the average home garden, are suited for faster-growing, short-lived trees while others, like verge trees and larger home gardens, are better for long term planning and planting.
This is not at all a hard and fast rule because of course you can still successfully plant a tree you hope will live on for decades in any suitable place.
How deep, wide and invasive the root system of trees will become differs across species so you will need to do a bit of research or ask your tree provider about these facts.
It is just as important to plant trees away from overhead lines as it is to steer clear of underground services and infrastructure.
Where is that shade going to drape itself?
There's an app for that!
They can work with 'Goggle Maps' – one you could explore is called 'Sun Seeker'.
An online desktop tool I have tried is 'Find My Shadow' and it will help you plot the sun's position and shadow cast on your garden and home.
There are also various physical tools to help you work these calculations out including the interesting 'Solar Pathfinder', a non-electronic device that maps the sun's path in the field.
Whether the tree is deciduous, or evergreen is also important – a deciduous tree will be perfect for areas in which you would prefer increased light and warmth in winter and shade and coolness in summer, such as a patio.
SHADE TREES
I spoke with Jennifer Wilder of GUST (Grow Urban Shade Trees), a group of Central Coast volunteers dedicated to urban greening through education and community assistance about the need for shade trees in our suburbs.
"One way they help is by lowering the temperature of their surroundings, especially verge trees which make a huge difference to tarmac temperature." Jennifer explained.
GUST will help those living on the Central Coast plant trees on their verges, ones that are most suitable for the area, and provide gardening advice on looking after them.
They have a particular focus on encouraging us to welcome more endemic natives to be grown as shade trees on the Central Coast, which makes perfect sense as these will naturally be easier to grow and help provide shelter and food for our local wildlife.
You can find GUST on Facebook: facebook.com/GUSTGrowUrbanShadeTrees
Lachlan McDonald of Ray White Point Clare gave me another angle to consider in terms of energy conservation.
"If you have solar panels on your roof, then you do not want trees shading them" he explained.
And, as much as people love shade, they also prefer living in homes with good natural light Lachlan told me.
TREES TO CONSIDER
Something Fast?
If you want your shade quick, these suggestions all grow faster than most trees.
Please note that many fast-growing trees are short-living.
Blueberry Ash (Elaiocarpus reticulatus) is a coastal beauty that does very well in frost-free areas. It can attain a height of 9m when given a rich soil that drains well and warm sunny position.
Evergreen Ash (Fraxinis griffithii), a popular parkland and street tree that grows to provide a glorious canopy to 5m in width and can attain a height of up to 8m. Easy to grow and hardy once established.
Dwarf Lemon-scented Gum (Corymbia citriodora) will give you speed of growth, that sought-after lemon fragrance and lovely flowers without the gigantic size of its 30m full-sized relative. These will only get to about 7m high and 5m wide so are much more suitable as the average garden shade tree.
Weeping Lilly Pilly (Waterhousia florinund) is one for the fans of soft hanging foliage. Due to this habit, it also makes a brilliant screening tree and can, in the right conditions for it, grow to a height of 10m but you can get 8m out of most.
Deciduous Trees?
If you are seeking that winter sun and summer shade, then here are a few likely suspects.
Red Cedar (Tonna ciliate) is a fast growing and large tree that is only suitable for those with lots of space. It is a native rainforest tree that is one of the few Australian deciduous trees and it can grow up to 60m in height.
Crepe Myrtle (Lagerstroemia indica x fauriei) fills the streets of many suburbs with its brilliant, coloured flowers. I'm a sucker for the hot pink 'Tuscarora'. They grow best in full sun with rich soil and usually grow to 8m.
Chinese Poplar (Populus simonii) is a thinner tree, and a few grown in a line can make a non-intrusive tall screen. They suit areas where width of growth may be an issue and can give your garden that delightful autumn feel as the leaves turn from green to a brilliant yellow as the season changes. They can grow to 8-12m in the right conditions, width is about 2 to 3m. A full sun position with a rich soil is best.
Something Endemic?
If you plant something that is originally from the area you live in, then you are almost guaranteed of success and a wonderfully happy and healthy plant that also contributes to regenerating the local environment.
You can contact GUST for a more defined suggestion of trees that would be happiest at your place.
Local councils, Landcare and native plant groups, and Indigenous land councils are also good contacts that can supply this information.
Here are few general Central Coast suggestions for you to consider.
Coast Wattle (Acacia sophorae) is a beautiful shrub that can grow into a small tree to 3m in sheltered positions. It has thick foliage, bright golden flower spikes and is happiest in sandy soil.
Willow Bottlebush (Callistemon salignus) has the gorgeous, yellow bird-attracting flowers and can attain a height of 5m. It has very pretty pinkish-red foliage and although the roots can be invasive, they are a good choice if you have the right position as they are drought tolerant and can handle the wetter months well.
Cheese Tree (Glochidion ferdinandi) provide food for many of our birds and is an excellent tree to consider as it will grow in most conditions, including shade and sun and in most soils. Height range is 8 to 30m depending on conditions.
Native Frangipani (Hymenosporum flavum) is not related to common frangipani. This beautiful tree will reward you will delightfully scented flowers in spring and can grow up to 8m. Although it does like soil on the richer side, it is rather tolerant of most.
HOW TO PLANT A TREE
Once you have selected your tree give it the best start in life and you will be rewarded. An old gardening saying: 'Spend three times as much on your hole as your tree' is very true!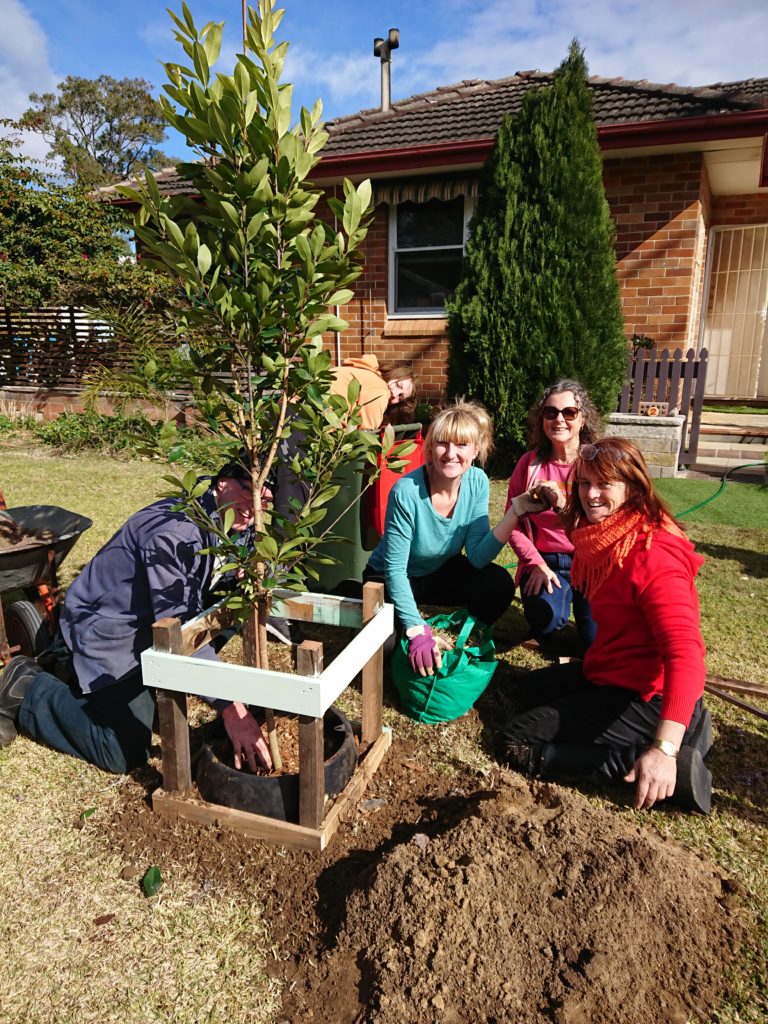 *No matter the soil types your tree needs, it will require good drainage. Get yours up to scratch by adding compost to heavier clay soils.
*Dig the hole three times the width of the pot.
*Enrich the hole depending on your tree species with compost/fertiliser.
*Pop your pot into a larger container of water until bubbles cease.
*Slide tree out of pot and plant to the advised depth for your species.
*Ensure your tree is straight. Install stake/s if suggested but be careful to use flexible ties and do not tie too tightly or you will damage tree and inhibit natural growth – trees need to be secure, but they must be able to flex in the wind.
*Fill in the hole and press down soil firmly to remove air pockets.
*Water deeply to encourage deep and stabilising root growth. Most newly planted trees need to have their soil kept moist until they are established (a few weeks) but check with your species requirements.
*Depending again on your tree type, additional liquid fertiliser may be added.
*Mulch is vital in our climate. A mulch will regulate the soil temperature, retain water and eventually break down to provide nutrients. Mulch should be kept at least 10cm away from the trunk of the tree and by about 6cm thick.
ON THE GARDEN GRAPVINE
Long Jetty Produce Swap, Sat 6th Feb, 10 – 11am. Tuggerah Lakes Branch of CWA NSW – share your excess (chemical free) edible produce from your garden with like-minded locals and make new friends.
Gong Fu Cha & Tea Culture, Sat 6th Feb, 4:30 – 6:30pm. Like Minds, Avoca Beach, NSW – enjoy the story of Camellia sinensis as Certified Tea Master Mafalda Moutinho shares her passion for traditional Gong fu cha blending and tea culture in this social, educational workshop. Details and bookings: https://casadecha.com.au
Bonsai Workshop and Demonstration Day, Sun 14 Feb, 9 – 4pm. Mingara Recreation Club – Central Coast Bonsai Club invites you to join a fun filled day with Sam Thompson: www.centralcoastbonsai.com.au
THIS WEEK YOU COULD PLANT
bush beans, dwarf beans, beetroot, carrot, chives, cucumber, endive, leek, marrow, pak choy, turnip, anise, bergamot, burdock, calendula, amaranth, canterbury bells, nigella, pansies, snapdragons, violas.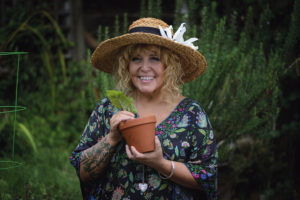 Cheralyn Darcey is a gardening author, community garden coordinator and along with Pete Little, hosts 'At Home with The Gardening Gang' 8 – 10am every Saturday on CoastFM96.3
a live home and gardening lifestyle radio show: www.coastfmgardeninggang.com
Send your gardening questions, events and news to: gardeningcentralcoast@gmail.com