It took all night on Sunday, January 10, for 45 firefighters and more than a dozen brigades to bring a blaze under control at Buttonderry Waste Management Facility on Hue Hue Rd, Jilliby.
Large amounts of smoke coming from the tip alerted local fire brigades who contacted Central Coast Council's after-hours number at about 7pm, requesting access to Buttonderry tip to investigate.
Central Coast Rural Fire Service Operations Officer, Inspector Frank Overton, said crews worked until 4am the following morning to extinguish the fire.
"The area alight was about 100m by 10m in some very thick rubbish," he said.
"We don't know what caused the fire, however, there are no suspicious circumstances."
Initial investigations show that the likely cause was a combustible item, such as a ruptured lithium battery or camp stove gas cannister, that was delivered by a truck at the end of the day containing waste from recently serviced public litter bins, according to a Council spokesperson.
Fire crews had to work in breathing apparatus throughout the night because there was a lot of smoke and toxic fumes.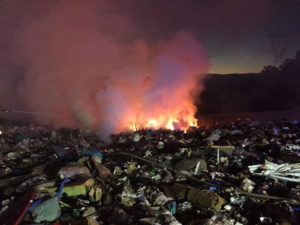 Rural Fire Brigades from Wyee, Wyee Point, Warnervale, Dooralong, Wadalba, Peninsula, Wallarah, Cameron Park, Charmhaven, Wyong Operational Support Brigade and Fire and Rescue NSW crews all worked through the night.
"It was very labour intensive work and a very busy night to say the least," Inspector Overton said.
"Specialist bulk water tankers from Kariong came in with extra water supplies to contain the fire.
"Council supplied three of their earthmoving machines to move the rubbish so we could get to it and wet it down and to remove burning debris from the tip face," Inspector Overton said.
The Buttonderry fire came just hours after another tip fire at Woy Woy where a stockpile of mattresses caught on fire through spontaneous combustion.
Fire crews brought that fire under control in a matter of hours.
A Council spokesperson said small fires occurring at the tips are usually managed and extinguished by trained staff.
This is the first time that fires have occurred at both sites simultaneously and due to the time of the fires, external assistance was required.
Full reports including any recommendations will be prepared and submitted to the Environment Protection Authority within seven days, in accordance with Council's licences.
Council says it highlights the importance of correct disposal of hazardous materials such as batteries and fluorescent lights which contain harmful elements such as mercury, alkaline and lead acid, which can cause major environmental hazards and can also pose health risks if they end up in landfill.
Council has a free recycling program for residents to bring in their unwanted batteries, light globes and fluorescent tubes to nominated collection points.
Sue Murray