2020 was a huge year for the Coast – we survived bushfires, floods, a global pandemic and the financial collapse of Central Coast Council, which saw councillors suspended and an Administrator appointed by the State Government.
As we launch into what we all hope will be a brighter year, here's a look back at the year that was…
January
Central Coast Mayor Lisa Matthews launched the year with a promise that she would "get back to business" and try to eliminate political grandstanding from Council meetings.
Meanwhile, the Coast began to regenerate following the Three Mile and Gospers Mountain fires, which had devastated areas of the region over November, December and early January.
Opposition emerged to a proposed development of 220 manufactured homes on the old Bangaloe Stud site at Avoca and the area lost one of its greatest businessmen with the passing of Central Coast Leagues Club founder Ray Maher.
Plans were announced for the $300M Gosford Gateway development opposite the railway station in Mann St.
The region moved from bushfire alert to flooding, when major deluges forced the Australian Reptile Park to close its gates for the first time in 13 years and Davistown Progress Association lost the roof from its community hall.
A community campaign spearheaded by Save Our Coast scored a major win when Advent Energy announced it would abandon plans to conduct 3D seismic testing off coastal waters and preliminary work was announced on long-awaited railway station upgrades at Narara, Niagara Park and Lisarow.
As the region celebrated six Order of Australia recipients in the Australia Day honours list, the $250 regional seniors travel car was announced.
February
On February 4, a petition bearing 60,000 signatures was presented to Federal Parliament calling for an end to PEP 11 as Gosford's Father Rod Bower joined religious leaders of all faiths to call for action on climate change at the People's Climate Assembly.
Opposition to the Choice Living Avoca development hotted up, with residents turning out in droves to protest it.
Despite heavy rains, councillor Greg Best was pushing hard for stricter water restrictions on the Coast.
Ironically, a state of natural disaster was declared for the region the following week as continuing torrential rain saw dozens of roads and properties go underwater. thousands of residents without power and emergency services stretched to the limit.
Portaloos had to be imported to Davistown as a clogged sewage system saw hundreds of residents unable to use their toilets for days and two councillors called for the resignation of Mayor Lisa Matthews in the wake of criticism over handling of flooding in the Tuggerah Lakes area.
Tempers flared in State parliament as MPs Adam Crouch (Terrigal) and David Mehan (The Entrance) clashed over the handling of the Tuggerah Lakes flooding.
Community activist Glenys Ray called for urgent action on a major weed infestation in the Springfield wetlands.
Councillors voted to move all future meeting to the Wyong chambers following security concerns at the Gosford chambers.
March
Residents in suburbs from Point Clare to Killcare Heights were concerned by continuing brown water coming from their taps and Gosford waterfront was in the news, with Councillor Bruce McLachlan calling for a marina, restaurant and fast ferry terminal to revitalise the area.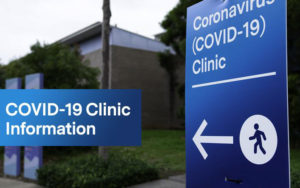 COVID-19 began to hit our headlines, with the onset of the great toilet paper and hand sanitiser shortage.
The Community Environment Network (CEN) called for a moratorium on all developments which could threaten koala habitat on the Coast and Central Coast Commuters Association called for action on the $30M pledged prior to the Federal election for commuter carparking at Gosford, suggesting more levels on the existing commuter carpark was the answer.
As the World Health Organisation upgraded the status of COVID-19 to pandemic, the State Government began to urge us all to wash our hands regularly, sneeze into our elbows and stay home when ill.
By late March, with 38 cases of COVID, the Central Coast, along with the rest of state, faced tough lockdown restrictions as pubs, clubs, restaurants, food courts and other meeting venues shut down, leaving hundreds of Coasties out of work.
April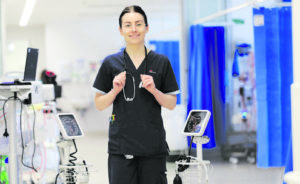 With social gatherings restricted to just two, indications were that the virus was under control in the region, with Central Coast Local Health District reporting 104 cases on the Coast and no deaths.
As the $150M Central Coast Quarter development proposed for the south end of Mann St proceeded to assessment stage CEN lodged a submission objecting to the height and scale of the proposal.
Council announced a Task Force to be run in conjunction with local business organisations to counter the economic effects of the virus as Coasties prepared for a stay-at-home Easter.
Woy Woy Leagues Club announced its permanent closure as calls went out for more COVID testing on the Coast.
As JobKeeper and JobSeeker allowances came into play, the Coast prepared for an Anzac Day like no other before it, with residents planning socially distanced street gatherings.
Work on the $20M revamp of the Kincumber roundabout was completed and the region recorded its first COVID-related death.
A slightly scaled back proposal for a $345M redevelopment of the Kibbleplex site by the Lederer Group advanced to the next stage of the approval process.
May
Testing on the new Intercity Fleet ramped up on the Coast rail network and a major upgrade was announced for the clifftop walk in Bouddi National Park.
Council voted to source a $50M loan and support a Local Planning Panel for the region under pressure from the State Government.
Central Coast Commuters Association expressed concerns over how social distancing would be maintained on public transport, with many preparing to return to the office.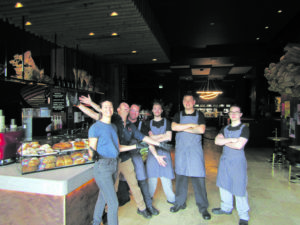 Business NSW joined with local Chambers of Commerce to launch a Bigger Backyard buy local campaign in an effort to counter the economic effects of COVID-19.
Public schools resumed face to face teaching on May 25 and the future of TAFE on the Coast came under the spotlight amid fears it could be privatised.
A study into carparking on the Coast offered three possible solution to the parking crisis in Gosford, with the preferred option being for a multi storey-carpark adjacent to Central Coast Stadium and Davistown Progress Association agitated for completion on the shared pathway system in the township.
Storms and high tides once more threatened Davistown and teachers protested a virtual 12-month wage freeze for public service workers.
June
As work continued on Northconnex, controversy over the preferred option for a carpark adjacent to Central Coast Stadium ramped up.
The Black Lives Matter movement gained huge support on the Coast and plans were announced for a walking trail around Terrigal Lagoon.
Seven locals honoured in the Queen's Birthday honours list were recognised and traffic lights were welcomed at a problem intersection at Point Clare.
The PACER program was rolled out on the Coast, with mental health professionals teaming up with police to de-escalate certain situations.
Copacabana residents were upset over proposed tree removals to make way for the Susan Fahey park redevelopment.
Opposition began to emerge to a proposed 50-home development on environmentally sensitive land at Kariong by the Darkinjung Local Aboriginal Land Council.
Council voted to increaser rates by 2.6 per cent and the feud over mountain bike riding on COSS lands intensified.
Sadly, long-time civic leader Malcolm Brooks passed away.
July
The National Parks and Wildlife Service called for more women to join its ranks and Council launched its new digital program to fast-track processing of development applications.
Local social housing providers received $4M to help tackle homelessness and demolition began on the corner of Mann and Donnison Sts to make way for the multi-tower Archibald development.
The first round of a joint State and Federal initiative to fix road trouble spots on the Coast was launched and the Elsie's Retreat committee celebrated the start of work on the region's first dedicated palliative care unit at Gosford hospital.
The Kooloweong boat ramp and carpark upgrade was completed, Davistown residents called for urgent drain and sewage works and councillors awarded themselves a pay rise while forging ahead with planning for a regional library in Gosford.
Heavy storms and king tides ravaged the Wamberal waterfront, with multiple houses at risk of falling into the see and dozens of residents evacuated.
A Task Force was subsequently established by the State government to assist Council in addressing the Wamberal erosion debacle.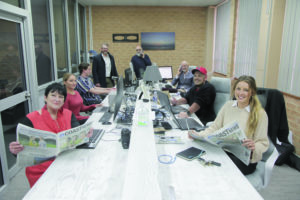 Council flagged increased fees and charges, a halt to come capital works and more borrowing as it attempted to navigate a rising deficit in the face of COVID-19 and amalgamation costs.
Coast Community News celebrated its 250th edition.
August
A booby trap suspected of targeting mountain bike riders was found in Bouddi National Park.
Council rejected a staff recommendation to cease negotiations on buying back the Davistown wetlands from private developers and recommended refusal of the controversial Bangaloe Stud site redevelopment which was subsequently knocked back by the Local Planning Panel.
Temporary mitigation works were completed at Wamberal, with attention turning to long-term solutions for ongoing erosion.
Several residents narrowly escaped injury when scaffolding at the corner of Mann and Donnison Sts, Gosford, collapsed.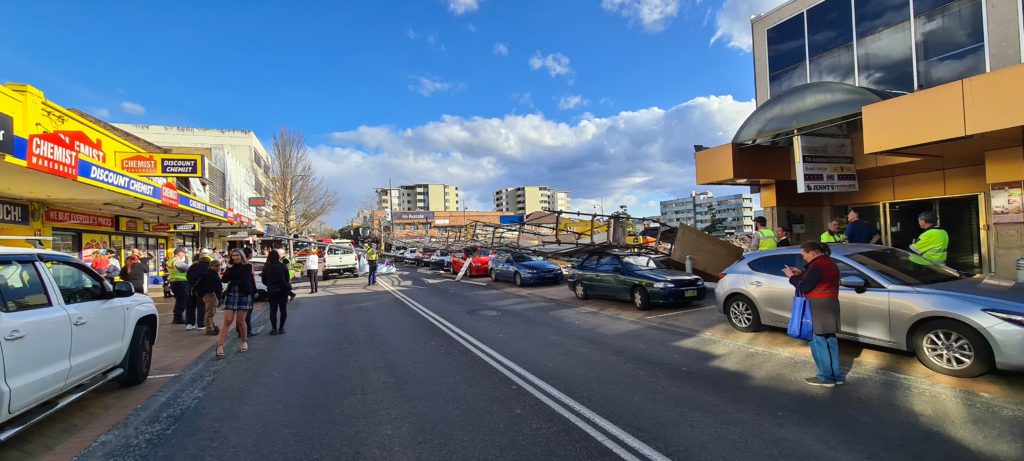 Construction began on the long-awaited Woy Woy wharf redevelopment.
More Coast businesses repurposed their operations in the face of ongoing COVID concerns as another confirmed COVID case in the region caused CCLHD to call for more vigilance.
Approval was given by the Independent Planning Commission for a slightly scaled back Central Coast quarter development in Mann St and a rezoning proposal was submitted to Council to pave the way for the redevelopment of the Old Sydney town site.
September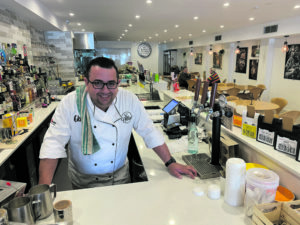 New cafes began to breathe life back into the Gosford CBD while Gosford RSL put its redevelopment plans on hold.
The Greens advocated planned retreat as the best solution for Wamberal's erosion woes.
The Dolphin Project called for an end to shark netting along the Coast.
Councillors outlined what they considered to be their major achievements in the three years since they were elected as the Prime Minister popped in for a quick visit.
Concerned residents began agitating to save the Empire Bay marina, as Crown Lands considered demolishing the decrepit heritage structure.
With the Mariners up for sale, Council resolved to hold crisis meetings to keep the A-League club on the Coast.
The Local Planning Panel gave the green light to the West Gosford shopping centre redevelopment and Member for Gosford Liesl Tesch urged residents to have their say on a major recycling plant proposed for Somersby.
October
The long-awaited Terrigal Water Audit went public while work on the $10M revamp of Leagues Club Field progressed.
A shortage of rental properties in the region was highlighted.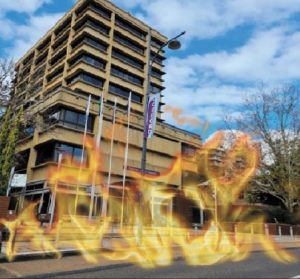 Council announced it was facing a serious liquidity issues and an $89M deficit and the State Government promised to appoint a financial expert to resolve the problem.
The State Government refused Council permission to access restricted funds to bail it out of its financial hole.
Pressure on the joint Authority to cancel PEP 11 heated up and submissions closed on the Gateway development.
Council was given seven days to convince the State Government it should not be suspended in the face of its financial problems as the Premier directed the Greater Sydney Commission to come up with a strategy to attract more jobs to the region.
Meanwhile, Council adopted a 100 Day Economic Recovery Plan.
Northconnex opened.
November
Local Government Minister Shelley Hancock suspended the remaining 13 councillors and appointed interim Administrator Dick Persson for a three-month term.
Assisted by acting CEO Rik Hart, he was tasked with probing Council's financial disaster and coming up with solutions and undertook to provide a preliminary report within 30 days.
Coast beaches were rated well for water quality and a new fire station opened at Kariong.
A proposal for a six-tower development at the northern end of Mann St, Gosford, was rejected by the Regional Planning Panel and there were signs of renewed business confidence in the region.
Administrator Dick Persson announced Council would borrow $50M (in addition to a $50M loan taken out in May) and sell $30M in assets to mitigate its financial situation but promised COSS lands would remain untouched.
Long-term rental accommodation became increasingly rare in the region, as Airbnb bookings rose and Labor called on the State Government to fast-track urgent repairs to social housing properties in the region.
The State Government handed over almost $1M for emergency Wamberal erosion mitigation works but none for similar works at North Entrance.
Council announced Level 1 water restrictions would be lifted in December as dam levels continued to rise.
A further easing of social restrictions was announced in the lead-up to Christmas.
December
It was revealed Council had an overall debt of $565M with a $115M deficit this year alone as Administrator Dick Persson announced he would seek a three-month extension to his original three-month term.
The contract of CEO Gary Murphy was terminated and Persson announced more than 200 jobs would go at Council, with the first list of assets to be sold made public.
Five different youth organisations said farewell to the Parkside building as they vacated to make way for the Regional Library, despite the fact the library was included in a list of capital works to be deferred saving $65M as Council continues to mitigate its financial crisis.
There were signs of wildlife and flora returning to Ironbark Reserve at Mangrove Mountain and indigenous groups joined the opposition to a DLALC development at Kariong.
A proposed rate rise of 10 per cent blew out to 15 per cent as Administrator Dick Persson announced he would apply to IPART for permission to up the ante.
With submissions closing on three suggested options for the Winney Bay clifftop walk, the Save Winney Bay Reserve group called for a fourth less intrusive option.
Coast Shelter called for a holistic approach led by government to address homelessness, with a new report indicating the problem will rise by more than 20 per cent on the Central Coast over the next four years.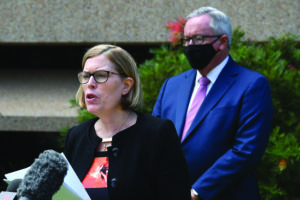 Council announced it would apply for a $100M loan, bringing the total of loans taken in 2020 by Council to $200M.
We headed into Christmas with news of a positive COVID case on the Coast linked to the Northern Beaches cluster and virus fragments having been found at the Kincumber sewage treatment plant.
Terry Collins