Multiple chunks of gooey goodness have made their way to Terrigal, with two entrepreneurs opening a New York-style cookie bar right in the heart of the suburb called Loaded Dough.
Partners, Kasinda Croser and Mitch Connor, launched the store on December 5, selling over 1000 cookies, cookie cakes, and cookie pizzas.
Connor said they originally opened a shop in Wyong but closed it down to make way for running the Terrigal store.
"The opening went really well," Connor said.
"It was exactly what we thought it was going to be like, really fun, and we were happy in how it turned out.
"Terrigal is really good as there are a lot of people around.
"We want to try open on Thursdays, Fridays, Saturdays, and Sundays with a day and night shift, because the nightlife here is good."
Both Connor and Croser are fitness enthusiasts, but said the idea to make and sell indulgent cookies came about one weekend when they were having their 'cheat day'.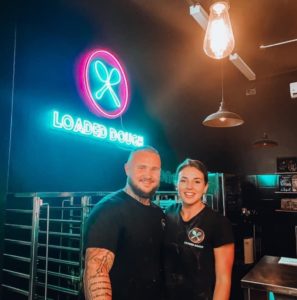 "We both like fitness, but on the weekends, we also like to eat bad and make our own food," Connor said.
"So, one weekend, we started making cookies and posted it up on Instagram.
"Heaps of my mates kept asking me where I got them, and I said I made them.
"They were asking if I would make them some, which I did, and everyone seemed to like them.
"I started an Instagram page, and it grew from there.
"We both had to leave our jobs about six weeks after starting the business."
The business officially started on July 1, which Connor said was mid-COVID.
"Our shop did not seem to be affected by the restrictions too much as it was not really a restaurant-style store," he said.
"People came by, picked up some cookies, and then left."
Connor's favourite flavours are Caramilk and Nutella, but he said there are plenty of other flavours to choose from, with vegan (and hopefully gluten-free) on the way.
Jacinta Counihan