A Woongarrah family has been given the gift of mobility courtesy of the Charmhaven Lions Club.
It's taken three long years, but on November 24, the Pyne Family was formally presented with their new NDIS modified Kia Carnival by Lions members at Wyong Leagues Club.
The gift came about after Joanne Pyne reached out to the Lions in 2017 with a request for help.
Her daughter, Jasmin, lives with Quadriplegic Cerebral Palsy, and the family was desperate to ensure that they could continue to meet her transport needs by purchasing a car that could be modified, under the NDIS, to support her wheelchair usage.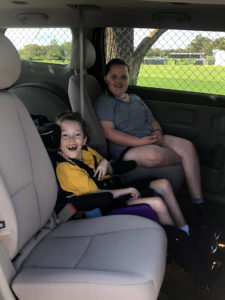 But with the NDIS only covering the modification of brand new vehicles, the family turned to the Lions for assistance in raising the $38,000 they needed.
"With Jasmin growing up, we knew we wouldn't be able to keep lifting her in and out of the car by ourselves forever, but we also knew that there was no way we could afford a $40,000 car.
"This is why I put the feelers out seeing if anyone in the community was willing to help," Pyne explained.
Deciding it was a cause worthy of their support, the Lions began fundraising on behalf of the Pyne's, with members securing $15,000 in funding through the Australian Lions Foundation and a further $16,000 through a Trivia Night fundraiser coordinated in partnership by the Lions, Wiseberry Real Estate Charmhaven and Wyong Leagues Club.
Leaving the Lions with just over $7000 to reach their fundraising goal, Club Secretary, Di Louis, said most of the remaining funds were raised from members' Return and Earn project and through donations received from other Lions Clubs.
"In March 2019, we unofficially handed over the Kia Carnival to the Pyne's who were then put on the NDIS waiting list for modifications.
"Finally, in early September this year, it was collected and taken to the NDIS and has been returned to the family ready for use," Louis said.
According to Pyne, the modifications include a ramp and custom interior seating and safety mechanisms, that had already drastically improved the lives of her family.
"Before we got the car, we had to lift Jasmin in and out after every car trip and use a special stroller to move her around on trips where the wheelchair was too cumbersome, but now we can take Jasmin and her chair everywhere.
"Jasmin is 11 now and while she's still tiny, she is going to get older, so we see this as a lifelong investment and we're so grateful and appreciative for all of the help we received.
"I really can't put into words how much this means to my family," Pyne said.
Dilon Luke