One thing that wasn't cancelled in 2020 was gardening.
And those of us who already enjoy this earthy pursuit have noticed our numbers swell this year as neighbours, friends and family all picked up the trowel and rake.
So, if you are out gift hunting at the moment, I'm more than sure there is now a gardener, or a garden-curious loved-one, in your life that would love something from my gardening gift guide.
For the 'I Want to Start Gardening' Gardener:
A gardening journal is an excellent present for those beginning their steps into the botanical world – ideally, look for one with gardening tips in it.
And everyone should have a good gardening hat – one that suits their style, or offers sun protection, from a wide brim straw hat (my favourite) to a bucket hat.
Finally, if they can't get enough gardening knowledge there's always the option of a magazine subscription.
Try 'Australian Geographic Gardening School', by Simon Akeroyd and Ross Bayton.
It is brilliant for those venturing into the garden for the first time or wanting to renew their skills.
For the 'Houseplants are Everything' Gardener:
Houseplant people cannot get enough pots.
Just make sure they have drainage holes and for goodness sake, make sure the pots match their decor perfectly.
Is this houseplant person very special in your life?
Then a larger cactus might be on their wish list (and easier than rare plants to track down this close to the big day).
Alternatively, you could encourage your indoor plant guru to start propagation of their prized treasures.
There are ready made kits out there or you could make up a kit yourself from supplies … or you could try giving them my book! 'The Language of Houseplants' (Cheralyn Darcey).
I also really love The Royal Horticultural Society's 'Practical Houseplant Book', by Fran Bailey and Zia Allaway with its 175 in-depth plant profiles and lots of indoor growing tips.
For the 'I'm Saving the Planet' Gardener:
A basket weaving class or online course is a wonderful idea for those who are crafty eco-warriors.
Using up the fallen botanical materials in the garden to create something new should also appeal to them.
I can also personally recommend any course from www.craftschooloz.com
Native beehives are a must to protect and encourage our precious naïve bees.
They are readily available from most garden centres and you might like to create you own for your nature-passionate friend.
Instructions can easiest be found online, search: DIY native beehive.
And finally … a paper pot making kit.
These consist of two wooden parts that help twist newspapers into a small pot.
Once seeds germinate and the seedling is established, you simply plant the whole pot.
'Milkwood' by Kristen Bradley and Nick Ritar is probably one of the more recent and inspiring works for those wishing to garden with more care of the earth.
For the 'I Kill Everything but I Want a Garden' Gardener:
Try an indoor smart garden – these can be found in lots of sizes and are made up of a hydroponic growing system that includes a light, pot and usually the growing medium and nutrients.
A beautiful watering can may be a subtle hint, but it might just give your brown-thumbed, but garden-interested mate, more motivation to keep their plants watered.
Wait, aren't you a gardening guru? Then why not gift them your time.
Make up a gift certificate for one-on-one gardening lessons from you.
If not, Top 50 Edible Plants and How Not to Kill Them' by Angie Thomas is a Yates gardening guide just for them!
For the 'Foodie-Master Chef' Gardener:
Harvesting baskets are such lovely and handy items and make practical gifts as well.
They can be found in lots of materials and sizes.
Look for one that is perhaps a little sturdier for the kitchen gardener.
If they don't have one, a raised garden bed may just be the ticket to creating a kitchen garden.
With so many styles out there, I'm sure you will find one perfect to get them growing.
Although I've used lots of different containers to hold my kitchen scraps while they are awaiting their journey to the compost bin, I am a fan of the purpose-built compost bucket. Most have a charcoal filter and inner removable bucket.
You might also want to consider an indoor compost bin for those with limited space.
For the reader, 'Matthew Bigg's Complete Book of Vegetables in Australia' describes itself as the definitive sourcebook for growing, harvesting and cooking vegetables and it is right.
For the 'Mystical and Meditative' Gardener:
How about a tinkling set of wind chimes?
Soothing and beautiful, they can be found in endless designs to match the taste of your gardening friend and their space.
A sundial would be a brilliant gift and can be found in all sorts of sizes.
Don't worry about how it works, I'm sure your magical friend will know how or where to find that information.
Or there's always a Zen garden.
Those Japanese-inspired trays filled with sand, stones and a rake are much appreciated by the mind, body, spirit focused.
'The Art of Mindful Gardening' by Ark Redwood is a lovely title that explores the healing and mediative aspects of gardening.
Another book I think this type of gardener would enjoy is 'The Garden Apothecary' by Reece Carter which is a fantastic resource for those wanting to create their own herbal remedies.
For the 'Art and Craft is Life' Gardener:
One of the best things I found this year was a set of metal alphabet stamps so I could create my own metal garden label stakes.
They can be found in hardware and craft stores.
It might be getting a bit late to order this but have a look for custom stamp creators or if you are arty/craft as well, get the carving tools out and create a personalised stamp reading something like 'from the garden of …'
A plain terracotta pot and a selection of suitable art materials such as weather-proof paints or markers to make their own garden art masterpiece is another idea.
'The Laws Guide to Nature Drawing and Journaling' by John Muir Laws is a drawing course in a book and one that has been the foundation of many modern botanical artists.
For the 'I'm not sure why I'm not on Gardening Australia yet' Gardener:
There are lots of very gorgeous gardening labelling stakes to be found in metals, ceramics and weather-proof timbers.
And have I told you lately how much I love gardening hand balms and creams?
Well for the gardening obsessed in your life this is a very thoughtful gift.
My favourites include Aveeno Intensive Relief Hand Cream, L'Occitane Intensive Hand Balm and The Body Shop Hemp Hand Cream.
Most of us have stopped using reusable coffee cups this year due to COVID but you know who needs them? Gardeners! We don't want bugs in our drinks so look for a garden-themed lidded mug, cup or water bottle.
A great read for the holidays for the master gardener is 'Banks' by Grantlee Kieza.
It is a new biography that any garden and plant lover will appreciate.
For the 'I may be young, but I can do it' Gardener:
Children love inviting friendly creatures into the garden, so a bird house is a lovely idea.
Buy a ready-made one or better yet one they can make or decorate themselves.
Dress up is also loved by most children so a gardening apron and gloves are not only essential to protect the little ones, but will also bring a sense of play time and excitement to gardening.
Oh, and Pets! The best gardening pets are worms and if you gift a child their own worm farm, they will love you forever and so will their garden.
'Easy Peasy Gardening for Kids', by Kirsten Bradley and illustrated by Aitch is a beautiful introduction to gardening for children that not only explains how to garden but also shares lots of practical and fun activities.
A few other ideas to suit everyone…
A wishing well, seed raising kit, heirloom seeds, a flower press, a bird bath, a garden gnome or garden sculpture, a kneeling pad, gardening boots, a mushroom growing kit, tool basket or trug, and if you really can't decide then nothing says 'I love you' like a gift card from one of your local gardening centres.
UPCOMING GARDEN EVENTS:
SWAMP (Sustainable Wetlands Agricultural Makers Project) Welcome and Induction Morning: Sunday 13th December 9am to 11am. Located at the Central Coast Wetlands – Pioneer Dairy this new community garden/farm and food project is opening the gate so you can see what is happening and perhaps join in as volunteer roles and opportunities are now available. Bookings are free for details and to book: www.swampcentralcoast.com.au
Coachwood Nursery Open Days 18,19 December 9am to 3pm. Free Entry. We also have regular workshops for $49. Succulent & herbal teas workshops this December. Plants start at $2 or, 12 for $20, or 33 for $50. www.coachwoodnursery.com
New Gardening and Food Playgroup: enrolling now for 2021. All the details can be found at their website:
Community Gardening Network: a fantastic resource found on Facebook that connects and supports all community gardens on the Central Coast: www.facebook.com/CentralCoastCommunityGardenNetwork
THIS WEEK YOU COULD PLANT:
beetroot, carrots, chilli, silver beet, lettuce, leek, beans, corn, cucumber, pumpkin, zucchini, parsley, pyrethrum, lemongrass, mint, nasturtium, verbena, petunias, marigolds, phlox, celosia.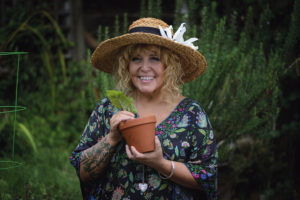 Cheralyn Darcey is a gardening author, community garden coordinator and along with
Pete Little, hosts 'The Gardening Gang' 8 – 9am every Saturday on Coast FM.
Send your gardening questions, events and news to: gardeningcentralcoast@gmail.com