Could it even be Christmas without our botanical friends, the Christmas tree in our loungeroom, the poinsettia gracing our table and the Christmas Bush bursting from gardens everywhere?
Depending on where you are in the world, people have been inspired to decorate their homes and celebrations with the plants of the festive season.
The tradition of bringing greenery into our living areas during the winter months dates back to prehistoric times when the leaves of plants, particularly evergreens, symbolised life.
It was a promise and reminder from nature that as harsh as conditions were at the time, life could still go on.
The Ancient Egyptians decorated with palm rushes to indicate that the sun god, Ra, was returning after the passing of the winter solstice between 23rd and 26th December each year, while the Ancient Romans would fill their living spaces and temples with evergreen boughs to honour the deities of agriculture and the winter solstice.
Vikings had a great affinity with evergreens as the botanical symbol of their sun god, Balder and the Celtic Druids honoured (and still honour) the evergreen as a symbol of renewal and the promise that spring would return.
As the world has become smaller, we have seen a blended version of the plants that symbolise the time of Christmas for most.
Let's have a look at the hall of fame plants that say, "Merry Christmas".
Christmas Trees
By 16th Century Germany we see people of this region bringing entire evergreen trees into their homes and decorating them as 'Paradise Trees' for Christmas Eve, symbolic of the tree from the Garden of Eden.
Queen Victoria and her German husband, Prince Albert, raised the popularity of the Christmas tree in the UK after a newspaper illustration of them with their children around the palace 'Christmas Tree' inspired the people of the time.
From there, the modern-day Christmas tree as we know it was born.
So, what about growing your own Christmas Tree here on the Coast?
Although there are traditional Northern Hemisphere trees that can be grown in your garden, an Australian native tree will be far better suited to the environment here and fit in with the wildlife locals better?
Let's begin with the magnificent Norfolk Pine Araucaria heterophylla.
I'm planting one this year because I just love them, Christmas or not!
They do grow up to 35m in height, however.
But oh, Woolly Bush Adenanthos sericeus how divine you are!
Perfect for small gardens as it will grow up to a manageable 5m and with bonus vivid orange-pink flowers in spring and early summer this will delight both you and your local pollinators.
If you have a dinosaur lover or botanical history buff in your family, then you just have to make a Wollemi Pine Wollemia nobilis your garden Christmas Tree.
One of the rarest and oldest trees on Earth, it will grow comfortably indoors and in sheltered spots in the garden.
Holly
The Druids regard Holly as a sacred tree that represents fertility, and it was and still is used in their rituals as such.
The Ancient Romans decorated their living spaces and temples with holly as a dedication to the god of agriculture and the harvest, Saturn.
Later Christianity adopted this practice for their devotional spaces to symbolise the crucifixion of Christ with its sharp leaves and blood red berries.
Holly has become naturalised in parts of Australia, including NSW because birds love the berries – they eat them, then deposit the seeds far and wide.
We don't want it in our bushland, as it takes over our natural habitat and destroys opportunities for our smaller plant life so please don't plant it.
If you are looking for an alternative, try Sweet Viburnum Viburnum odoratissimum as you will be blessed with an abundance of gorgeous leaves and a fast-growing lovely hedge to boot.
A good friend of mine, the photographer, and avid gardener, Karen Burgess, always creates the most stunning Christmas wreaths that emulate holly for our climate from bay leaves and bright red chillies.
Perfect for the foodie in your life!
Mistletoe
A parasitic plant seems an unlikely Christmas time romance inspiration but the plant we all grew up seeing thrust over the heads of the desired in holiday movies was usually European Mistletoe Viscum album and although this plant can eventually kill its host, there are many mistletoes around the world that are semi-parasitic and actually beneficial to our environment.
There are indications of mistletoe use in various beliefs throughout history with it becoming entwined with Christmas sometime in 18th Century England when what was a popular game entailed male servants being allowed to kiss female servants found standing beneath it.
To refuse a kiss was considered bad luck.
There are 97 species of Australian mistletoe found right across the mainland but not Tasmania.
While our mistletoe is not toxic like most others, it is still at the very least semi-parasitic.
This is not necessarily a bad thing.
They offer shelter, nesting places and food for our wildlife and are simply part of the great circle of life here.
Poinsettias
A native of Mexico, the poinsettia is a very interesting plant.
Firstly, they are not vivid red flowers of the plant that you are observing at all but 'bracts', modified leaves that surround the true flowers.
Look closely next time you see a poinsettia in bloom and you will see that within this ring of festive red, tiny cream-coloured flowers that are the true blooms nestle within.
Poinsettias flower and display their colourful bracts, not only in red but pinks, oranges, creams and whites, in the winter.
To supply the market in our summer Aussie Christmas, they are grown in greenhouses where winter is emulated.
Light is limited and they are kept cool.
After Christmas, you can plant your potted poinsettia out into the garden and while you won't be enjoying their famous display next Christmas, you will have a 'Christmas in July' display. Tip: Prune in late summer to encourage flowering and be warned they have a poisonous sap so protect yourself when handling and particularly pruning.
Australian Christmas Bush
Depending on where you find yourself in our beautiful country, will indicate the type of plant known locally as 'Christmas Bush'.
Here on the Central Coast and across our state, NSW Christmas Bush Ceratopetalum gummiferum is our Aussie festive native and it becomes more popular each year.
People in colonial times simply looked to flowers that reminded them of the European Christmas of their birth places.
Christmas bush, with its red flowers in tiny bell shapes and its appearance at the 'right time' did just that.
Louisa Anne Meredith, an artist of the time, refers to it as such in the 1830s: "We used to meet numbers of people carrying bundles of beautiful native shrubs to decorate the houses, in the same way we use holly and evergreens at home… it is a handsome verdant shrub, with flowers, irregularly flower shaped and go from green to crimson in colour."
Similar in ways to the poinsettia, the flowers are not the part of the plant that endear us to it. The flowers are small creamy-coloured blossoms that fall away in spring to leave sepals that turn a gorgeous red by late December.
Find a full sunny spot to plant your Christmas Bush and feed during spring with a native-specific fertiliser only.
When harvesting your Christmas bush, never remove more than a third of the plant and cut branches at an angle with sharp secateurs.
Remove all foliage that will sit below the waterline in your vase, change water every second day and snip drying bottom of stems as required and you should see your cut Christmas Bush last well into the New Year with a vase life of at least two weeks.
NSW Christmas Bells
The flaming yellow-red Christmas Bells Blandfordia nobilis and Blandfordia grandiflora are two of my personal favourite flowers.
They are members of the Lily family and say everything 'New South Wales' to me and remind me of summer bush walks, family picnics and home.
As with any native flower, it is illegal to pick these in the wild but that's ok as they will grow easily in Coast gardens.
You will find that Blandfordia nobilis grows well in full sun but is semi-shade tolerant while Blandfordia grandiflora needs full sun.
I hope these tips bring a little Christmas inspiration into your garden and home and remember, you can also start a holiday plant tradition of your own.
In the Darcey home, we have a strong affinity with Sunflowers and its never Christmas until the house is filled with their bright happy faces.
UPCOMING GARDEN EVENTS:
Coachwood Nursery Open Days 18,19 December 9am to 3pm. Free Entry. We also have regular workshops for $49. Succulent & herbal teas workshops this December. www.coachwoodnursery.com
Distillery Botanica, formally 'The Fragrant Garden' in Erina creates hand-crafted native Australian botanical gin and gorgeous gelato amongst 2.5 acres of beautiful gardens. Open 10am – 5pm Wed – Sun, 25 Portsmouth Road, Erina https://distillerybotanica.com
THIS WEEK YOU COULD PLANT:
Beans, beetroot, brussels sprouts, cabbage, capsicum, carrots, chilli, celery, cucumber, eggplant, leek, lettuce, pumpkin, radish, silverbeet, spring onion, sweetcorn, tomato, zucchini, basils, parsley, lemongrass, mint, alyssum, boronia, celosia, nasturtium, marigolds.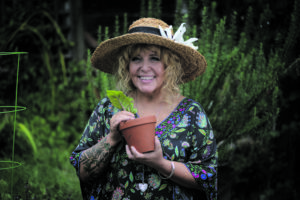 Cheralyn Darcey is a gardening author, community garden coordinator and along with Pete Little, hosts 'The Gardening Gang' 8 – 9am every Saturday on Coast FM.
Send your gardening questions, events and news to: gardeningcentralcoast@gmail.com