Professional Central Coast surfer Adrian "Ace" Buchan added his voice to growing chorus of opposition to the renewal of the PEP 11 licence for offshore gas exploration.
In unusual scenes of solidarity outside Parliament House, the protesters, which included representatives of Save Our Coast and Surfrider Foundation Australia were joined by Zali Steggall and MPs from all sides of the political spectrum in their opposition to the licence renewal.
The licence, which could permit drilling for gas off a large portion of the eastern seaboard, including the Central Coast, comes up for renewal in February, with NSW Deputy Premier John Barilaro and Federal Minister for Resources and Water Keith Pitt forming the Joint Authority which will make the ultimate decision.
Buchan, of Avoca Beach, said he had been concerned about PEP 11 for some time.
"I've been lucky enough to call the Central Coast home all my life," he said.
"Five million Australians call the PEP 11 zone home, and for most of us the ocean defines our way of life.
"Drilling in this ocean for fossil fuel in the middle of a climate emergency threatens not only the marine life and tourism that we regions rely on, but our very existence."
Member for Dobell, Emma McBride, reinforced her opposition to the permit.
"Thousands of people have contacted me about this, concerned about the impact on our marine life, on our coastline, on our way of life," McBride said.
"It could also have a big impact on the local economy; it's senseless and it should be stopped."
McBride said the issue was "beyond and above politics" and called for a united stand from all Coast MPs.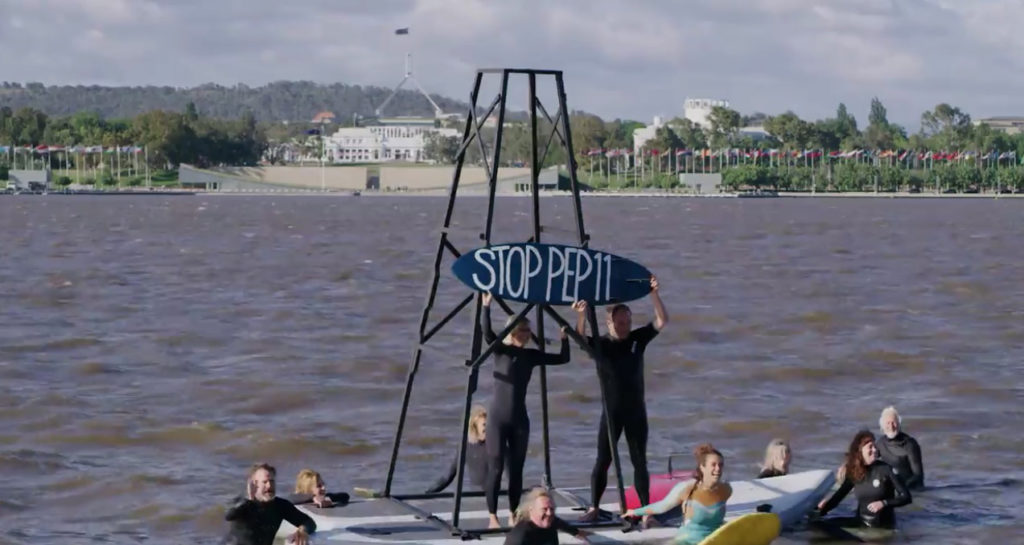 Member for Robertson, Lucy Wicks, has been deafeningly silent on the issue in recent times and is now the only MP in regions along the impacted coastline not to have voiced opposition to PEP 11.
Wicks has previously there is a "cacophony of misinformation" in the community and it was important Coast residents were aware of the facts.
"If Asset Energy were to go ahead with any drilling activity they would need to apply to Australia's independent offshore regulator, the National Offshore Petroleum Safety and Environmental Management Authority (NOPSEMA)," Wicks said.
"The fact is that at this time, title holders of the PEP-11 permit area, Asset Energy, have not submitted any plans to NOPSEMA for any activity in the PEP-11 Permit area."
A Save Our Coast delegation presented thousands of community comments opposed to any offshore testing and drilling in a book with images of the local coastline on the day.
Save Our Coast has been campaigning against PEP 11 since February 2018 and collated 77,000 signatures on petitions, along with thousands of comments, expressing concern and outrage at any plan to blast and drill for gas off the coast.
Save Our Coast founder, Natasha Deen, said the group was proud to have provided a platform for a chorus of diverse community voices opposing the permit.
"We honour each and every one of the 77,000 thousand voices that have united with us to save our coast, and we are delighted to have the support of MPs from across the political divide and have them stand with us, to implore Minster Keith Pitt to draw a line under the flawed and risky PEP 11 project once and for all," she said.
Terry Collins