Australia Walkabout Wildlife Park, now known as Walkabout Wildlife Sanctuary, will hold a series of art workshops over the summer by award-winning Aboriginal artist, Garry Purchase.
The Dream Wild Art and Wildlife Workshops will include a daytime series and a night-time series.
Workshop activities will include art lessons, animal encounters, boomerang throwing, ochre face painting, visiting Aboriginal rock engravings, sky stories and more.
Walkabout Wildlife Sanctuary General Manager, Tassin Barnard, said Purchase and his wife, Natalie, had been "incredible supporters" of the park ever since the bushfires.
"In fact, Natalie fed us while we were evacuating the animals," Barnard said.
"They have been the most amazing people, and we all got to know each other quite well.
"Garry is an incredible artist, world standard.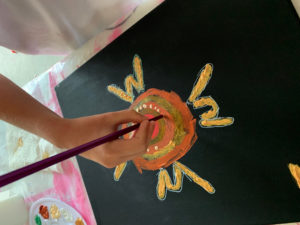 "We got talking, and we thought what a great idea it would be for Walkabout Wildlife Sanctuary to hold art workshops, so that is where it all started.
"With the workshop itself, I am really leaving it up to Garry, because at Walkabout we are not very prescriptive … we very much work with the people who work here.
"He is going to bring his brushes, paints, and artboards so people can get their fingers messy, and he will take them through the traditional concepts.
"But his work is also very contemporary so that will be touched on.
"He will also talk about his concept of the dreaming."
Garry Purchase is an Aboriginal man of Dharawal, Bidjigal and Dhungutti descent.
He grew up in Sydney's Eastern suburbs and was raised amongst the Aboriginal community of La Perouse.
He has won many awards, such as the first prize at the Tony Donovan Award in Reconciliation Exhibition at Gosford Regional Gallery in both 2014 and 2016.
The first of the five daytime anniversary workshops for families six and above will be on December 29, and the only night-time workshop for families will be on January 13.
The night workshop for adults 16 and above will be on December 30 and January 20.
Jacinta Counihan