Almost two years after it was gutted by fire, Umina Mall has finally been demolished, with work expected to begin soon on a new shopping centre for the site.
Initially approved 10 years ago, with modifications approved in 2015, the Umina Mall development stalled for several years as negotiations continued on the purchase of two lanes behind the site from Central Coast Council by developer Laundy Exhibition.
Craig Laundy confirmed that issue has now been resolved.
"Shadow Minister for the Central Coast, David Harris, and Member for Gosford, Liesl Tesch, were of great assistance in talking to Council on my behalf and Council has now signed off on the sale of the lanes," Laundy said.
"That has allowed me to push the button with the Pluim Group, which will handle construction.
"We want to give the area something to be proud of and create massive employment in both the build stage and on completion''.
Laundy said all demolition work would be completed by Christmas, with construction certification running in parallel.
"Our great hope is to kick off building early next year and, weather dependent, we hope we can deliver within 12-14 months," he said.
Laundy said there would be a good mix of retail, including a supermarket/general store, a liquor shop, a newsagency and a pharmacy.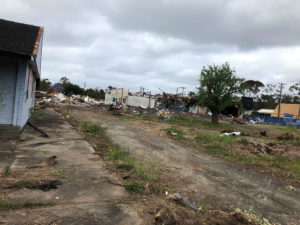 "We're also hopeful we might attract other things like a take away food store and a bakery, and we are looking at a medical centre on the second floor which is over part of the building," he said.
The new centre is expected to cost about $10M, with local builders and tradesmen to be employed and Laundy estimates it will generate 250-300 local jobs when opened and fully tenanted.
Peninsula Chamber of Commerce has welcomed the move following years of inactivity.
"It was great to see work finally start on the demolition of the old supermarket and shops," Chamber President, Matthew Wales, said.
"Certainly, everyone is glad to see the old eyesore building disappear for good especially since it was fire damaged early last year.
"The new shopping complex has been approved for a mix of retail and commercial uses."
Wales said the development would produce 3,000 square metres of new retail and commercial floor space and nearly 90 car parking spaces.
"This will greatly enhance the Ocean Beach Rd arterial corridor and provide important retail services to a large proportion of the Umina Beach residential catchment that previously relied on the old shopping facility," he said.
"After years of uncertainty, it is extremely important that this strategic commercial facility is completed and contributing retail services and local jobs to the community.
"The redevelopment works also coincides with the construction of the United Service Station at 303 Ocean Beach Rd which will include a car washing facility and several retail outlets.
"It also coincides with the upgrade of the BP Service Station on the corner of Ocean Beach Rd and Rawson Rd at Woy Woy.
"These are significant investments into our business community which will create hundreds of local jobs.
"There is no doubt that 2021 will be a busy year and will see some exciting grand openings."
Terry Collins