Rugby League –
While there were plenty of Central Coast stars out at the 2020 Women's State of Origin clash, none shined brighter than former Wyong Roo, Tarryn Aiken.
The Gosford born Five-Eighth proved indispensable for the Queensland Maroons, who made NRLW history by claiming their first ever Women's State of Origin title since the contest's rebranding in 2018.
Heading into the second half with scores locked at 6-all, Aiken and fellow Maroons debutant, Tamika Upton, would go on to set the pace for Qld's landmark victory, with Aiken breaking the NSW Blues' line to set up Upton's tie-breaker, before crossing for her own converted try eight minutes later.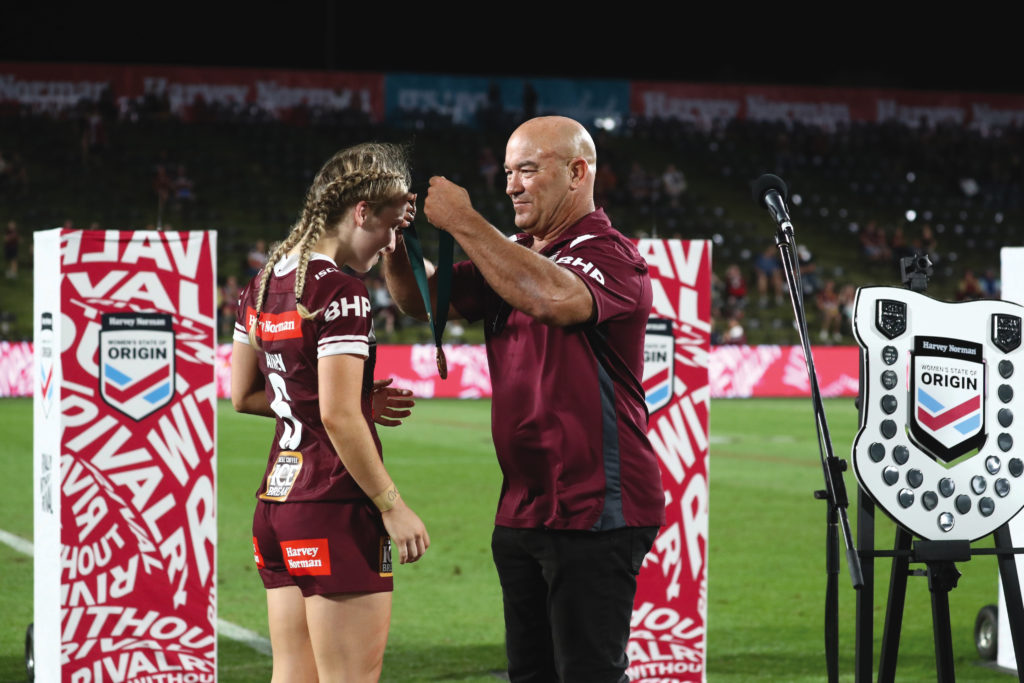 Another converted try to Stephanie Hancock would cement the Maroons' 24-6 lead and despite a late tri-try resurgence from the Blues, who's star studded ranks included Central Coast Roosters' players Isabelle Kelly, Melanie Howard, Hannah Southwell, Yasmin Meakes, Brydie Parker and Kylie Hilder, it was not enough to undo the lead that Aiken's smart playmaking helped carve out, undoing years of Origin heartbreak for the Maroons.
Defining moments of the match, Aiken's pivotal performance would also see her awarded the Nellie Doherty Medal as player of the match, an impressive feat for a debutant.
In receiving her medal, Aiken kept her speech short and sweet, thanking game sponsors, her team and her opponents.
"Thanks to the Blues.
"You turned up well tonight and have been the benchmark in the competition for the past two years, so we knew we had to bring our A-game to win tonight.
"Most importantly thanks to the girls (Maroons), you're the best," Aiken said.
Dilon Luke