Artist Velia Newman has opened a new art gallery at Ettalong Beach with a strong focus on the community and supporting local artists.
A professional artist for 22 years, Newman has owned several galleries in Sydney and now presents her artwork locally at Velia's Galleria.
"I came back to the Central Coast about three years ago now, and I set up a studio in Killcare Heights which is beautiful because there is so much artistic inspiration," Newman said.
"My art gallery has been opened for about four weeks now, and it's going really well."
Newman said she was a contemporary impasto painter with her work and other local artists' work featured at the gallery.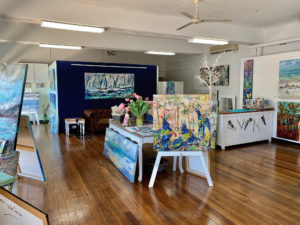 "I am stocking local artists from the surrounding areas like artists from the Northern Beaches, the Central Coast and right here in Ettalong," she said.
"I really want to support the artists in the community that haven't had a go."
Newman said the gallery also had Broken Bay pearls and sculptures created from salvage and mooring chains from Pittwater Bay.
"I love everything local, everything from the art to the printing, nothing is outsourced," Newman said.
"If you have something on your wall from here, you know that it's unique."
Velia's Galleria also offers art restoration services where artworks can be fixed, cleaned up and repatched.
Ms Newman said art had run in the family with her mother, Anita Newman, a romantic impressionist painter and her late father, Ian Newman, a Sydney art dealer.
Velia's Galleria is open 10am-3pm Thursday to Sunday, located in Ferry Rd, Ettalong Beach.
Hayley McMahon