Snakes, koalas, tortoises, marsupials, and Tasmanian devils were the scariest Halloween creatures at the Australian Reptile Park on October 31 as they featured in an adorably cute, yet spooky, promotion video.
The video includes clips of the animals enjoying Halloween among carved pumpkins, witches' cauldrons, and spooky decorations.
The superstars of the show included Hugo the Galapagos tortoise and viral superstar, Elsa the koala.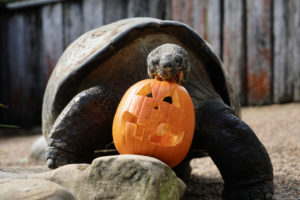 Australian Reptile Park Director, Tim Faulkner, said the animals loved the different smells, taste and look of the festive pumpkin treats.
"We have become well known here for getting into the spirit of Halloween," he said.
"We're always looking for the chance to talk about and showcase the creepy crawlies and deadly animals here, as well as our cute and fluffy mammals, and what better day than Halloween to celebrate them.
"More importantly, if a cute video like this reaches the right people and encourages them to learn about our koalas, snakes, Tasmanian devils or any of Australia's native wildlife, that's considered a huge win by me."
Jacinta Counihan