Eclectic Surf Feel is the vibe Avoca's newest live music venue, Shady Palms, is going for.
Opening its doors on November 20, the four-area bar and restaurant on the corner of Avoca Dr and the Scenic Hwy, is located on the former Rojo Rocket site owned by Ken West.
Co-owners Isaac Adele, Steve Sewell, Justin Hyland and Heather Bergan, also own Mumbo Jumbo's Beachhouse at Terrigal.
Adele said Shady Palms is not a replacement of Mumbo's, but an addition.
"Mumbo's is not closing down," Adele said.
"We wanted to buy the Shady Palms space since last year, but it did not happen, and then COVID hit, and we said we would still buy it.
"Everyone thought we were crazy.
"COVID was the only time for us when we had enough time and energy to pump the time and love into created something new."
The design of the bar and restaurant has an old surf shack feel, with all of the timber in the venue made out of recycled jetties from Brisbane Water.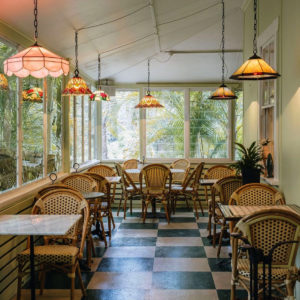 "It is an old surf shack with old surf vibes; we have got a surfboard garden with old boards," Adele said.
"The main house is called the Green Room, which is the surfing term for being in a barrel.
"It is all natural, meaning we have kept all the established palms trees and banana palms you cannot buy as they have grown there over the last 30 years – that is what attracted us to the property."
Adele said the food offered is modern Australian with a focus on local seafood.
"It is 'beach bar dining' so you can choose to eat from the woodfire pizza kitchen or our casual dining room," he said.
"The front deck is called Shady Shack and is a wine and oyster bar."
Adele said they also will be hosting live music sessions.
"We are going to have Shady Sundays presented by Return to Rio, who run a festival on the Hawkesbury river each year, and it is aimed at the 25-30 and above music genre," he said.
Adele said Mumbo Jumbo's Beachhouse had bounced back stronger than ever after COVID, which is one of the reasons why they were excited to open Shady Palms.
"There is never going to be another quiet time like this where you are going to be able to focus all your effort and time on something," he said.
"When COVID goes away, you will have something set up, and everyone is going to support you."
Jacinta Counihan