While many RSL sub-branches in the region chose to go for private in-house gatherings, public COVID safe Remembrance Day services were held on November 11 at Gosford Anglican Church and on the Copacabana waterfront to mark the 102nd anniversary of the Armistice that ended the First World War on November 11, 1918.
With the day also marking the centenary of the Celtic Cross War Memorial in the grounds of Gosford Anglican Church, Fr Rod Bower told around 50 attendees that this Remembrance Day was especially important to the memory of the 30 soldiers named on the memorial.
"We still have the letters that the mothers wrote back to the Priest at the time giving permission for their sons names to be on the memorial," he said.
"Even after 100 years you still weep when you read these letters as you can feel the grief through the words."
Historian Merril Jackson, who co-ordinated a poppy display around the memorial, said she had designed the feature because she knew COVID would change the nature of Remembrance Day this year.
"As I was creating the display, I learnt that a lot of the soldiers fought on the western front," she said.
"There is a beautiful painting called Menin Gate at Midnight which remembers soldiers who have fallen, so I thought it would be appropriate to interpret that here with the background of the old Gosford church.
"Each helmet in the display represents one of the 30 men (from the Gosford area) who passed away in World War I."
Community services coordinator at Bara Barang Corporation, Chris Thew, said it was important to remember the fallen Aboriginal soldiers who fought and served.
"It is especially important as this is the first time Remembrance Day has fallen during NAIDOC week so it significant for us to be able to openly celebrate our Aboriginal soldiers as well," he said.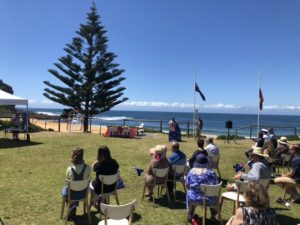 "A lot of our Aboriginal soldiers weren't recognised as the world wars were pre the referendum, so it is important to remember that they weren't recognised as citizens.
"We also want to remember that they were not treated as well as (other) Australian troops; they could not drink in bars or march like the others.
"It is important to signify that this is allowed now and that we can pay our respect for the Aboriginal people who also fought in the wars."
Meanwhile at Copacabana, community members gathered at 11am on the green near the waterfront.
Despite some last-minute concerns regarding Council approval, which was secured just in time, the service progressed smoothly, with an impressive display co-ordinated by resident Roque Hammal taking pride of place.
Also marking the 75th anniversary of the end of WWII, the display featured information supplied by residents on family members who served during the second World War, with details of their service, photos and memorabilia.
There was also a display of Army, Navy and Air Force wartime models assembled and painted by Copacabana schoolchildren.
Terry Collins