Surf Life Saving Australia (SLSA) is encouraging Central Coast residents to stay safe this summer.
In partnership with Golden Circle, SLSA has compiled a checklist to help everyone enjoy the sun and ocean safely.
The Sunny Saviours movement shares tips on how to be safe outdoors and also remain COVID safe.
General Manager Coastal Safety for SLSA, Shane Daw, said 55 per cent of drownings last year occurred more than 5km away from a lifesaving service.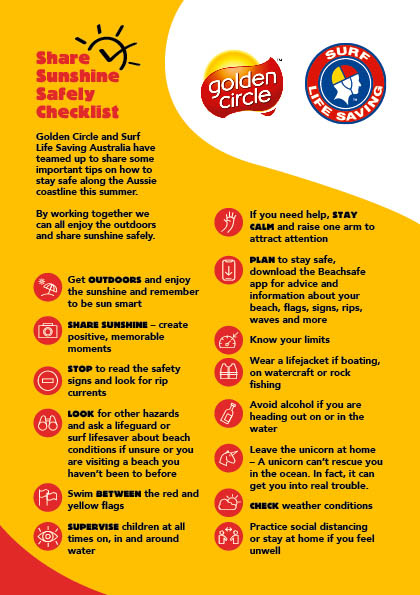 "This summer, we are asking Aussies to STOP before rushing in and check for rip currents, LOOK for other dangers and a patrolled location, and PLAN to stay safe and know your limitations and swim between the red and yellow flags," Daw said.
"Additionally, we're asking beachgoers to practise social distancing and to stay at home if they feel unwell.
"By ticking items off our Share Sunshine Safely checklist and working together we can keep our beaches open and enjoy them safely this year."
Sunny Saviours is the first initiative for the newly formed partnership between Golden Circle and Surf Life Saving Australia.
As part of their commitment to the community and Surf Life Saving Australia, a $50,000 donation will be provided on behalf of Golden Circle from Kraft Heinz Australia.
Head of Marketing-Beverages at Kraft Heinz ANZ, Sachin Rajpal, said it was exciting to celebrate Central Coast local Sunny Saviours.
"Seven Surf Life Saving Sunny Saviours were recently recognised for their dedication and commitment to not only saving lives but brightening the lives of people around them simply by sharing a little sunshine," Rajpal said.